Old fashioned fun...

I went to a temple fair on Saturday. I didn't really plan to go there but, I didn't really want to stay at home either. It was Loi Kratong Day. The area where I live, being right by the river always gets really, really crowded.

Sometimes I love being amongst a crowd. Other times, I really hate it. Being stuck in the midst of lots of people, especially Thai ones, where almost everyone seems to be part of a much, much larger group and has a big beaming smile, can, at times make me feel really lonely. Taking a quick trip over Pinklao bridge, and wandering around the streets aorund Khao San seemed a better option.

Walking up Ratchadamneon I overheard someone say that they were on the way to the Golden Mountain. It's been a while since I've been there. The view from the top, of Rama 8 bridge and of the city's skyscrapers doing their best to peek through the heat haze is always worth the climb.

The temple fair was a good laugh. Temple fairs are a strange kind of cross between an old fashioned English style fair (with big wheels, merry go rounds, and darts and shooting games) and a giant flea market. Anything from towels and bedding to toys, cutlery, crockery and odd coloured and shaped plastic things for the kitchen is on sale. Even new underwear can be brought there.

I climbed to the top of the temple, wrote a message on the red cloth stretched out alongside the base of the chedi, shot a couple of teddy bears (though I didn't win any), played darts, and took a quick look at the 10 baht freakshow. I thought I'd been there around an hour or so. I looked at my mobile phone. 3 hours had passed already.

This afternoon, trying to avoid organising, sorting through and getting rid of what's left of my stuff, T, a friend where I live suggested we go again. We met his friend N in Banglampoo, then headed towards the temple. We wandered around for a bit, climbed to the top, ate and chatted. His friend N left around 8 o clock. I wanted to have a game of darts. I tried, and failed to win a big squidgey teddy. Then I asked T where he wanted to go next.
'สาวตกน้ำ' he said.
'Really?' I asked.
'Yeah' he said. 'I think its very funny.'

I wasn't too keen. Seeing scantily clad women being dropped into a tank of cold water wasn't exactly my idea of fun. But T and N had pretty much done what the farang wanted for the last couple of hours. They'd seen me play with the pop gun. They'd waited around whilst I'd took lots of photos of the food and the other things that were on sale. It was only fair that I went with him.

The two of us made our way through the crowd to the 1st stall. 4 girls were sat behind a mesh fence. From the front, they looked like they'd been put into a giant cage. Each was perched above her own water tank. Most were heavily made up and looked moody and sultry, like they weren't too keen on the idea of taking a dip. An plump old lady shouted out the price. It was 20 baht a go.

"Not this one" T said. "They're really fat. The next one is better."
We carried on walking. We passed a couple of food stalls, a old fashioned car racing game and a couple of people using bows and arrows to try and burst balloons. The crowd thickened. People were cheering. It was hard to get past. We'd reached the second stall.

This time the girls were in their swimming costumes. They were thinner than at the first stall, better looking, and made mock girley screams every time anyone threw a ball towards them. There must have been around 200 people watching the action, waiting for one of the girls to take a dip. A loud cheer errupted each and every time someone hit the target, and one of the girls fell in.

It wasn't just a guy thing. Girls were joining in too, both with the cheering and by paying 20baht for their own bucket of balls. I asked T if he wanted a go. He said yes.

We shared 2 buckets of balls. Trying to aim straight, and hit the target is much harder than it looks. I managed it once but my shot was too wimpy for it to knock the girl down. 10 minutes later, we'd used up all our throws, but couldn't help but join the cheering crowd as we worked out where to go next.

You know what... I had a great time... Back home, in politically correct England, it would be social suicide to admit that, as a girl, and a supposedly well educated, feminist one at that, you could enjoy something like this. But, I'd be lying if I said that, I spent even the tiniest moment thinking that it was backward, or demeaning to women. I was too busy prefecting my aim and trying to make sure that at least one of them got a dunking.


The 'sao dtok nam' (girl falls into the water) game...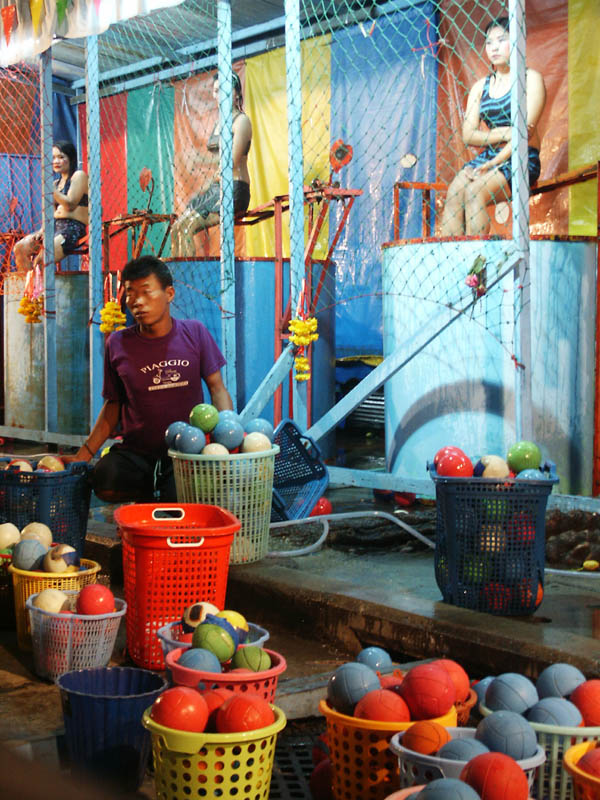 One of the girls.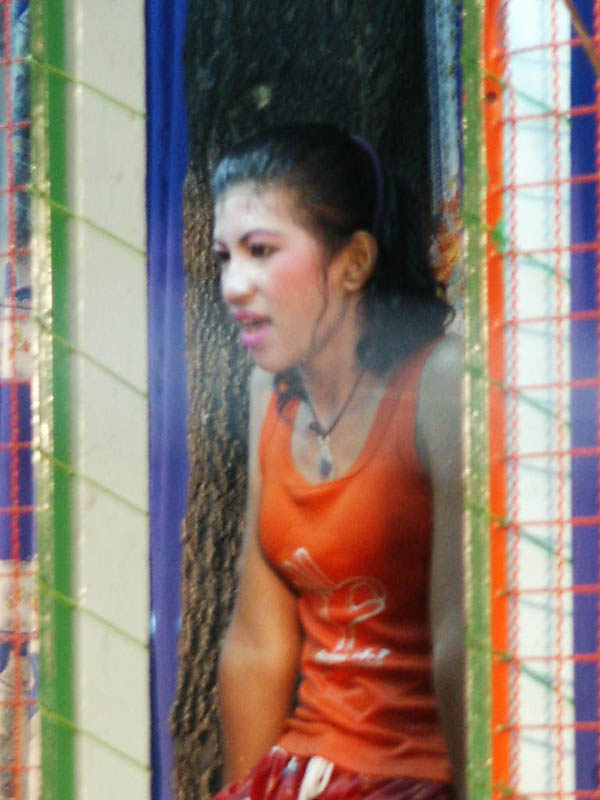 Create Date : 27 พฤศจิกายน 2550
Last Update : 27 พฤศจิกายน 2550 9:46:38 น.
7 comments
Counter : 125 Pageviews.
| | |
| --- | --- |
| โดย: Ta (ta/'o-o/' ) วันที่: 27 พฤศจิกายน 2550 เวลา:18:31:28 น. | |
| | |
| --- | --- |
| โดย: tandao IP: 202.149.24.3 วันที่: 27 พฤศจิกายน 2550 เวลา:19:49:17 น. | |
| | |
| --- | --- |
| โดย: kerrie วันที่: 27 พฤศจิกายน 2550 เวลา:20:44:05 น. | |
| | |
| --- | --- |
| โดย: Ta IP: 194.81.199.37 วันที่: 27 พฤศจิกายน 2550 เวลา:22:27:24 น. | |
| | |
| --- | --- |
| โดย: kerrie วันที่: 27 พฤศจิกายน 2550 เวลา:23:09:24 น. | |
| | |
| --- | --- |
| โดย: Ta (ta/'o-o/' ) วันที่: 27 พฤศจิกายน 2550 เวลา:23:16:33 น. | |
| | |
| --- | --- |
| โดย: kerrie วันที่: 27 พฤศจิกายน 2550 เวลา:23:25:08 น. | |
Valentine's Month