Does anyone know these people?

Apparently they're famous. Very famous. 'Thai su-per- sa-tar... very su-per-sa-tar' as one of the people who worked in the hotel put it. The two of them were filming a movie in the resort where my parents were staying.

It's called Valentine. From the 1 scene I saw I'm guessing its a comedy.

..translated it sounded something like this...
'We're friends...'
'No really, we are... Good friends. Very close friends...'
'This way'
Cue 2 people walking in opposite directions, and one running and dragging the other person the right way...

I tried to take a couple of photos of the stars. We couldn't use flash so this was the best I could manage.




It didn't seem that funny. And watching them do the same scene over and over, made it even less so. I guess I'm used to seeing people film things. My old job involved, at times, hanging around TV studios waiting for something to go wrong with the autocue. Lights, cameras, and action (unless it's someone really famous or good looking - Leonardo Di Caprio or Johnny Depp for instance) doesn't send me all star struck. But my parents have never seen a film being made before. They, along with the other Brits milling around the hotel reception seemed interested in watching it.

There were lots of people, 30 or 40 or so waiting in reception. Some were watching the filming, others waiting for a signal that it was OK to walk past. Whoever'd planned the film shoot had chosen to use the main entrance. No one wanting to come into, or leave the hotel could avoid seeing it.

The other Brits hanging around, staring at the set seemed quite intrigued. A couple asked the receptionists who the actors were. Something sounding like 'Chak-Chris' came as a reply. Some of them seemed quite star-struck, something I found a bit odd as, like me, they probably had absolutely no idea who the person they were looking at was.

My dad was quite surprised that they used hotel staff as extras, and reckoned that the film crew were real cheapskates. I don't agree. In comparison with English people, Thai's, and Thai women especially, seem to love posing for photos. I think the staff would probably have been really, really excited about the idea of being in the film, and would have loved to have played their part.

I spoke to one of the extras a day later. I was about to leave, and she was walking down the corridor to check on the cleaning staff. I told her I'd seen her acting the night before, and that I thought she was really good. She became very giggly. The movie had been the highlight of her week. She'd got to meet a real 'superstar' and was going to be in a film with them too.

I wasn't that interested in the script or the actors (since I had no idea who any of them were) though. This was the thing that I was looking at. I couldn't quite believe that they still make 'real' films here eg. using old style film cameras and real film, not video.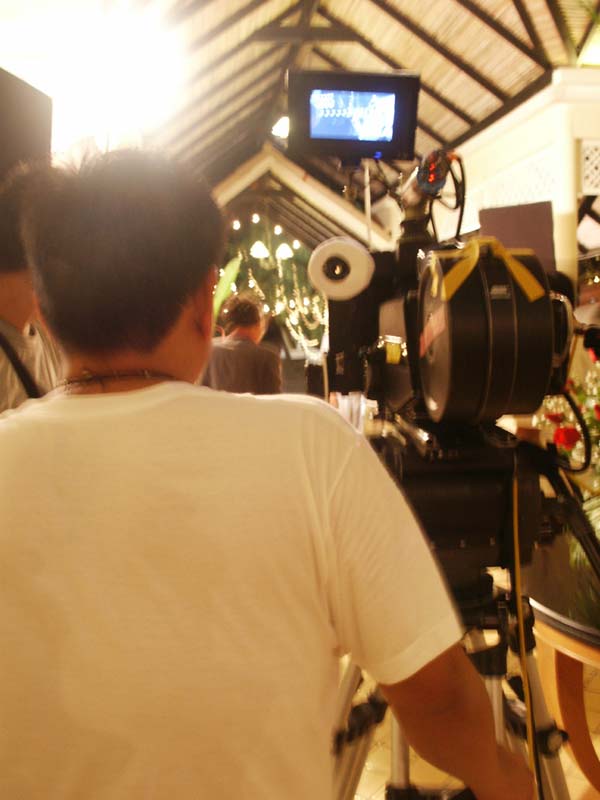 Create Date : 06 ตุลาคม 2550
Last Update : 6 ตุลาคม 2550 17:38:26 น.
2 comments
Counter : 141 Pageviews.
| | |
| --- | --- |
| โดย: off_elmas วันที่: 6 ตุลาคม 2550 เวลา:18:33:26 น. | |
| | |
| --- | --- |
| โดย: Kerrie IP: 58.9.137.251 วันที่: 6 ตุลาคม 2550 เวลา:18:44:06 น. | |