Fever Pitch

There's an English book, Fever Pitch, by a guy called Nick Hornby. There's a movie as well - the story was turned into a crappy romantic comedy too - but the book's much better. Fever Pitch is now seen as being the book that started a whole new genre of literature, where men could write about and show their 'real' feelings.

The book takes the form of a diary. It follows Hornby's life and the main love of it, Arsenal FC. He contrasts his fortunes with that of his team. When Arsenal do well, things go swimmingly. When their form slips, his personal life seems to take a turn for the worse too.

I read the book when it first came out, some 10 or so years ago. At the time, I was crazy about the blades, my team. I was at university in London, struggling to make friends and in a rocky relationship with a guy living 200 or so miles away. My team had good days, (and results) and bad ones. The idea, of lifes ups and down's matching those of my team fitted perfectly.

There's simliar parallels now. 2 years ago the blades had a great season. Leeds gave us the result we needed and we were promoted to the premiership. Last year we had a roller coaster ride at the bottom end of the table. We were unlucky (should have been given a penalty against ManU and managed to hit the post in the dying seconds of the last game of the season) and this year, we're back where many people here think we belong, at the wrong end of the table in the championship.

Me too. Last year, I had a brilliant time here. I'd just finished my office job, and spent a summer travelling around (and watching the world cup) in Laos and the north and east of Thailand.

This year things aren't so good. Sure, I've had some great times, usually when I've travelled upcountry or to the coast. But trips away from Bangkok aside, I've struggled to find my place here, just like my team are struggling to find their form, and their real place in the league. Sheff U have had a very shakey start to the season. They had a a good result against Wolves, then slipped back into their usual mediocre form.

Me too. OK, I have (until the end of this month) a good job here but I don't really feel I fit in at work. I hardly ever socialise with the guys I work with. We're all English. It's a drinking culture. Giving up beer for 3 months (well it will be 3 months - so far, its been 2 1/2 and counting) has killed off what little social life I used to have. If I was a football team, at the moment I'd definitely be relegation material.

I'm taking a quick trip home next month and, when I come back here it will probably be to backpack for a couple of months. Then I'll probably go home, for good. Who knows, I may even find 'my place'

I just hope my team finds their form and their place too, before its too late.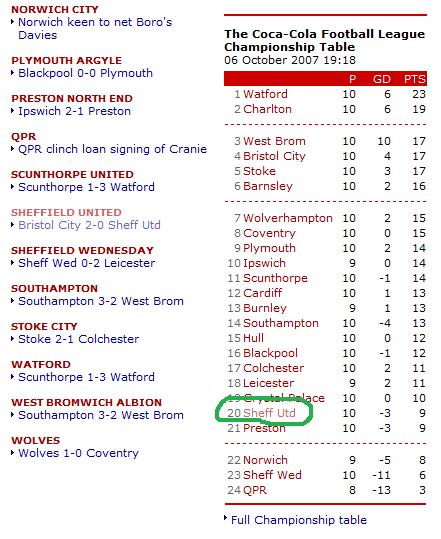 Create Date : 07 ตุลาคม 2550
Last Update : 7 ตุลาคม 2550 23:05:05 น.
1 comments
Counter : 211 Pageviews.
| | |
| --- | --- |
| โดย: ตาพรานบุญ วันที่: 9 ตุลาคม 2550 เวลา:0:55:23 น. | |