New Toy, Old Friends (well 8 of them so far...)

Over the last couple of months, my e-mail inbox has been getting clogged up with requests to join Hi5, multiply, myspace etc...

So far I haven't been arsed. What's the point in having more things to update ? Getting round to replying to e-mails from home is time consuming enough, and something I'm crap at doing.

But, a couple of the other teachers at my school rave about Facebook. It's great, they tell me. Much better than myspace. You can choose your friends. You only see the people who you want to see and talk to. You can post messages on their wall, see who their other friends are, reminisce about school, and drunken nights out.

Yesterday, I finally sucummbed... and I have to say...
ITS FAB..... Hours of fun guaranteed......

OK - I haven't quite got round to setting it up properly yet. There's no fancy homepage, no photos, no welcome message or info about where I am or what I am doing nowadays... That will come in time... maybe... though I'm fairly sure everyone on there who knows me, knows all this stuff anyway...

Just in case you've never seen it before, heres a piccy. You have links to your friend's sites listed on one side and your messages on the other.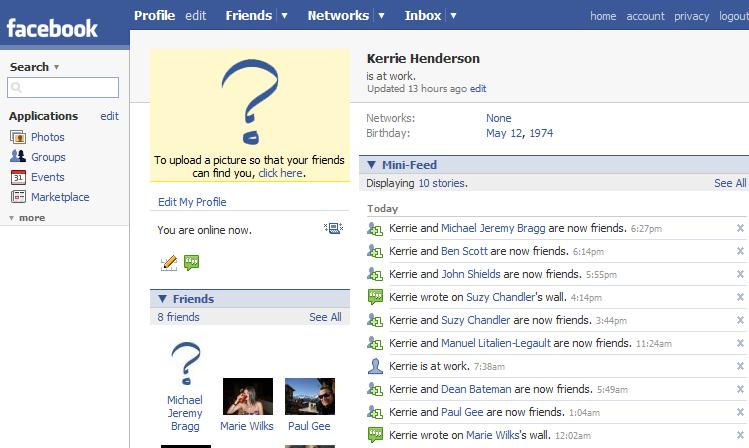 So, what have I actually done since logging in:-
erm.. not that much really...
- found some of my friends.
- looked at their photos
- read all the postings on their walls.
- looked at their friends
- looked at their friends photos.
- looked at their aquariums.
- looked at the movies and music they liked
- read deep and meaningful questions such as "if good bacteria and bad bacteria had a fight, who would win."

It was great. Lunch was over in no time...
This facebook thing is gonna be fun....





Create Date : 28 สิงหาคม 2550
Last Update : 28 สิงหาคม 2550 23:47:20 น.
0 comments
Counter : 134 Pageviews.