Snap happy... or maybe not

Normally, whenever I go somewhere new, I like to take photos.

I love taking photographs. I'm not that good at it, as friends in London, or anyone else that been forced to sit through a slideshow of 100+ badly focused holiday snaps will testify, but I really enjoy it. I don't know why. I guess I just like to try and capture an image of where I am or what I've seen on film. Looking at any of the photos I've taken normally triggers a whole stream of memories. Where I was... What I did there... What the place was like... Who I met... How I felt...

I tend to go for quantity over quality. I'll normally come back from a trip upcountry with 20+ dead batteries (my camera uses 4 batteries a time...) and a memory card stuffed full of images. Most of them are pretty sh*te, but I hate deleting them. Even though they're pretty crappy, they remind me of the trip.

I usally take photos of the scenery. I also like to taking photos of people that I meet too. One odd thing about taking photos of Thai people is that their broad smiles normally disappear the minute a camera appears in front of them. As soon as you try to take their photo the smiling street vendor suddenly becomes deadly serious.

Either that, or the smile is accompanied by one of 2 poses that most westerners find bizarre.
*1. 2 fingers either side of the face in a kind of peace sign, or this one...
*2. Thumb and 1 finger outstretched, underneath the mouth, almost as if the subject is trying to frame their own chin.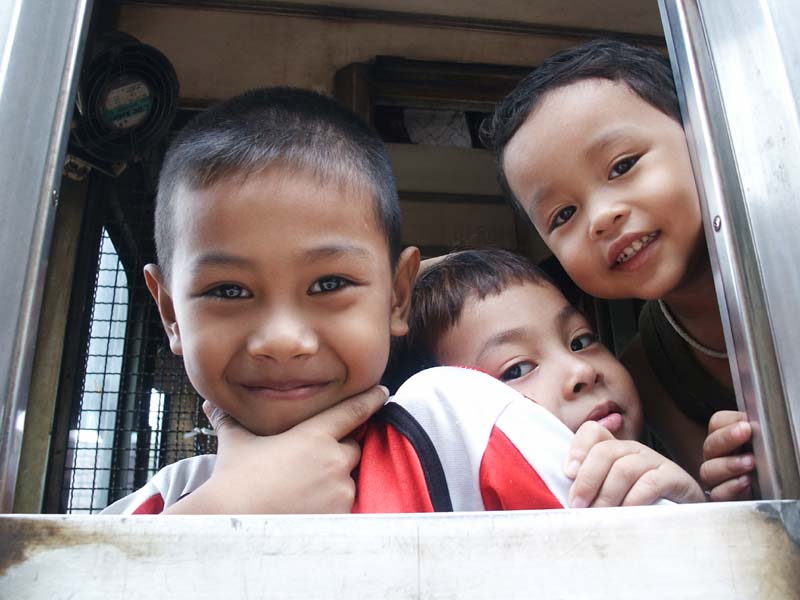 Sometimes I take photos of things I see in the street. Women making kanom or cooking dinner, rot kaens (food carts) and the insides of shophouses. The kind of everyday things that are so normal here that you barely give them a second glance. Stuff like this just doesn't exist at home. I've tons of photos from trips upcountry of Thai houses, thai people smiling in front of their rice fields, people dyeing, spinning and weaving silk, selling strange looking fruits and vegetables in the market etc... etc... etc...

A couple of weeks ago a friend lent me a great photography book. I'm not sure whether there's an English version or not but, just in case anyone wants to get themselves a copy its Thai name is " ความรู้สึกดีดี บันทึกไว้ อย่าให้เลือนหาย" and its by "สุรัตน์ โอสถานุเคราะห์ "

It's full of the kinds of photos I (and other farangs too I guess) love to look at and take. Nostalgic images of a kind of Thailand that is rapidly disappearing, as wooden shop houses get knocked down and replaced by concrete apartment blocks. Surat's photos also document old traditions and beliefs (such as putting a couple of squares of gold leaf onto a buddha image's leg to relieve leg pain) that are increasingly shunned by today's younger, cooler, urban generation.

This guy's images are good. Really good. Unlike my versions, heads and feet aren't chopped off, and every image creates a subtle mood. Some of the photo's were taken in the streets surrounding Wat Mahataat, a short boat ride away from where I live. I like to walk around there, and can recognise some of the people and places in the book, the amulet seller who sits on the pavement near the temple, the sight of monks walking along the main road, the steets and the troks.

This weekend I thought it'd be fun to do a similar thing. Take photos of the things I see everyday, in the area where live. I live on Phra Pinklao, the main road linking Sanam Luang to the southern bus station. It's a very busy road. In places it's an 8 lane highway, complete with flyovers and complicated looking intersections. Thousands of people pass along it every day on their way to and from the city. The street's lined with 4 storey concrete buildings. The ground floor's typically a restraunt or a shop. The upper floor's anything from a small business to a massage parlour or an apartment block. Unless it rains, and leaked oil and reflections from car headlights turn the road rainbow coloured, it's not particularly photogenic.

But, take a walk down any of the backstreets around where I live and its like entering another world. Everything slows down. Concrete gets replaced by wood. Apartment blocks by small shophouses, crammed together in narrow rows, the alleys linking them together barely wide enough to allow a motorbike to pass through. Tiny bridges span even narrower, rotten smelling canals. Temples and tiny market squares appear from nowhere, creating the only order amongst the jumbled chaos. People try to bring the country into the town. Luk Tung (Thai country) music blares out from radios. Banana trees, and chilli pepper and thai basil brushes can be seen growing on any remaining strips of green. People sit on the street, in front of their houses, crushing chillis for cooking. Old men lay in their living rooms, half staring at the TV, half watching the world go by.

I walk around the sois near my house a lot. More recently I've bombed down them on my bike. The first time I walked to the boat peir near Wat Dow, I remember being totally amazed by the sights, sounds and smells. It was as if I'd travelled back in time, by 20 years or so.

I've never, ever thought to take photographs of it before though. Until last Saturday. A's book made me think that it would be cool to try and photo the things that I think define my neighbourhood. Things that will definitely fade away and disappear once I'm back in the UK next year.

So, off I went on Sunday, armed with my digital camera, 2 sets of batteries and lots of sunscream. I walked down to 7-11 and took the familiar left turn into the soi. I walked along the street and stared at the people I saw. Kids playing on bikes in the street, vendors selling food, old hunchbacked ladies making their way home.

Out came the camera but the words, "can I take your photo" just wouldn't come out at all. It was strange. I spent an hour or two (if you count a quick break in the park under Rama 8 Bridge) wandering up and down the soi, looking at the houses, the people, the seemingly out of place banana trees. In that time I didn't take a single photo.

I wanted to, but I just didn't know how to. It's wierd. I felt strange, almost like I was snooping on people. It seemed rude to look into people's living rooms, see their lifes and then point a camera right at them.

I guess when you're travelling upcountry you don't really question what you're doing. After all, you're probably never going to see the same people ever again. So what if you take a few pictures of their house, or how they live. If you try and talk to them first, they're normally more that happy to let you take their picture, and seem quite pleased that you're interested in them and their life. They find it funny, in a cute sort of way, that the farang is at least trying to speak Thai, no matter how badly. Plus, you're travelling. It feels like you're on holiday. Holidays and photos go together like Saturday afternoons and football.

Even in BKK, I can travel to some places (and not just the main touristy ones), happily bring out the camera and start snapping away.

But at home, in Pinklao, it feels different. It feels odd to want to be so voyeuristic. I really want to take photos of my neighbourhood. I know I will, one day. But not for a while. I think I prefer experiencing it, to feeling awkward working out how to capture it on camera.





Create Date : 10 กันยายน 2550
Last Update : 10 กันยายน 2550 21:38:28 น.
0 comments
Counter : 85 Pageviews.