Why I will never understand Thai part 8964

I went to Kanchanaburi with my mum and dad yesterday. We spent an hour or two in the war museum by the riverside. It's a strange place. It's exhibits cover everything from old clocks and typewriters used by Japanese soldiers to paintings of former Miss Thailand's, lumps of rock, Thai silk and old newspapers showing the 1992 uprising.

There's a peace pagoda with a giant bell and a large riverside terrace with several viewpoints.

One thing I noticed whilst walking to the viewpoint was that one building had pictures of Thai proverbs painted on the ceiling. Each one had a hand painted picture, explaining it's meaning, plus an English translation.

As with English proverbs, they reflect the way society thinks, or used to think. They serve as a warning to remind people how, or how not to behave. I started trying to read them, in both Thai and English, then, concious of the fact that my mum and dad would be waiting for me, decided to take a few photos instead.

Here aresome of them. I know they're not that great. I kept chopping the last word off.

In Thailand, people tend to believe in karma. Do good, or make merit, and you are bound to recieve good things in return. Do evil things and you will suffer. According to the 1st one your karma follows you around like a shadow; you can't escape the results of your behavior.

Here, you are also supposed to think before you speak. Unlike at home, it's better to say nothing than to spout out your opinions. The second one warns of the dangers of thoughtless speech.

In the third one, women's place in society is made clear. The sad thing is that, in some ways Thai society doesn't seem to have changed much. Some people still think in this way.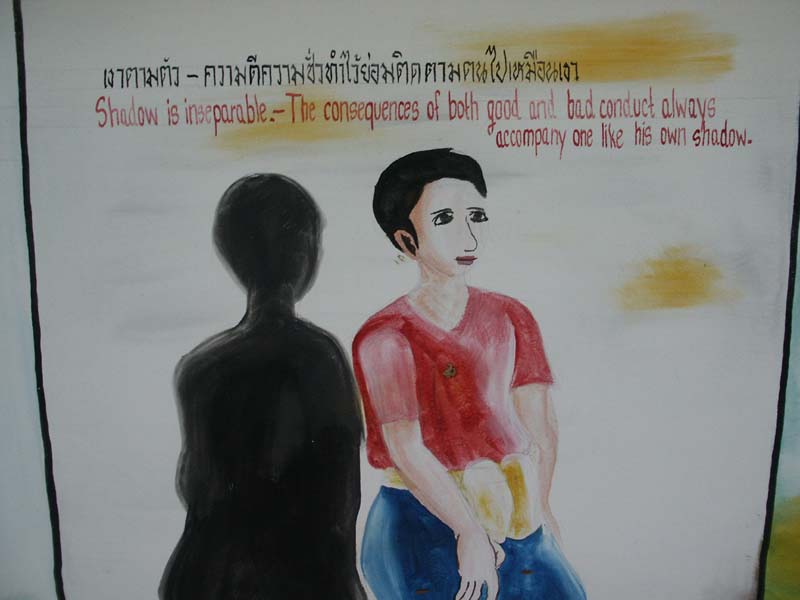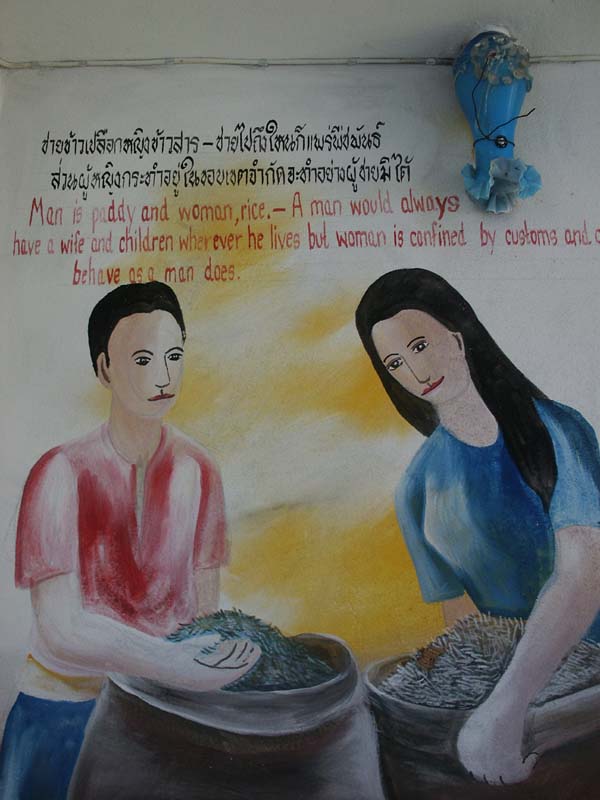 This last one, probably sums up the way I feel a lot of the time. When I talk about how things at home are so much different to here, when I try to explain why I like living here, why going home (in November) is going to be hard for me. No doubt the feeling's recriprocated when Thai friends try to explain things to me and I really, really, just don't get them.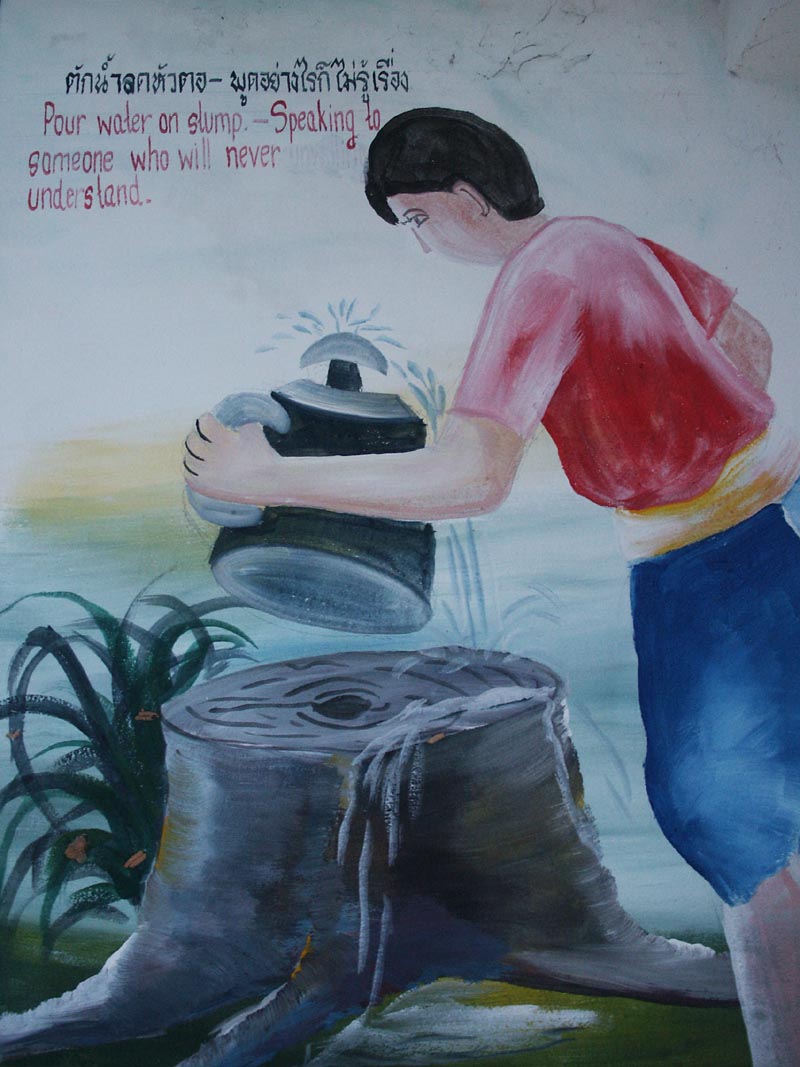 Sometimes I think, the longer I live here, the more I try and learn about Thailand, the more I realise how little I really know. For example, I can understand basic conversation, but I don't think I will ever be able to understand the way people think, and why.






Create Date : 30 กันยายน 2550
Last Update : 30 กันยายน 2550 10:54:49 น.
4 comments
Counter : 170 Pageviews.
| | |
| --- | --- |
| โดย: Kaptan IP: 58.8.22.154 วันที่: 30 กันยายน 2550 เวลา:12:06:55 น. | |
| | |
| --- | --- |
| โดย: Oam IP: 124.121.196.248 วันที่: 30 กันยายน 2550 เวลา:13:41:26 น. | |
| | |
| --- | --- |
| โดย: kampanon วันที่: 30 กันยายน 2550 เวลา:14:31:17 น. | |