Still up there...

I've been top of my friend's fantasy football league table for a couple of weeks now. I thought it was about time I started slipping down the table. Somehow or other my luck's held out.

Went to school today to hear a couple of the guys winge-ing about their position in our school league. Just checked it now and found...

I'm top !!!!

For a girl that's not taking any of this that seriously, playing against a load of guys who say its just for fun (then spent hours on the net changing their team and deciding who to buy and sell) thats pretty saweeeeettttt....

I'm sure I won't stay top for long, so here's the pic.
Am gonnna enjoy it whilst it lasts....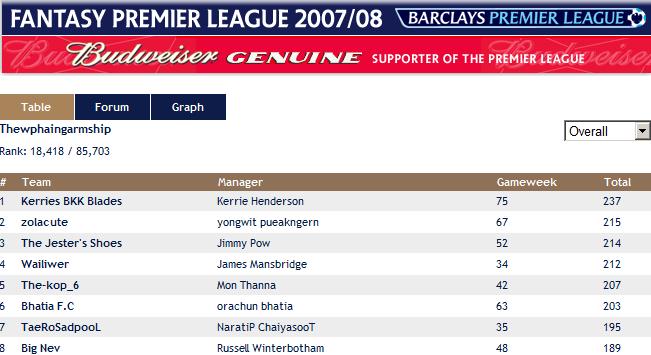 Create Date : 03 กันยายน 2550
Last Update : 3 กันยายน 2550 22:39:24 น.
0 comments
Counter : 286 Pageviews.