ราดหน้าทะเล ( Stir Fried Rice Noodle Topped With Seafood Gravy)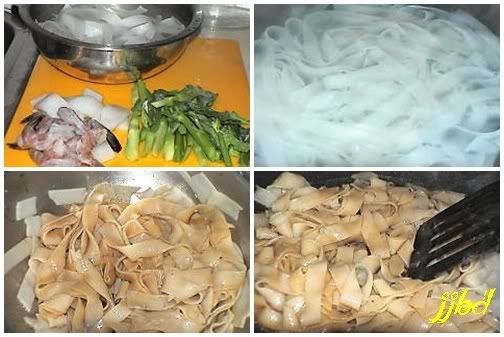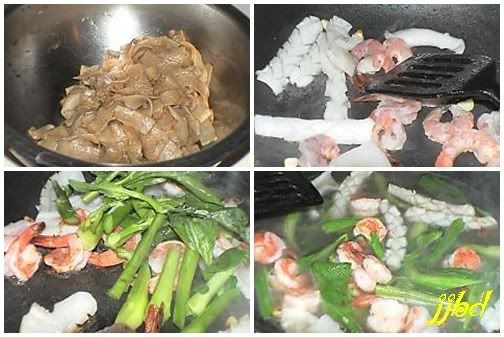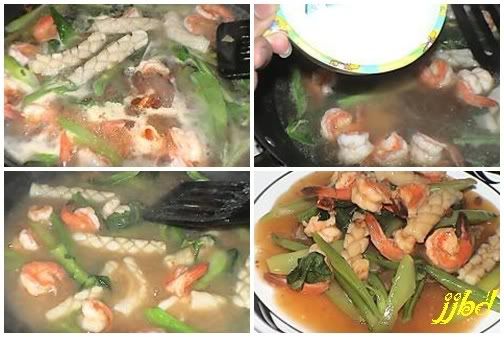 เครื่องปรุง
กุ้งแกะเปลือกผ่าหลัง 100 กรัม
ปลาหมึกหั่นเป็นชิ้น 100 กรัม
ก๋วยเตี๋ยวเส้นใหญ่ 100 กรัม
ผักคะน้าหั่นท่อนสั้น 100 กรัม
กระเทียมสับ 1/2 ช้อนโต๊ะ
แป้งข้าวโพดหรือแป้งมัน 1 ช้อนโต๊ะ
ซีอิ๊วดำ 1 ช้อนชา
เต้าเจี๊ยว 1/2 ช้อนโต๊ะ
ซีอิ้วขาว 1 ช้อนโต๊ะ
น้ำปลา 1/2 ช้อนโต๊ะ
น้ำตาลทราย 1/2 ช้อนโต๊ะ
พริกไทย
น้ำซุปหรือน้ำเปล่า 1 1/2 ถ้วย

วิธีทำ
1. เส้นใหญ่เอามายีให้แตกออกจากกัน แล้วผสมซีอิ้วดำกับซีอิ้วขาว 1/2 ช้อนโต๊ะ ลงไปในเส้นใหญ่แล้วคลุกให้ให้เข้ากัน (ถ้าใช้เส้นแห้งก็แช่น้ำก่อนแล้วต้มให้สุก พึ่งให้สเด็ดน้ำ)
2. ตั้งกะทะ พอร้อน ให้ใส่นำมันเล็กน้อย ใส่เส้นลงผัด ผัดจนเส้นหอม นำขึ้นใส่จาน
3. เอากะทะตั้งเตา ใส่นำมันพอร้อน ใส่กระเทียมลงผัดจนหอม ใส่กุ้งและ ปลาหมึกลงผัด ตามด้วยผักคะน้า ผัดจนเกือบสุก
4. เติมน้ำซุป แล้วปรุงรสด้วยเต้าเจี๊ยว ซีอิ้วขาว น้ำปลา น้ำตาลทราย
5. พอเดือดใส่แป้งลงไป คนให้เข้ากัน พอเหนียวดีแล้วปิดไฟ ตักขึ้นราดบนเส้นที่ผัดเตรียมไว้ โรยพริกไทยก่อนเสริฟ

Wide Rice Noodles with Pork Gravy

Ingredients
500 g. sliced pork or Seafood mix
1 package (1lb.) fresh wide rice noodles
500 g. Chinese broccoli (Gai Lan)
5 cloves fresh garlic
2 Tbsp thin soy sauce
2 Tbsp dark soy sauce
2 Tbsp oyster sauce
1 Tbsp seasoning soy sauce
1 Tbsp sugar
2 Tbsp salted soy bean
3 Tbsp corn flour
4 Tbsp vegetable oil for stir-frying
3 cups water

Preparation
1. Peel garlic, wash dirt, and mince. Wash Chinese broccoli, discard yellow or hard leaves and peel stems' skin. Cut leaves into 2" lengths, and slice peeled stems.
2. Cut sliced pork into 2" pieces. Heat wide rice noodles in microwave about 3 minutes, and separate clumped noodles into single strips.
3. Heat oil about 2 Tbsp in a wok on medium heat. When oil is hot, add separated wide rice noodles and dark soy sauce. Stir fry until dark soy sauce cover all noodles and set cooked noodles aside.
4. Heat oil about 2 Tbsp in a wok on medium heat again. When oil is hot, add minced garlic and fry until fragrant. Add sliced pork, stir until the pork is getting cook, then season with thin soy sauce, seasoning soy sauce, oyster sauce, and sugar.
5. Stir fry all ingredients until the pork is cooked. Add water, bring to boil, then add salted soy bean.
6. Wait until boil again, add Chinese broccoli, meanwhile mix corn flour with 3 Tbsp water, stir until flour dissolve. Then, add flour water, stir quickly to keep it from forming chunks. When cooked, the flour will turn from white to clear. (If the sauce is not thick enough, add more flour.) When the sauce is bubbling, remove from heat.
7. Put cooked wide rice noodles on plate, top with the sauce, sprinkle some ground pepper, and serve hot.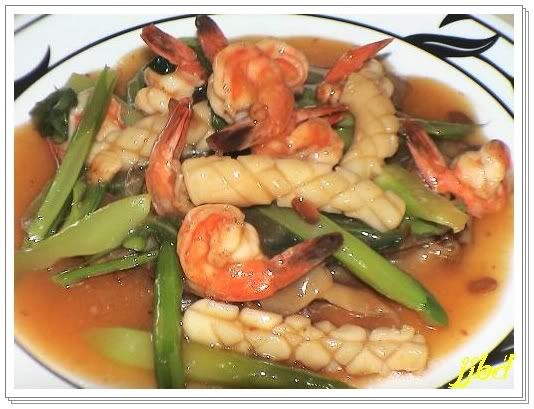 Create Date : 01 พฤษภาคม 2551

7 comments

Last Update : 16 สิงหาคม 2551 5:48:51 น.
Counter : 2049 Pageviews.