ข้าวผัดสับปะรด (Fried Rice in Pineapple )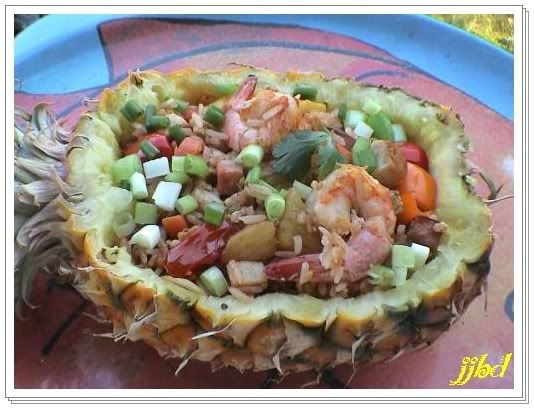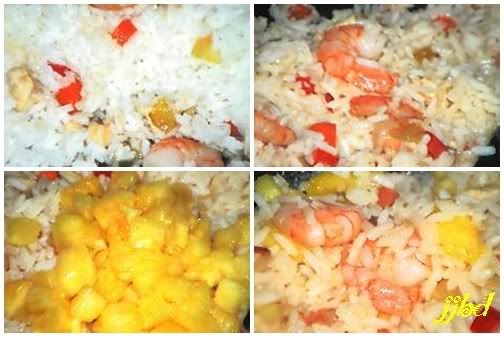 เครื่องปรุง
ข้าวสวย 4 ถ้วย
กุ้ง ตามชอบ
แฮมหั่นสี่เหลี่ยมเล็ก 1/2 ถ.
พริกหวานหั่นสี่เหลี่ยม 1/4 ถ
หอมหัวใหญ่ หั่นสี่เหลี่ยม 1/4 ถ
กระเทียมสับละเอียด 1 ชต.
สับปะรดหั่นสี่เหลี่ยม 1/2 ถ.
แครอทหั่นสี่เหลี่ยมเล็ก 1/4 ถ.
สับปะรด 1 ผล
พริกไทยป่น 1 ช.ช.
น้ำมันพืช 4 ช.ต.
น้ำปลาดี 3 ชช.
น้ำตาลทราย 1 ชต.
ต้นหอม
ผักชี

วิธีทำ
1. เจียวกระเทียมพอหอม ใส่หอมใหญ่ แครอท พริกหวาน ผัดจนเกือบสุก ใส่กุ้งและแฮม ปรุงรสด้วยน้ำตาลทราย น้ำปลาดี
2. ใส่ข้าวสวยลงผัดให้เข้ากัน โรยพริกไทยป่น ใส่สับปะรดหั่นลงเคล้าให้เข้ากัน ตักใส่ภาชนะ
3. ล้างสับปะรดทั้งผล สลักให้เป็นโถ มีฝาปิด รองด้วยใบตอง
4. บรรจุข้าวผัดสับปะรดลงในโถสับปะรดพองาม โรยด้วยผักชี วางโถสับปะรดบรรจุข้าวลงบนจาน ตกแต่งด้วยต้นหอม ผักชี หมูหยอง

Pineapple Fried Rice - ข้าวผัดสับปะรด

Ingredients:
1 pineapple, medium sized
4 oz. sliced chicken
3 tablespoons of chopped shallots
1/2 tablespoon ginger, ground
1 tablespoon of chopped cilantro
2 tablespoons of dried shrimp
3 tablespoons of garlic, coarsely chopped
2 tablespoons of fish sauce
1 teaspoon sugar
2 cups steamed rice

Directions:
1. Cut the pineapple in half lengthwise, and scoop out the fruit. Cut the fruit into bite sized chunks.
2. In a large skillet, heat a tablespoon of oil, and fry the dry shrimp until crispy. Set it aside, and drain the skillet.
3. Add one more tablespoon of oil, and fry the garlic until its becomes golden brown. Turn to medium/high heat Add in the rice, and stir.
4. Add in the fish sauce and sugar; continue to stir for about a minute. Add in the pineapple and the shrimp that you set aside earlier, and continue to stir for about another minute.
5. Put the contents into the halved pineapple, and serve. Garnish with some fresh cilantro and / or sliced beets.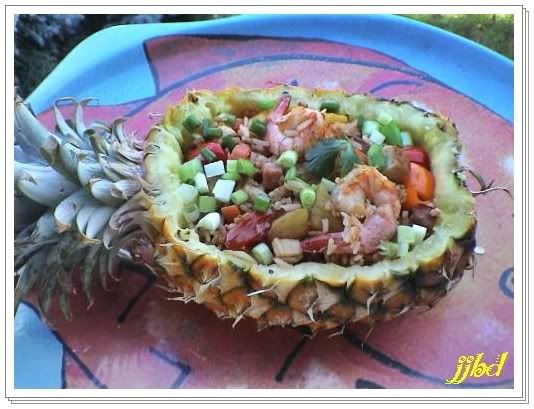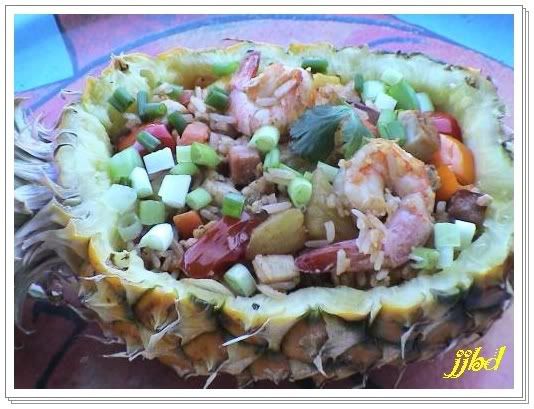 Create Date : 10 ตุลาคม 2550

6 comments

Last Update : 12 สิงหาคม 2551 6:09:45 น.
Counter : 1181 Pageviews.