ข้าวอบสับปะรด ( Baked Rice in Pineapple )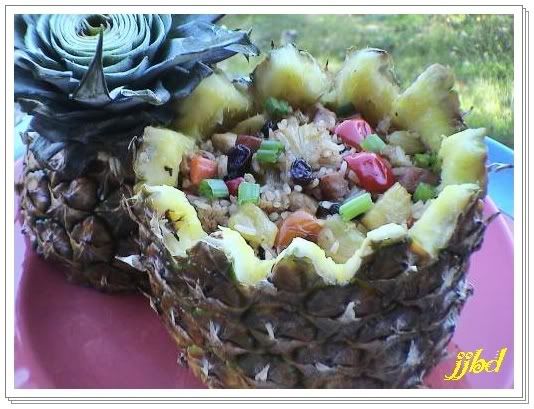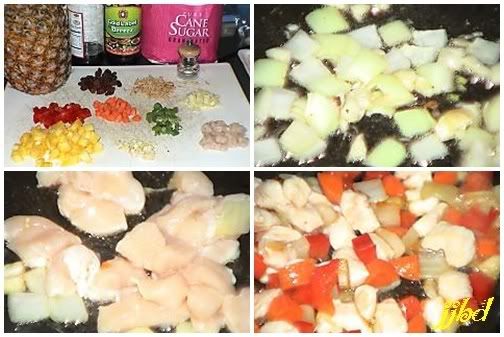 ส่วนผสม
สับปะรด 1ลูก
แฮมหั่นชิ้นสี่เหลี่ยมเล็ก 1/2 ถ้วย
เนื้อไก่หั่นสีเหลี่ยมลูกเต๋า 1/2 ถ้วย
เนื้อสับปะรดหั่นชิ้นสี่เหลี่ยมเล็ก 1 ถ้วย
แครอทหั่นชิ้นสี่เหลี่ยมลูกเต๋า 1/4 ถ้วย
พริกหวานหั่นชิ้นสี่เหลี่ยมเล็ก 1/4 ถ้วย
ลูกเกด 2 ช้อนโต๊ะ
ผักชีเด็ดเป็นใบ 1 ต้น
กระเทียม 1/2 ช้อนโต๊ะ
พริกไทยป่น 1/2 ช้อนชา
น้ำตาลทราย 1/2 ช้อนโต๊ะ
น้ำปลา 2 ช้อนโต๊ะ

วิธีทำ
1. ตั้งกระทะให้ร้อน ใส่น้ำมันพืชลงไป พอร้อนใส่ไก่ ตามด้วยแฮม
2. ใส่ผักที่เตรียมไว้ ผัดพอสุก จากนั้นจึงนำข้าวลงผัด
3. เติมเครื่องปรุงรส ผัดข้าวต่ออีกสักระยะ ชิมรสแล้วยกลงจากเตา
4. ตักข้าวที่ผัดสุกใส่ในสับปะรด (ที่ผ่าแล้วคว้านเนื้อออกหมดแล้ว)
5. นำสับปะรดไปเข้าตู้อบ ใช้ไฟ High ประมาณ 10 นาที พร้อมเสิร์ฟร้อนๆ

Rice in Pineapple (Khao Op Sapparot)

INGREDIENTS:
2.5 cups steamed rice
4 large prawns
1/2 cup bite-sized pineapple pieces
6 halved cherry tomatoes
1 tbsp chopped onion

1.5 tsp curry powder
1/2 tsp sugar
1 tbsp fish sauce
2 tbsp butter or margarine
1 pineapple for making a rice container finely sliced red spur chili and coriander sprigs for garnishing

PREPARATION:
1. Cut a pineapple in half. Take out the flesh to make a rice container with a lid.
2. Wash, peel and devein the prawns. Discard the heads; leave the tail fins attached.
3. Heat butter in a pan. Fry the onion in the melted butter over medium heat until softened. Add the pineapple and prawns. Fry until they are cooked. Add the curry powder, mix together; then add the steamed rice, fish sauce and sugar Fry and mix together Add the tomatoes and mix again.
4. Put the fried rice into the pineapple container Cover with the lid and bake at 300° F for 10 minutes. Remove the lid. Garnish with finely sliced red spur chili and coriander sprigs. Serve hot.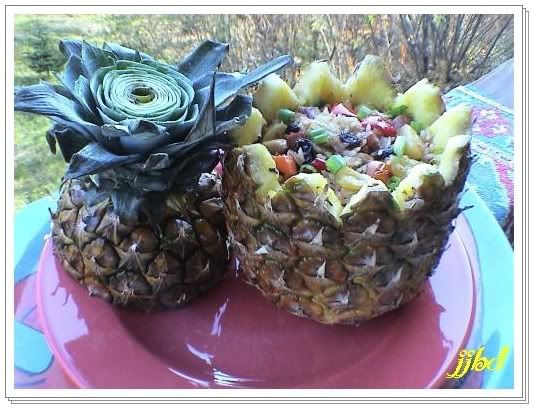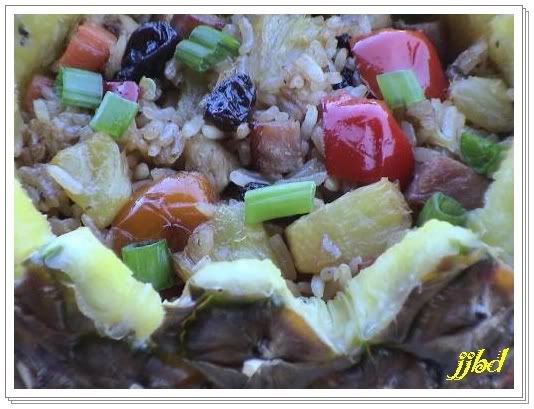 Create Date : 13 ตุลาคม 2550
Last Update : 12 สิงหาคม 2551 6:01:36 น.
2 comments
Counter : 1244 Pageviews.
| | |
| --- | --- |
| โดย: ซอร์บอนน์ (ซอร์บอนน์ ) วันที่: 13 ตุลาคม 2550 เวลา:16:34:39 น. | |
| | |
| --- | --- |
| โดย: vlovethai IP: 58.8.236.15 วันที่: 13 ตุลาคม 2550 เวลา:20:34:02 น. | |
Location :
Lopburi, Udon, Alaska United States

[ดู Profile ทั้งหมด]

ฝากข้อความหลังไมค์
Rss Feed


Smember


ผู้ติดตามบล็อก : 116 คน [?]








)

Whipped Cream Layer Cake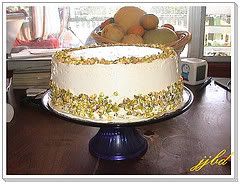 Strawberry Cream Cheese Roll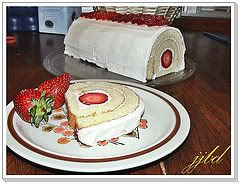 New York CheeseCake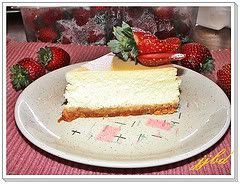 Cheesecake Brownies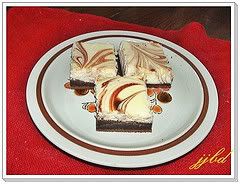 Mini Cheesecake
Blueberry Mousse Cake
Raspberry Cheesecake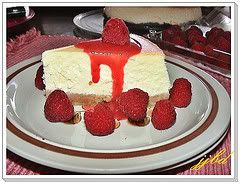 Mango Cheesecake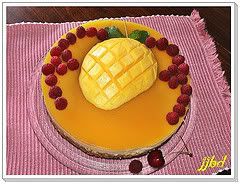 Storwberry white cake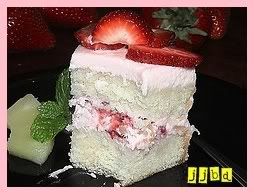 Storwberry swirl cheesecake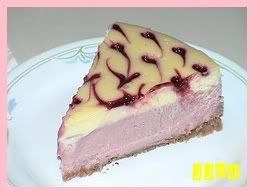 Thai milk tea cake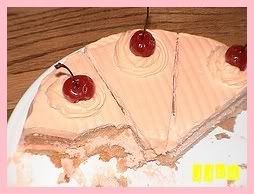 Storwberry cheesecake
Double chocolate mousse cake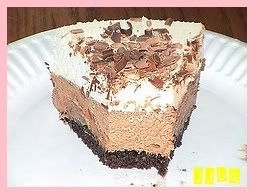 Mini Blueberry Cheesecake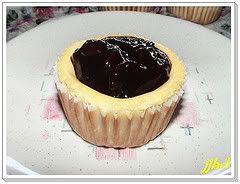 Kiwi storwberry mousse cake
Milk cake
Coconut cake
Storwberry mousse cake
Orange mousse cake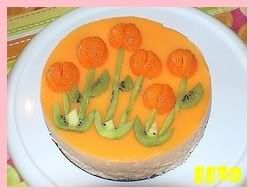 Chocolate banana muffins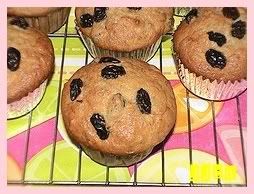 Cajeta Crepes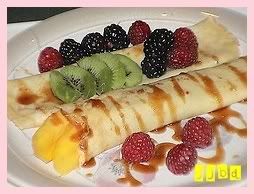 Panancotta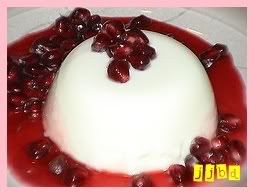 Strawberry omelet
Honey walnut pie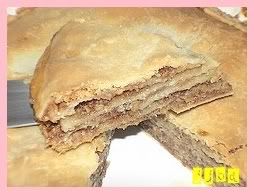 Pineapply coconut pie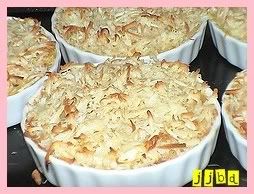 Berry Tart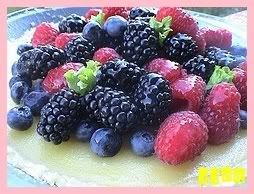 คุกกี้งาไส้แยม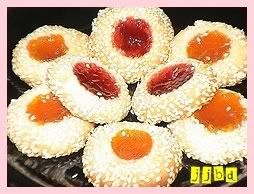 Rugelach
Meltine moments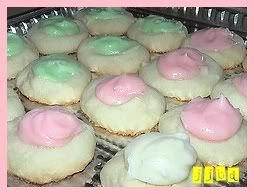 Everyday oatmeal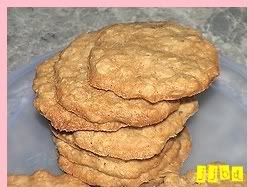 Pineapply bars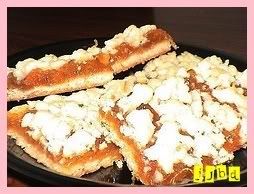 Blueberry Cake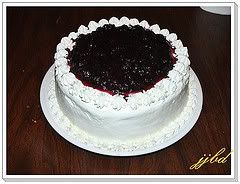 Halloween Cupcake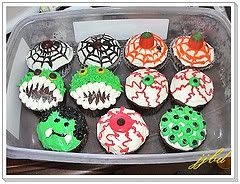 DAIFUKU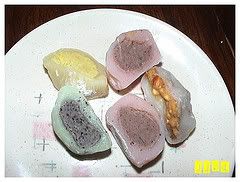 Deep Fried Ice Cream