สตรอว์เบอรี่มูสเค้ก ( Strawberry Mousse Cake )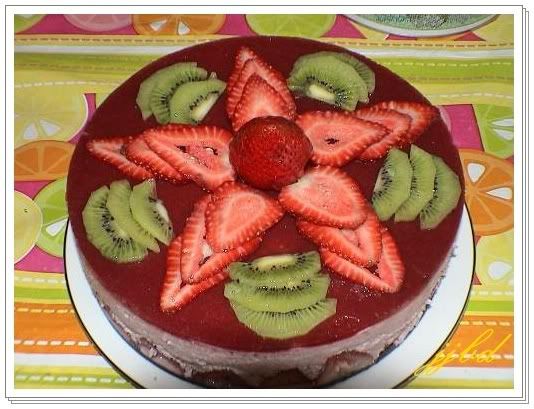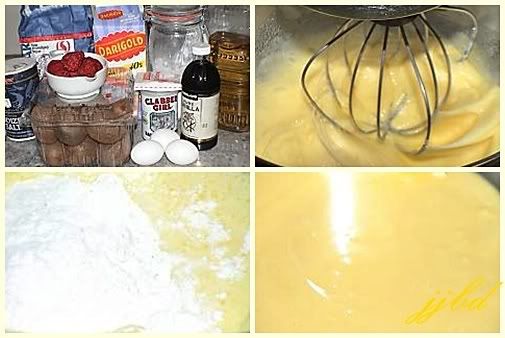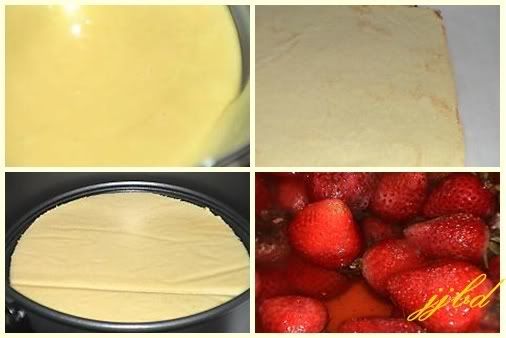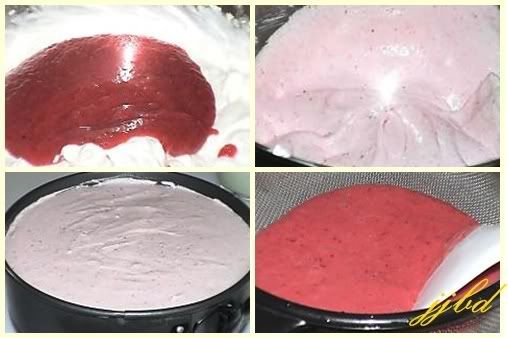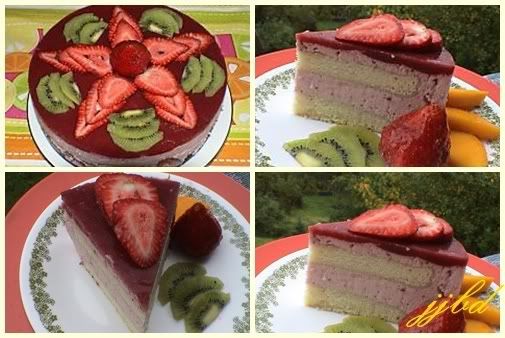 สตรอว์เบอรี่มูสเค้ก

ส่วนผสมทำ sponge cake
แป้งเค้ก 120 กรัม
น้ำตาลทรายป่น 120 กรัม
ไข่ไก่ 4 ฟอง

วิธีทำ
1. ตีไข่กับน้ำตาลจนขึ้นฟู
2. ผสมแป้งลงไปจนเข้ากันดี
3. ปาดใส่ถาดอบที่ทาเนยและรองกระดาษไขไว้ โรยด้วยน้ำตาลไอซิ่งให้ทั่ว อบที่ 180 องศา C 10 นาที พักให้เย็น
4. ตัดเป็นวงกลมขนาดเล็กกว่าพิมพ์เล็กน้อย นำชิ้นเค้กที่ได้วางลงในพิมพ์

สตอเบอรี่ก็ล้างให้สะอาด ตัดขั้วมันทิ้ง ผ่าตามยาวของลูก เอาสตอเบอรี่ที่ฝานแล้ววางชิดรอบพิมพ์ด้านใน แล้ววางเค้กลงไป

ส่วนผสมสตอเบอรี่มูส
สตอเบอรี่ 240 กรัม
น้ำ 100 กรัม
น้ำตาลทราย 180 กรัม
เจลลาตินแผ่นสั้น 6 แผ่น
วิปปิ้งครีม 400 ซีซี

วิธีทำ
1. สตอเบอรี่ล้างให้สะอาด ตัดขั้วทิ้ง หั่นเป็นชิ้นเล็ก ๆ ใส่ลงในหม้อ
2. เจลลาตินหั่นเป็นชิ้นเล็ก ๆ แช่ในน้ำเย็นจนนิ่ม
3. นำสตอเบอรี่ น้ำ น้ำตาลทราย นำขึ้นตั้งไฟจนเดือด ใส่ gelatin ลงไปคนจนละลาย พักไว้จนอุ่น เข้าเครื่องปั่นจนละเอียด
4. ตี whipping creamจนขึ้นฟู ใส่ส่วนผสมของ สตอเบอรี่ ที่ค่อนข้างเย็นลงไป ผสมจนเข้ากันดี แล้วตักใส่พิมพ์ ปาดหน้าให้เรียบ
5. วางเค้กชั้นที่สองลงไป แล้วก็เทมูสส่วนที่เหลือลงไป ปาดให้เรียบเหมือนเดิม
แช่เย็นไว้จนมูส set ตัว ประมาณ 6 ชั่วโมง
6. เคลือบหน้าขนมด้วย jelly

ส่วนผสม เจลลี่
สตอเบอรี่ 200 กรัม
น้ำเปล่า 250 ซีซี
น้ำตาลทราย 5 ช้อนโต๊ะ (ลดเพิ่มตามใจชอบ)
เจลลาตินผง 5 ช้อนชา

วิธีทำ
1. สตอเบอรี่กับน้ำใส่หม้อตั้งไฟให้เดือด ให้สตอเบอรี่นิ่ม เอาไปปั่นก่อน แล้วก็กรองเอากากออก
2. เทน้ำสตอเบอรี่ที่กรองได้ใส่หม้อ ใส่น้ำตาลทรายลงไป ใส่เจลลาตินลงไป แล้วก็เอาไปตั้งไฟให้เจลลาตินและน้ำตาลทรายละลาย
3. แล้วก็รอมันเย็นลง พอเจลลี่เย็นแล้วก็ไปราดหน้าเค้กได้เลย แล้วแช่เย็นต่อให้เจลลี่เซ็ทตัว ก็จะได้มูสเค้ก แล้วก็เอามาแต่งหน้าตามใจชอบ

Strawberry Mousse Cake

Sponge Cake

Ingredients

3 eggs, separated
1 pinch cream of tartar
1/2 cup granulated sugar
1/4 teaspoon lemon, rind of, Grated
1 teaspoon vanilla
1/2 cup all-purpose flour
1 pinch salt

Strawberry Yogurt Mousse

1 1/2 envelopes unflavored gelatin
1/4 cup water, cold
2 cups strawberries
1/3 cup granulated sugar
2 tablespoons lemon juice
1/2 cup plain yogurt
1/2 cup whipping cream

Syrup
3 tablespoons water
3 tablespoons granulated sugar
2 tablespoons strawberry jam or kirsch liqueur

FROSTING:

1 tsp. unflavored gelatin
1/4 c. cold water
1 1/2 c. whipping cream
1 tbsp. powdered sugar
Fresh, whole strawberries

Strawberry Sauce

300 g Frozen raspberry
60-70 g Granulated sugar
¾ tsp cornstarch
1 tsp Cold water

Directions

CAKE:
1. Butter and flour the bottom and sides of a 9 inch spring form pan; set aside.
2. In a large bowl beat whites and cream of tartar to soft peaks.
3. Gradually beat in 1/4 cup of the sugar, continuing to beat to stiff peaks.
4. In a separate bowl beat the yolks with remaining sugar until light yellow and thickened.
5. Scrape yolks over whites, add lemon rind and vanilla and fold together.
6. Sift flour and salt over batter, folding in gently but thoroughly.
7. Transfer to prepared pan.
8. Bake at 350 degrees F for 25 minutes or until the top springs back when lightly touched.
9. Let cool in pan on wire rack.
10. If making ahead, remove from pan and wrap well for storage at cool room temperature for one to two days or in the freezer for up to 2 months.

MOUSSE:
11. In a very small saucepan sprinkle gelatin over water; set aside.
12. Rinse, hull and puree berries.
13. In a small saucepan combine puree, sugar and lemon juice and heat gently just long enough to dissolve sugar.
14. Remove from heat.
15. Warm softened gelatin over low heat until clear and syrupy.
16. Stir into strawberry mixture.
17. Transfer to a large bowl and chill to consistency of raw egg white.
18. Whisk in the yogurt.
19. Whip cream until form; fold into mousse and return to fridge.

SYRUP:
20. In a small saucepan bring water and sugar to a boil.
21. Remove from heat, cool and stir in liqueur.

ASSEMBLY:
22. Using a long serrated knife, cut cake into 2 thin layers.
23. Place top half, but side up, in the botton of a clean 9 inch spring for pan.
24. Drizzle half the syrup evenly over the cut side of each of the 2 halves.
25. Spoon strawberry mousse over cake in pan; don't worry if mousse extends over the sides.
26. Set remaining layer, cut side over mousse, pressing gently.
27. Cover and chill thoroughly, overnight if possible.
28. Release sides of pan, and using a wide lifter, transfer cake to service plate, doily-lined if you've thought that far ahead.

For filling
29. soften gelatin in cold water. Place over low heat, stirring until dissolved.
30. Stir in strawberries. Chill until slightly thickened.
31. Beat egg whites. Add sugar. Beat until stiff peaks form.
32. Fold in strawberry mixture and whipped cream and lemon juice.
33. Cut down into cake 1" on both sides. Carefully hollow out cake, leaving 1" base.
34. Fill with strawberry mixture. Refrigerate until set.
35. For frosting heat water and gelatin until dissolved.
36. Whip cream until stiff.
37. Add sugar and gelatin.
38. Frost cake.
39. Refrigerate.

TOPPING
1. Thaw frozen raspberry in a bowl. Do not strain the juice.

2. Put the raspberry in the blender and blend until smooth and strain through a fine-mesh sieve set over a large bowl (you will get about 200g of the puree).

3. Place the raspberry puree in a small saucepan, add the sugar and bring to a boil over medium-high heat (add more or less sugar according to your taste but stay on a tangy side).

4. In a small cup, stir together the cornstarch and cold water until smooth. Whisk this mixture into the raspberry mixture and return it to medium-high heat. Heat, whisking constantly, until it comes to a boil. Boil, stirring, until thickened, about 1 minute. Remove the pan from the heat. Let the topping cool for about 20 minutes

5. spoon the topping over cake. Refrigerate the cake for at least 1 hour before serving garnish with fresh strawberries.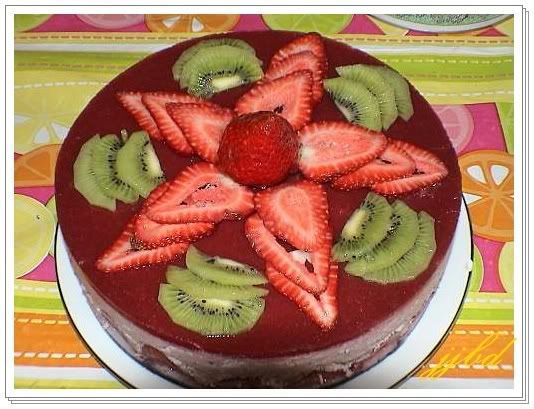 Create Date : 24 กันยายน 2550
Last Update : 29 ธันวาคม 2551 5:41:22 น.
3 comments
Counter : 3103 Pageviews.
| | |
| --- | --- |
| โดย: wee_nong วันที่: 24 กันยายน 2550 เวลา:19:30:20 น. | |
Location :
Lopburi, Udon, Alaska United States

[ดู Profile ทั้งหมด]

ฝากข้อความหลังไมค์
Rss Feed


Smember


ผู้ติดตามบล็อก : 116 คน [?]








)

Whipped Cream Layer Cake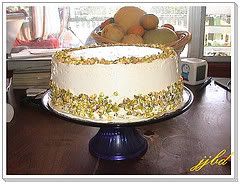 Strawberry Cream Cheese Roll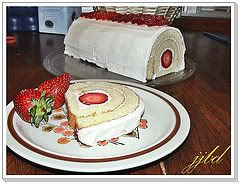 New York CheeseCake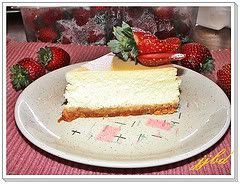 Cheesecake Brownies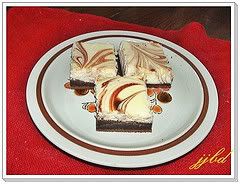 Mini Cheesecake
Blueberry Mousse Cake
Raspberry Cheesecake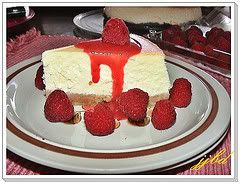 Mango Cheesecake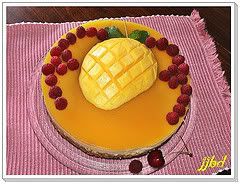 Storwberry white cake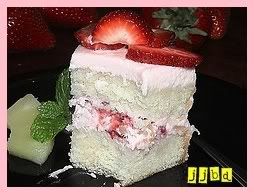 Storwberry swirl cheesecake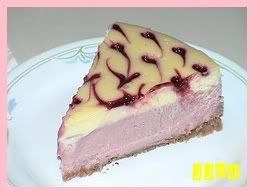 Thai milk tea cake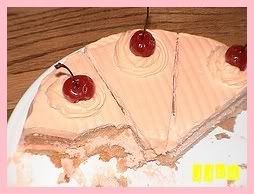 Storwberry cheesecake
Double chocolate mousse cake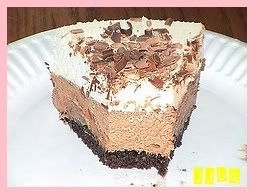 Mini Blueberry Cheesecake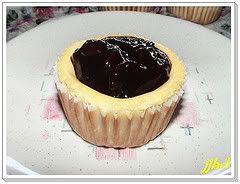 Kiwi storwberry mousse cake
Milk cake
Coconut cake
Storwberry mousse cake
Orange mousse cake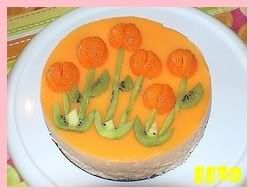 Chocolate banana muffins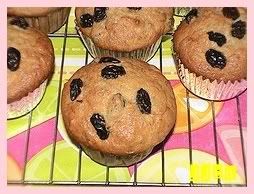 Cajeta Crepes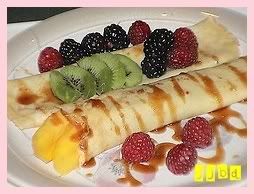 Panancotta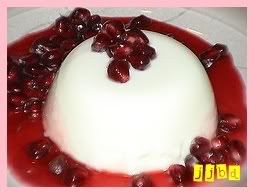 Strawberry omelet
Honey walnut pie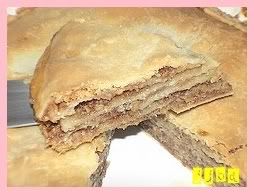 Pineapply coconut pie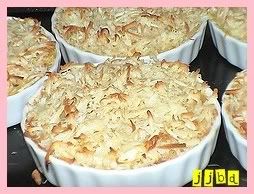 Berry Tart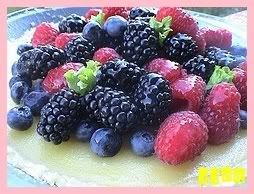 คุกกี้งาไส้แยม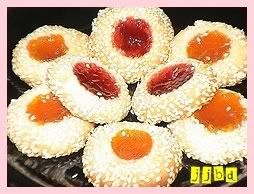 Rugelach
Meltine moments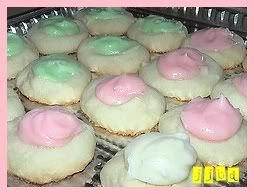 Everyday oatmeal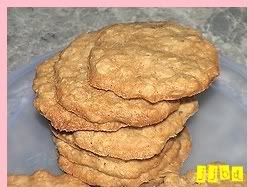 Pineapply bars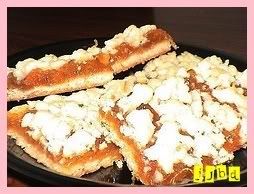 Blueberry Cake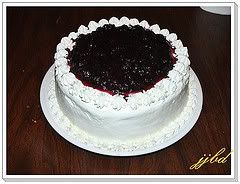 Halloween Cupcake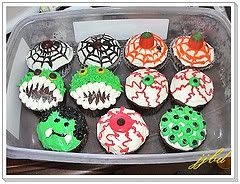 DAIFUKU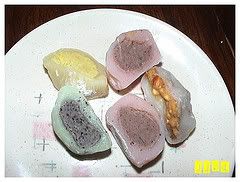 Deep Fried Ice Cream