ข้าวผัดแหนม (fried rice with fermented sausage )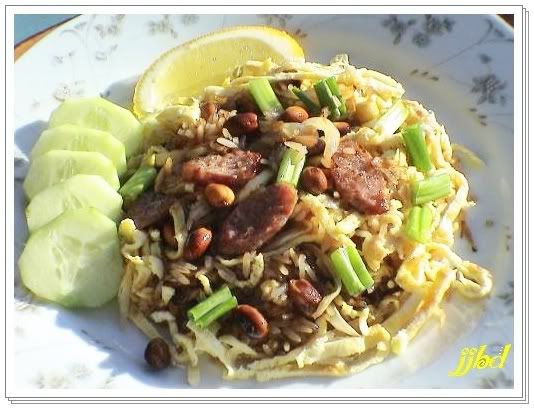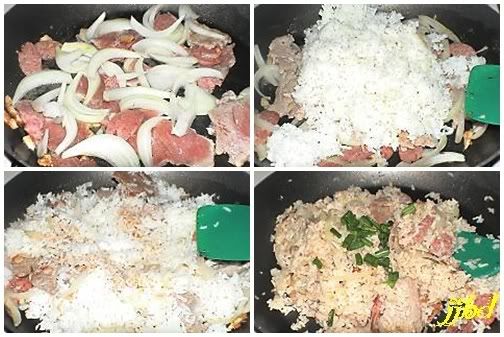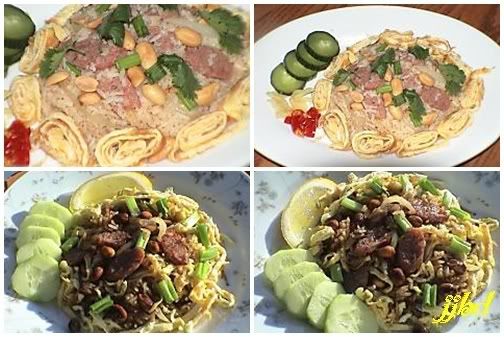 ส่วนผสม
ข้าวสวย 1 ถ.
แหนมหั่น 1/4ถ.
หอมใหญ่หั่น 1 ชต.
ไข่เจียวหั่นฝอย 1/4ถ.
ถั่วลิสงทอด 1ชต.
น้ำตาลทราย 1/2ชช.
น้ำปลา 1/2ชต.
น้ำมัน 3 ชต.

วิธีทำ
1. ใส่น้ำมันในกระทะ ตั้งไฟให้ร้อน ใส่แหนม หอมใหญ่ ผัดพอสุก ใส่ข้าว ผัดต่อจนสุกเข้ากันดี
2. ปรุงรสด้วยน้ำตาล น้ำปลา ผัดให้เข้ากันดี ปิดไฟ
3. ตักใส่จาน โรยถั่วลิสง ไข่เจียวหั่นฝอย รับประทานกับขิงอ่อน ต้นหอม พริกขี้หนู แต่งด้วยผักชีเด็ดเป็นใบ เสิร์ฟ

Khao pad naem (Thai: ข้าวผัดแหนม) - fried rice with fermented sausage

Ingredients
4 cups cooked rice
2 sticks fermented pork sausage
2 large eggs
2 Tbsp thin soy sauce
1 tbsp seasoning soy sauce
2 Tbsp oyster sauce
2 tsp sugar
1/2 head of onion
3 cloves garlic
4 leaves green lettuce
1 tomatoes
3 green onions
1 sprig cilantro
2 Tbsp vegetable oil

Preparation
1. Peel onion and garlic, cut green onion roots, cut cilantro stems, wash dirt, and pat dry. Chop onion into small dices, mince garlic, cut green onion into 1/2" length, pick only cilantro leaves, and thinly slice tomato.

2. Slice fermented pork sausages into small pieces. Heat oil in a wok on medium heat. When oil is hot, add diced onion and minced garlic, fry until fragrant and onion is getting cook.

3. Add sliced fermented pork sausages, stir-fry until the sausage is getting cook, make room for eggs in the middle of the wok, scramble with spatula, and spread eggs in a thin layer. Then season with thin soy sauce, seasoning sauce, and sugar.

4. When set, return the eggs (don't stir), wait until the eggs are cooked, add cooked rice and oyster sauce. Stir-fry until the sauce mix thoroughly.

5. Add cut green onion, stir quickly, and remove from heat.

6. Put the fried rice on a plate, top with cilantro leaves, and serve with sliced tomatoes and green lettuce leaves.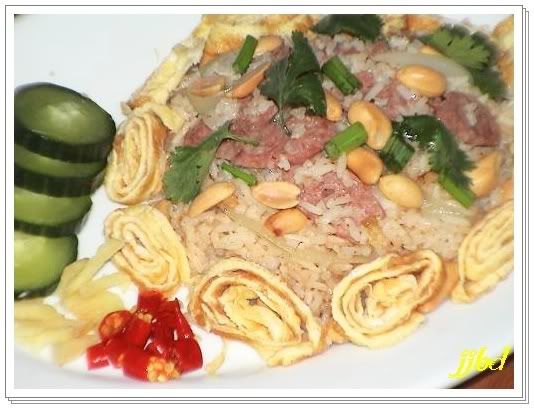 Create Date : 11 ตุลาคม 2550
Last Update : 12 สิงหาคม 2551 6:03:03 น.
5 comments
Counter : 1004 Pageviews.
| | |
| --- | --- |
| โดย: t_O_O_n (toonnaka ) วันที่: 11 ตุลาคม 2550 เวลา:18:28:28 น. | |
| | |
| --- | --- |
| โดย: wee_nong วันที่: 11 ตุลาคม 2550 เวลา:18:31:01 น. | |
| | |
| --- | --- |
| โดย: mikajue วันที่: 11 ตุลาคม 2550 เวลา:20:03:12 น. | |
| | |
| --- | --- |
| โดย: wildbirds วันที่: 16 ตุลาคม 2550 เวลา:18:33:36 น. | |
Location :
Lopburi, Udon, Alaska United States

[ดู Profile ทั้งหมด]

ฝากข้อความหลังไมค์
Rss Feed


Smember


ผู้ติดตามบล็อก : 116 คน [?]








)

Whipped Cream Layer Cake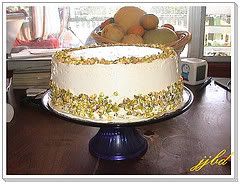 Strawberry Cream Cheese Roll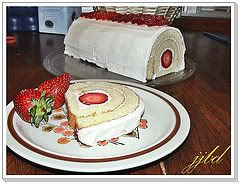 New York CheeseCake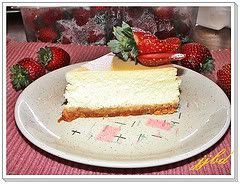 Cheesecake Brownies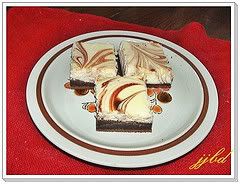 Mini Cheesecake
Blueberry Mousse Cake
Raspberry Cheesecake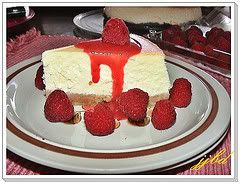 Mango Cheesecake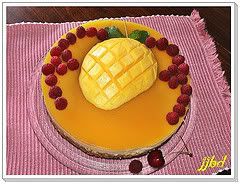 Storwberry white cake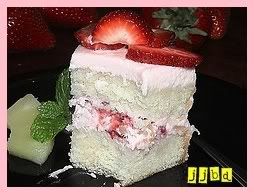 Storwberry swirl cheesecake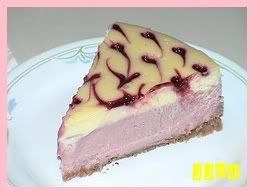 Thai milk tea cake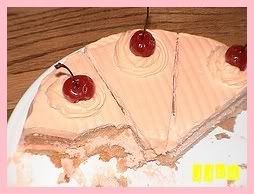 Storwberry cheesecake
Double chocolate mousse cake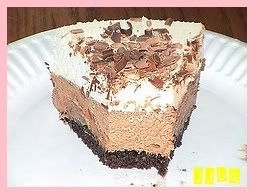 Mini Blueberry Cheesecake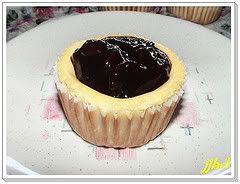 Kiwi storwberry mousse cake
Milk cake
Coconut cake
Storwberry mousse cake
Orange mousse cake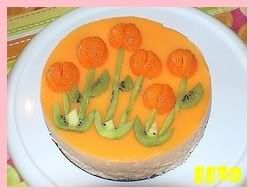 Chocolate banana muffins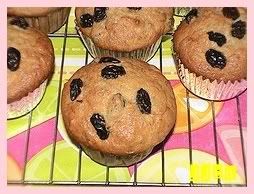 Cajeta Crepes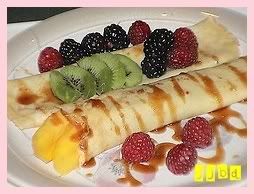 Panancotta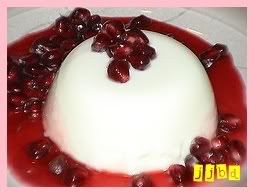 Strawberry omelet
Honey walnut pie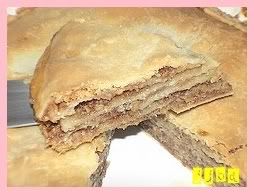 Pineapply coconut pie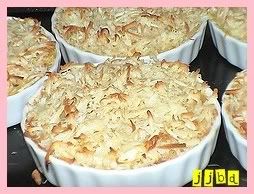 Berry Tart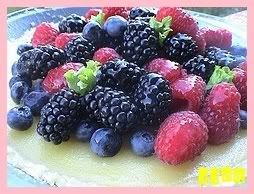 คุกกี้งาไส้แยม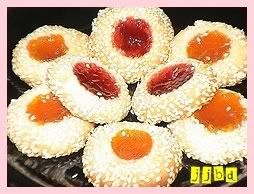 Rugelach
Meltine moments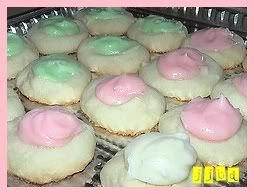 Everyday oatmeal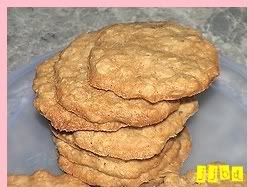 Pineapply bars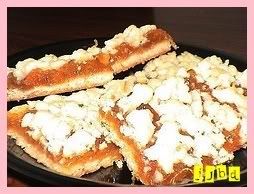 Blueberry Cake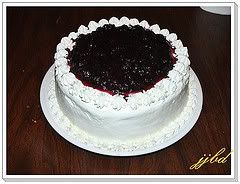 Halloween Cupcake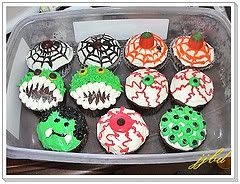 DAIFUKU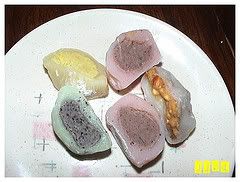 Deep Fried Ice Cream