1984 "Big Brother is watching you"
1984 was written on 1948 by GeorgeOrwell for fortune the future that we never know before,the story is about Winston Smiths is one of the bureaucrats,rewriting history in one of the departments,one day he falled in love with Juria which worked in same party,they must hide everyone to keep their relationship , Love wasn't allowed in big brother Land which was called for thedictator of Oceania that seized power ,Everyone was controlled thought ,mind,action,speech,article,etc…….Freedom was gone,Big brother was coming to replace,Big brother is watching all.Even Smiths is one of the bureaucrats, but he isinterested in Rebel.he tried to memo and wrote notebook that he found it unconsciously then he started to write 1984 which was shown about society under Big brother.
Big brother controlled all medias which alwayscelebrated only Big brother's goodness,all windows was closed and watching all population through camera , if theysuspect whomever ,that would be caught and punished savagely,101 was called formost horrible room , none knew what it is, but none want to try it because ifthey tried they might not live in this land anymore.
Oceania's society is divided into three distinctclasses: InnerParty, Outer Party and proles(commoner) The proles constitute85% of the population; they receive little education, work at manual labor,live in poverty , the proles care only little things "Work and Breed"then theyhad no chance to be rebel or protester.inner party and outer party couldn'tassociate with proles , it's illegal.Lots of propaganda was released to allpopulation for brainwashing and these information was prepared by Ministry oftruth which is one of four ministries that govern the nation(Ministry oflove,Ministry of plenty and Minitry of peace).
The central theme of Oceania's idea that is a poor, weakpopulace is easier to rule over than a wealthy, powerful populace .On theoutside wall are the three slogans of the Party: "WAR IS PEACE,""FREEDOM IS SLAVERY," "IGNORANCE IS STRENGTH for remind theirpopulation that Don't forget it.
Juria and Smiths broke the rules and continued their relationship , both of them wish to step out from Big brother 's dominance.Juria would like to make a child.both worked for party,they have been classified to be higher level so they cannot live same as commoner (proles) How did they do?
One day,Smith met O'Brien—a member of the Inner Partywho convinced Smiths that he is member of The Brotherhood which is revolutionaryparty.Smith believed O'Brien and promised to join this group , but finally O'Brienbetrayed him he is agent of thought police,Smith and Juria were arrested.Smithstill stand on his old standpoint strongly even he would be endured severalmonths of extreme torture.Finally his spirit broke up when he was taken to room 101 that is most horrible room ,the 101 would be different for each person, it was set according to their own worst fear. The most horrible thing for Smith is Rat.he had bad experience with Rat when he was young.so The room 101 for Smith was full of starving rat.he surrendered to O'Brien and betrayed to Juria "Do it to Juria" is the word which he said to O'Brien when he was facing with Many rats.Fearness is winner.Smith accepted to love Big Brother at last.
Right now, my land become to dictatorship and everyone still accept it like nothing happened. We are governed by democracy very long time agos and some fighted for it but we ,modern people who never concern about nation and all surroundings,always go to wrong ways and try to be blind for every problems, hide and cover it. The problem still stand same place,never disappear,waiting time to explore.
The present government is Military coup , they convince us that will return everything to normal situation soonest. It takes around one year for revolution our nation from corruption .The corruption is not from Taksin or his party , it is from every human being who has selfishness andgreediness.if we want to clean everything , what are they going to do? Just clear Taksin clan and his relative.this time is just their turn. they just would like to have chance to corrupt.Nation always is luxury food for greedy people. In fact this government is going to do same thing with Big Brother.Why don't we call the coup is Big Brother? The coup seized everything including our freedom,our freely speech.this is right way to control undeveloped country? Why do our country still be put in third world countries?because some Thais people care only their comfortability,Breed,Sex,Foods that is nonsense thing but some raises them to be worth things. If we still addict in these things , we couldn't move forward to be developed country or even second world countries.
1984 book was prohibited to read in Thailand. Or even writing article about 1984 ,it may be caught or monitor closely meanwhile some countries are stepping up to be business leaders but we still conflict with administration.We is governed by democracy but cloudy all along. I think it should be made it clear that which type of administration we want to, Democracy or absolute monarchy .which type that suit for us.We may get answer soon.

             Long live Big brother!!Long live Big brother!!Long live Big brother!!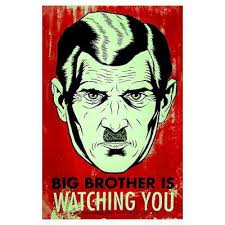 Create Date : 15 กรกฎาคม 2557

11 comments

Last Update : 15 กรกฎาคม 2557 21:23:20 น.
Counter : 7365 Pageviews.