ถั่วฟักยาวผัดพริกแกง ( stir-fried pork and long been with Curry Paste )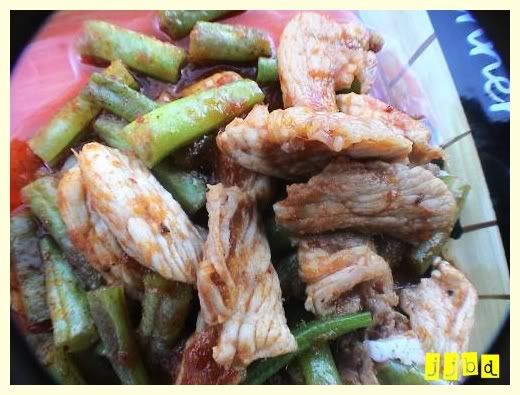 เขาบอกว่า....ถั่วฝักยาวนั้นมีสารอาหารในปริมาณสูง มีแคลเซียมและฟอสฟอรัสมากมาย นอกจากนี้ยังมีวิตามินซีและโปรตีน แต่อย่างไรก็ตามการกินถั่วฝักยาวดิบก็อาจทำให้ท้องอืดได้ ทั้งมีข้อที่ควรระวังเพราะถั่วฝักยาวเป็นพืชผักที่มีแมลงรบกวนมาก เกษตรกรบ้านเราจึงต้องใช้ยาฆ่าแมลงมากตามไปด้วย ควรล้างด้วยน้ำยาสำหรับล้างผักรหือน้ำส้มสายชูแช่ไว้สัก 10 นาที ค่อยล้างด้วยน้ำสำอาดในปริมาณมาก ๆ หลาย ๆ ครั้ง แม้ว่าจะดูเปลืองน้ำไปสักนิด แต่ก็กินได้อย่างสบายใจ

ส่วนผสม
ถั่วฝักยาวหั่นท่อน 1 นิ่ว 1 ถ้วย
หมูหรือหมูสามชั้น หั่นชิ้นพอดีคำ 1 ขีด
พริกแกงเผ็ด 1 ช้อนโต๊ะ
น้ำปลา 1-2 ช้อนชา
น้ำตาล 1-2 ช้อนชา

วิธีทำ
1. ใส่น้ำมันลงกระทะ ตามด้วยพริกแกงเผ็ดลงไปผัดให้หอม
2. ใส่หมูลงไปผัด ใส่ถั่วตามลงไป เติมน้ำเปล่านิดหน่อยพอคลุกคลิก
3. ปรุงรสด้วยน้ำปลา น้ำตาลทราย ชิมรสดูให้ออกหวานๆ เค็มๆ ก็ใช้ได้แล้ว

Stir-fried Pork with Red Curry Paste and Long Green Bean

Ingredients
200 g. streaky pork
300 g. long green beans
2 Tbsp red curry paste
5 kaffir lime leaves
1 ½ Tbsp sugar
1 tsp fish sauce
1 Tbsp vegetable oil

Preparation
1. Wash long green beans, cut both ends, and cut into 1" length.

2. Put cut long green beans in a microwave (or scald in boiled water) for 2 minutes, shock with cold water, drain and set aside.

3. Wash streaky pork, pat dry, and cut into pieces.

4. Wash kaffir lime leaves, tear in halves, remove central stems, and finely slice.

5. Heat on in a wok on medium-high heat. When oil is hot, add red curry paste, stir-fry until fragrant and oily, then add cut streaky pork.

6. Stir-fry until the pork is getting cook, season with fish sauce and sugar, and stir-fry until all ingredients mix together.

7. Add long green bean, stir-fry quickly to mix well, add finely sliced kaffir lime leaves and continue stir-fry for 30 seconds, then remove from heat.


Create Date : 20 กันยายน 2550

2 comments

Last Update : 8 มิถุนายน 2552 13:52:49 น.
Counter : 1022 Pageviews.