1
2
3
4
5
6
7
8
9
10
11
12
13
14
15
16
17
18
19
20
21
22
23
24
25
26
27
28
29
30

| | |
| --- | --- |
| | 14 เมษายน 2551 |
Monkey Bread



Monkey Bread is a sticky, gooey pastry served as a breakfast treat. It is made with pieces of sweet yeast dough which are baked in a cake pan at high heat after first being individually covered in melted butter, cinnamon, sugar and chopped pecans.

This bread gets its name because you goop pieces of dough together before baking them in a muffin tin or cake pan and then pull the pieces back apart with your fingers after the finished product comes out of the oven -- sort of monkey-like.


This is the second time that I made this monkey bread...For the first time I made ,the bread came out aparted once turned out and also the taste of the dough wasn't something I really like (which doesn't mean it's not good!), so I kind of put it onto my to-be-improved-thing list..and thought,for this case, what I need is a better dough !


Last week in Bangkok, I had a chance to try on a sweet bun recipe from happyhomebaking which I was really pleased with the result and think this recipe is the best I've ever tried ! Then it suddenly came through my mind that I could easily use it as a monkey bread dough..so I didn't wait that long before giving it a try..


And I was right (even I modified the original recipe a bit) !! it absolutely fitted my taste..more or less ! everything went just right and I was really happy with what I've got..


Ingredients: (modified version)

For the dough:

200g bread flour
100g cake flour
1.5 tsp active dry yeast
1/2 tsp salt
125ml (1/2cup) warmed milk
1 egg
25g caster sugar + 1 tsp extra
50g butter

To assemble:

1/2 cup of brown sugar+caster suger mixture
60g melted butter


Method:

1. Combine the yeast+ 1 tsp sugar with the warmed milk and leave for 10 minutes until bubbles appear on the surface. Mix the flours, salt and the sugar in a mixing bowl. Add in the egg and the yeast mixture. Mix into a dough. Then add the soften butter and mix until incorporated.

2. Place the dough on a lightly floured work surface. Knead the dough until the gluten is fully developed (see tip below) and the dough is elastic, smooth and non-sticky. It will take about 25 mins to knead the dough by hand. Initially the dough will stick on to the work surface. Do not be tempted to add more flour or even give up kneading! After continuous kneading, the dough will no longer stick to the work surface.

3. Place the dough in the mixing bowl and cover with a damp towel or cling wrap to seal in the moisture. Allow the dough to ferment(or proof) until double in size about 1-1.5 hours.

4. Grease a 8.5*4.5*2.5-inch loaf pan. Place melted butter into a small bowl and put the sugar mixture into a fairly shallow bowl.
Turn risen dough out onto a lightly floured surface and gently deflate. Divide into about 15-16 pieces (a few more or less is ok). Roll each one gently into a ball. Dip each ball into melted butter and generously coat in sugar. Add more sugar to the mix if you run low at any point. Put dough into pan and repeat with each ball, stacking them up as necessary. Sprinkle a tablespoon ot two of extra sugar on top. Cover with plastic wrap and let rise for 45 minutes, or until the dough just barely reaches the top of the pan.


5. Preheat oven to 375F. Bake bread for about 30 minutes, until browned on top ( I took 22 minutes). Turn bread out immediately onto a plate and let cool. Bread can be left inverted, with caramel on top, or turned so the crisp, sugared side faces up.Once the bread has mostly cooled, give in to temptation and eat!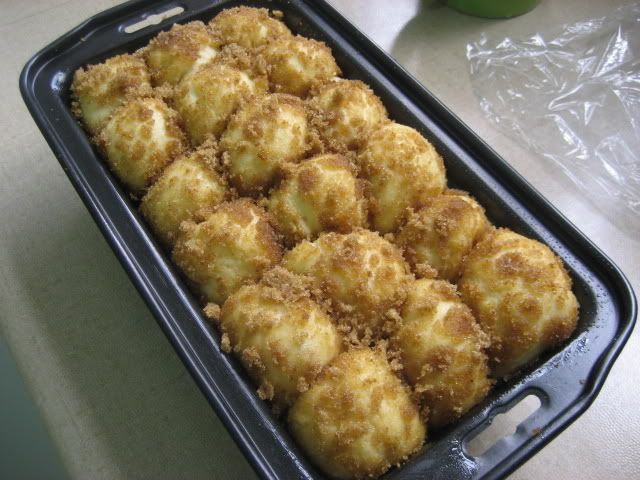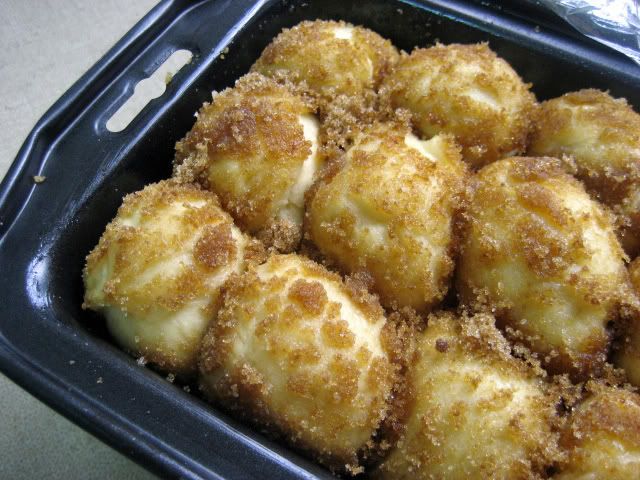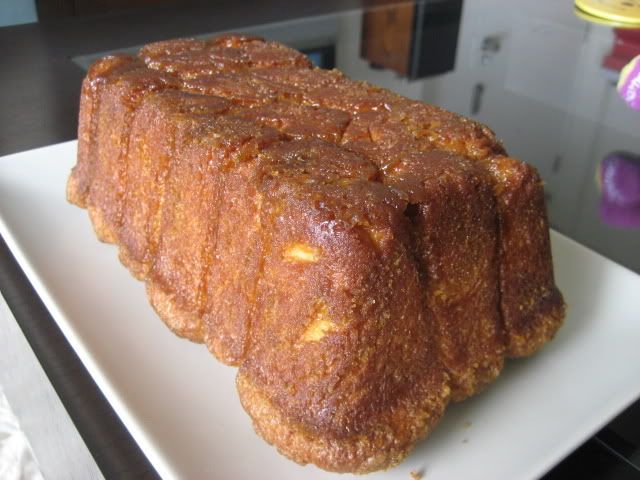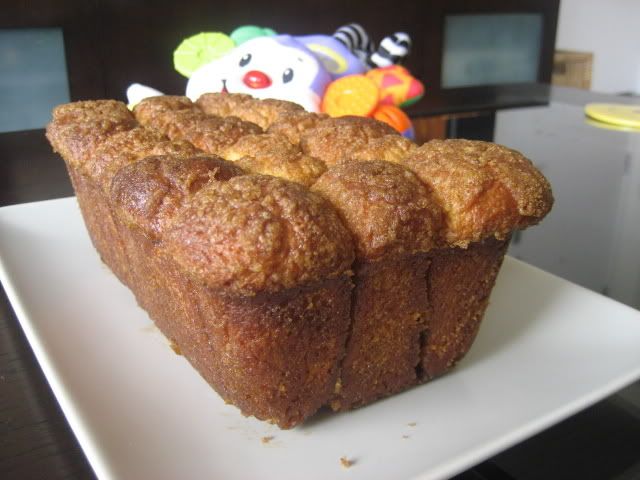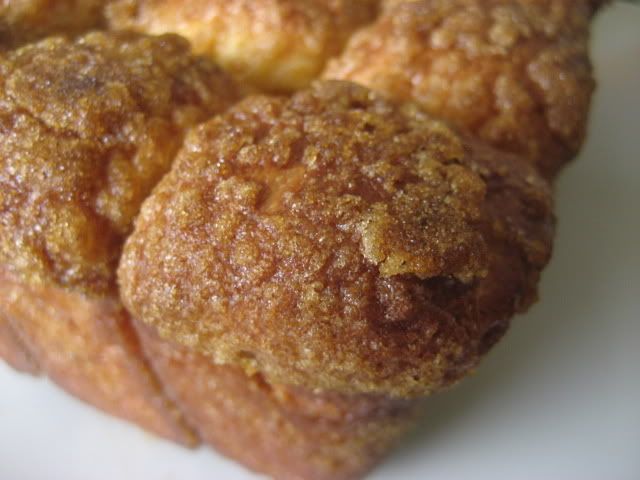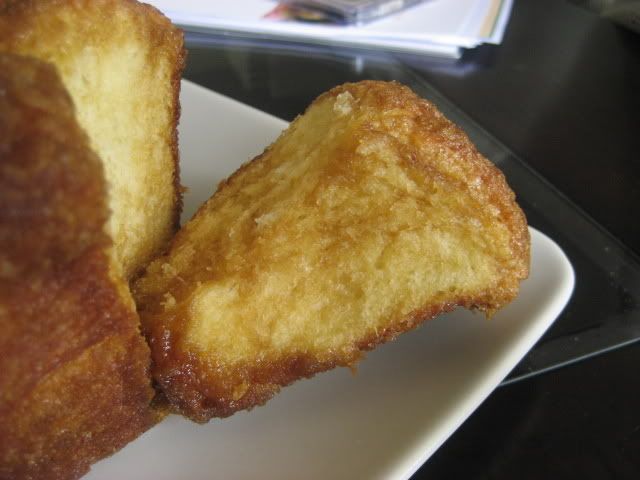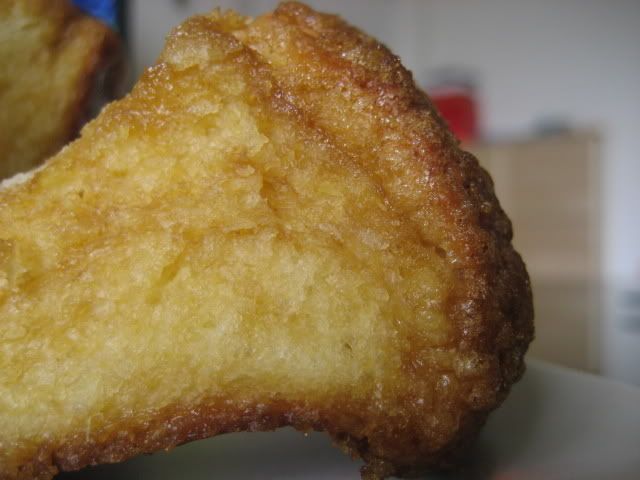 Create Date : 14 เมษายน 2551
Last Update : 14 เมษายน 2551 17:26:57 น.
13 comments
Counter : 1179 Pageviews.
| | |
| --- | --- |
| โดย: Tiny Bakery วันที่: 14 เมษายน 2551 เวลา:17:31:51 น. | |
| | |
| --- | --- |
| โดย: ยัยตัวอ้วน วันที่: 14 เมษายน 2551 เวลา:18:04:15 น. | |
| | |
| --- | --- |
| โดย: pepsakoy วันที่: 14 เมษายน 2551 เวลา:18:12:02 น. | |
| | |
| --- | --- |
| โดย: Imaginewing วันที่: 14 เมษายน 2551 เวลา:18:40:11 น. | |
| | |
| --- | --- |
| โดย: ปูน (jumpoon_t ) วันที่: 14 เมษายน 2551 เวลา:18:52:17 น. | |
| | |
| --- | --- |
| โดย: ก้อย (bake-aholic ) วันที่: 14 เมษายน 2551 เวลา:19:00:03 น. | |
| | |
| --- | --- |
| โดย: puppadoowab วันที่: 14 เมษายน 2551 เวลา:21:14:04 น. | |
| | |
| --- | --- |
| โดย: favola วันที่: 13 กันยายน 2554 เวลา:21:47:54 น. | |
| | |
| --- | --- |
| | pepsakoy |

This blog is made for fun...do not expect to see anything serious.And if you can't accept the concept,please feel free to go away from my place!