Rosca de reyes

Rosca is the name given to any ring-shaped bread or cookie. This sweet bread was once used by the friars to evangelize: a small doll, representing the Christ child, is baked right in the bread- "hidden", to symbolize the hiding of the infant from King Herod's troops on the day of Los Santos Inocentes, the Holy Innocents.

Rosca de Reyes (wreath of kings) is an Epiphany (January 6 in most of the Catholic world) celebration of what in England was traditionally called Twelfth Night. A decorated wreath is prepared, and before it is served, a little baby dollie, or other object, is inserted. The treat is eaten with family and friends, and the person who gets the "baby" is responsible for giving a little party on Candlemas Day (February 2).


In fact, I already made this bread and posted it on here last year. This time I've still got nothing to do with Epiphany but I wanted to try on another recipe of a rosca which is not complicated and doesn't take much time as the previous one.


The thing is that I have still got a bad flu that has caused a malfuntion of my taste bud when I made the bread which means I was completely unable to taste or feel anything in it..and I, therefore, couldn't give any comment on my Rosca de reyes this time ! Anyway, I managed to get a verdict from one of my tasters and according to her judge, the bread is slightly sweet, soft , yet chewy and also has a tinge of anise ( even I didn't use anise extract as called for in the recipe !) ..now see and look what I've done!


Rosca de reyes (adapted from here)

For this recipe you will need:

•1+1/2 tsps dry yeast
•1/3 cup lukewarm milk
•3 tbsp sugar
•1.5 tbsp dark rum
•40 g unsalted butter
•1 tsp pure vanilla extract
•1 anise
•2+1/3 cups bread flour
•1/4 tsp salt
•2 large eggs
•1/3 cup raisins
•egg wash ( 1 egg+1 tbsp milk )
•mixed peel + glace cherry for garnish

For the pasta:

•½ cup sugar
•1 egg yolk
•½ cup flour
•1/3 cup butter, softened

Preparation:

1. Dissolve yeast in the milk and let it sit for 5 minutes or until it starts foaming.

2. In a small bowl melt the butter and mix in the sugar, vanilla, anise and rum. Add the eggs and mix to combine then discard the anise.

3. Stir the flour and salt together in a mixing bowl then add the butter mixture and the yeast mixture, using a dough hook to mix everything to form a ball and knead for 15-20 minutes until smooth and elastic. Add raisin and knead until incorperated add more flour if the dough is too wet. Place dough into a bowl and cover. Let it sit until it doubles in size, about 1 hour.

4. Turn the dough onto a slightly floured surface and using your palms roll it into a long rope. Shape it into a ring sealing the ends together. Place the dough on a baking sheet lined with parchment paper or silicone mat and let rise for 45 minutes.

5. Meanwhile pre-heat oven to 350ºF (175°C) and prepare the pasta, mix the ingredients for the pasta, stir them with a spoon until they come together.

6. Make an egg wash and brush over the bread. Using an icing knife or bag spread strips of pasta on the bread alternating with mixed peels and halved cherries.

7. Bake for 20-25 minutes or until it turns golden brown. Let it cool on a rack.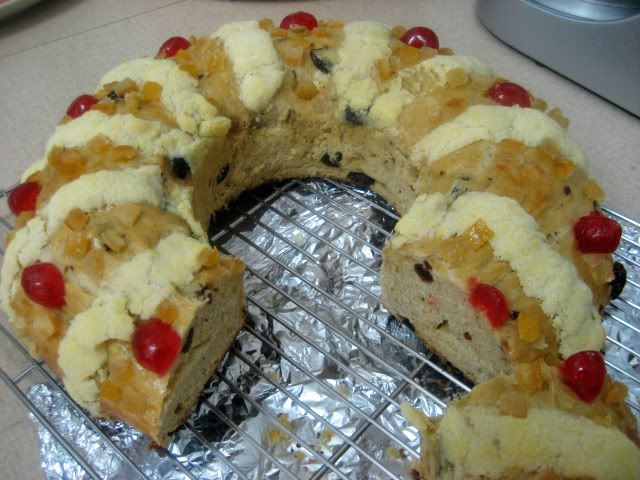 Create Date : 10 มกราคม 2552

18 comments

Last Update : 10 มกราคม 2552 13:25:14 น.
Counter : 1293 Pageviews.