Banana and Apricot Whirls
My husband asked if I could make something for his breakfast meeting which there are a few big guys attended..as a good wife (??) how could I say no..??? lol..

I chose to make bread rather than cake..cuz I think it's too early to have a piece of cake since 8 o'clock in the morning ! Having a glance on ingredients..I thought this is a perfect choice to accomplish my mission!!


I've got the recipe from my goodfood magazine and think the method is pretty much similar to making cinnamon rolls or chealsea buns ..only the fillings which use banana and dried apricot ,not raisins or nuts makes this bread different from them..


Anyway, I did adjust the recipe to fit what I've got in hands and also to match my own taste which I believe it doesn't distort the original taste !


Ingredients (original ,make 18)


225g strong white flour
225g malted granary bread flour
1 tsp salt
1 tsp caster sugar
7g sachet easy-blend yeast
150ml warm milk
1 egg , beaten
1 tbsp olive oil
100-150ml warm water
50g unsalted butter , melted
4 medium bananas
200g dried apricots , chopped
2 tsp cinnamon
100g light muscovado sugar
zest 1 orange
4 tbsp runny honey


Note : I used only strong white flour and replaced milk with 2 tbsp of dried milk powder+water...omitted the oil and added 90g butter.


Method:


1. Mix the flours and salt together in a large bowl, then stir in the sugar and yeast. Make a well in the centre of the flour and pour in the warm milk, beaten egg, olive oil and enough of the water to form a soft, wet dough.


2. On a lightly floured surface, knead dough for 10 mins until smooth. Put the dough in a lightly oiled bowl, cover with oiled cling film, then leave to rise in a warm place until doubled in size. The dough is now ready to be shaped. Divide the dough into 2 balls.


3. Lightly butter two 20cm square baking tins. On a floured surface, roll each dough into a rectangle approximately 30cm x 25cm and brush with melted butter. Thinly slice bananas into a bowl and mix in apricots, sugar, cinnamon and orange zest. Spoon half mixture over the dough, leaving a finger-width border.


4. Roll the dough towards you from the long side of the rectangle, tucking in any banana that falls out. Press ends together to seal. With a sharp knife, cut into 9 pieces and place, cut side up, in the tin, just touching each other. Cover loosely with oiled cling film and set aside in a warm place to rise for 30 mins. Repeat with the other dough and the remaining of the fillings mixture.


5. Heat oven to 200C/fan180C/gas 6. Warm the honey in a pan or in the microwave on High for 5 secs, then brush half over the buns. Bake for 20-25 mins until golden. Allow to cool in the tin for 10 mins before removing to a cooling rack.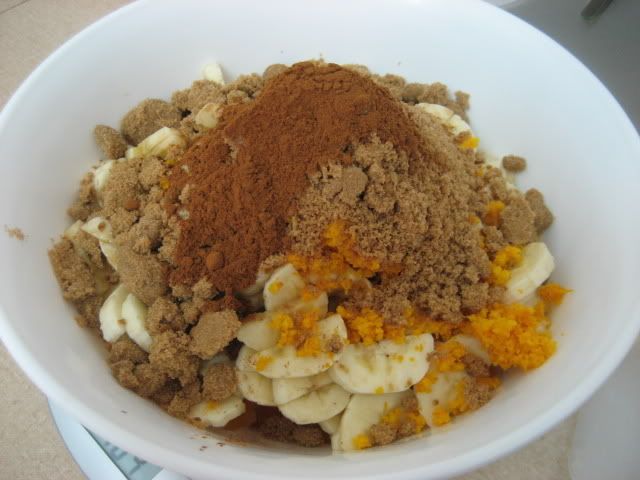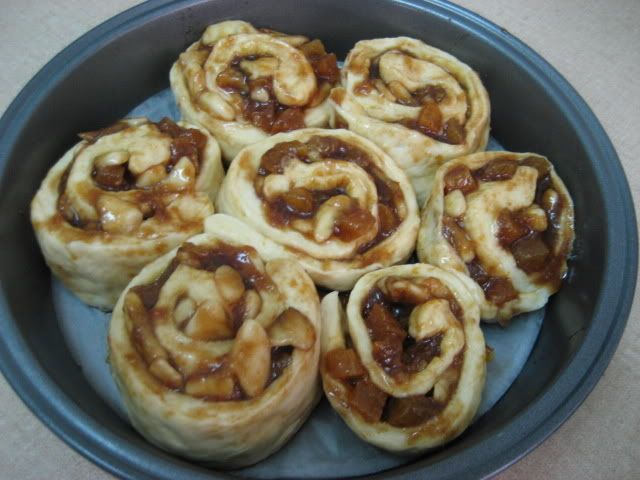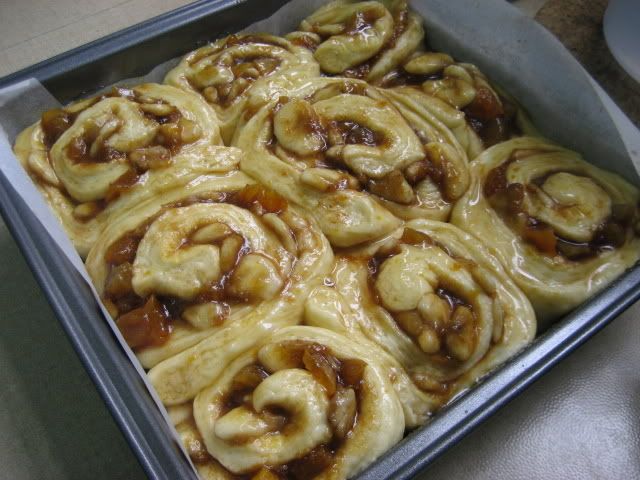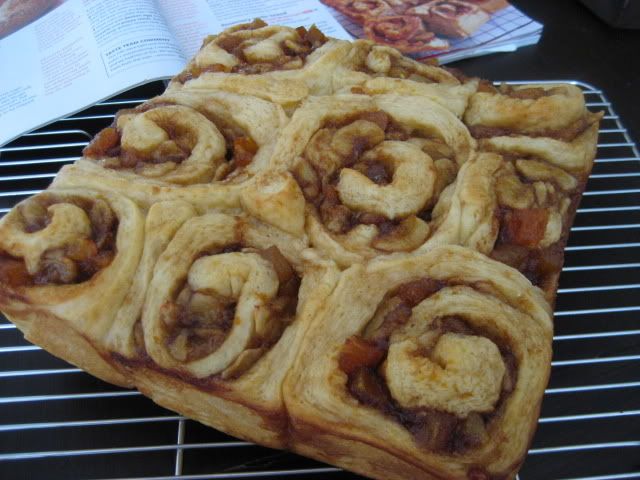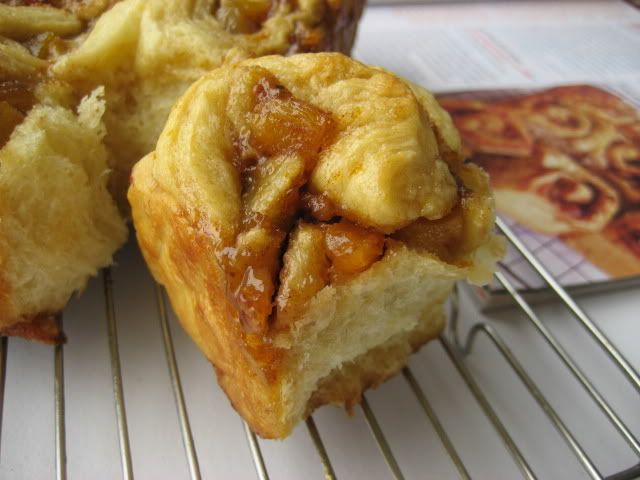 Create Date : 23 กุมภาพันธ์ 2551

9 comments

Last Update : 29 กุมภาพันธ์ 2551 12:10:16 น.
Counter : 554 Pageviews.