1
2
3
4
5
6
7
8
9
10
11
12
13
14
15
16
17
18
19
20
21
22
23
24
25
26
27
28
29
30
Threesome Reviews: Funhouse | Day & Age | It's Not Me, It's You
Pink: Funhouse

The album opens with So What, a charttopper smash hit which gains Pink the highest rave to date, unsurprisingly earned by its addictive rock beat and catchy hook. The opening track however does not reflect overall tune of the album happening to be mostly ballad-oriented except the other topnotch fun track, Funhouse, with soda-bottle-popping disco groove that makes the title track stand out among the crowd. On the slower side, Sober accomplishes in delivering its message thanks to superbly-done Gothic rock ballad composition of strong yet emotional vocal and haunting sound with orchestral arragement thrown in, making it one of the finest in the album and definitely single-deserved. Other ballads like feminine and vulnerable I Don't Believe You, acoustic Crystal Ball and piano-based closing track, Glitter In The Air, both where Pink's sharpened songwriting skills shine in beautiful poetic and more subtle lyrics, also make interesting cut. The most outstanding Please Don't Leave Me, although comes across as a cookie-cutter pop, perfectly gives an essence of Pink with extremely catchy tune and probably takes off well commercially as the next single.

Despite its title, the album seems less fun than its ascendant, I'm Not Dead, due to the fact that it contains too many midtempo to slow-paced songs which are likely to sound all alike. Pink's lyrics as known for being cutthroat straightforward can be attractive in a few listens but not in a long run. However, Funhouse still manages to be quite a satisfying album with a variety of pop songs to keep audiences entertained.

The Killers: Day & Age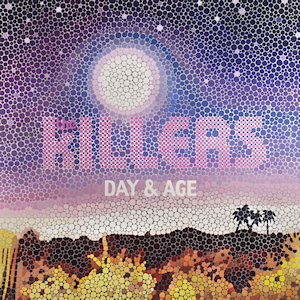 This fashionistas band makes their way back to pop roots with one of their best hits ever, Human, the homosexually attractive midtempo electronic dance with serene yet colorful Pet Shop Boys-ish beats. Packed with amount of brilliant pop tracks with slight crossover influences here and there: going oldskool with brassy horns in Losing Touch, nightlife celebration in vibrant disco beats of Joyride, or even telling a bedtime story in beautiful rock ballad piece with epic orchestra-driven ending, A Dustland Fairytale, the album still reminisces audiences that it actually is a rock band they are listening to on tracks like Neon Tiger, seemingly served as a tribute to the legendary Queen with throwback to '70s-'80s golden era of rock sound which is well-presented in modern light of day with slick lyrics. The band also manages to pull crazily catchy tune in Spaceman, the second single with extreme potential from interesting bizarre lyrics to an ability to constantly get everyone up on their feet.

This is exactly one of the most balanced, and of course the best, pop albums in years which ironically comes from a rock band. With help from sharp lyrics as well as Flowers' unique vocal which now reaches a new point where he sounds nothing like singing off-key or yelling any more, The Killers accomplishes in splashing mature retro rock style into sassy liveliness of pop which breeds from a number of genre like electronica and reggae, and creating this fresh and fun masterpiece which offers not only variety but also strong coherence at the same time.




Lily Allen: It's Not Me, It's You



It is the record that Lily Allen projects what is on her head onto clever lyrics in so many effective ways with, of course, an extreme attitude, starting out by shouting out to society in opening track like Everyone's At It, and making a criticism over the pretentious world of plastic and flashing lights of Hollywood in The Fear. She continues to show off her aggressive sense of humor in overly explicit descending single Not Fair on how her love interest consistently fails to satisfy her when it comes down to getting laid, as well as swear in anti-gays and racists' faces with smile upon her very own face in Fuck You, which defines everything about Allen: that bitchy British next door girl, and should be definitely served as her theme song. Ballads of the album like declaration of liberation in gracefully synthesized I Could Say and the very personal Who'd Have Known both showcase her vocals in different sophisticated and mature side. Still, she manages to pull autobiographic lyrics in robotic Back To The Start where she makes an apology to her sister for her misbehaviors through all these years, including the very best of the record, Chinese, Allen's most sincere heartwarming definition of home.

After her groudbreaking debut, Allen comes up with this even more interesting and full of personality record which in sense is not so unexpected. She might have been recognized more for her not so nice, bold comments but no one can ever take away the fact that this British girl got talent and she is eventually capable of being titled as an artist.





Create Date : 13 มิถุนายน 2552
Last Update : 13 มิถุนายน 2552 12:51:02 น.
6 comments
Counter : 581 Pageviews.
| | |
| --- | --- |
| โดย: Unravel วันที่: 15 มิถุนายน 2552 เวลา:13:45:31 น. | |
| | |
| --- | --- |
| โดย: Unravel วันที่: 15 มิถุนายน 2552 เวลา:13:53:23 น. | |
| | |
| --- | --- |
| โดย: namneang IP: 161.246.12.30 วันที่: 18 มิถุนายน 2552 เวลา:1:53:13 น. | |
| | |
| --- | --- |
| โดย: Unravel วันที่: 4 กรกฎาคม 2552 เวลา:22:53:09 น. | |
| | |
| --- | --- |
| โดย: Unravel วันที่: 15 กรกฎาคม 2552 เวลา:19:32:29 น. | |