M-Net Countdown in Japan
Woohoooooooo~ finally I managed to get to watch "Let's Go! Mnet M Countdown in Japan" that was held last weekend(2006.04.15 - 19:00hrs) at Budokan!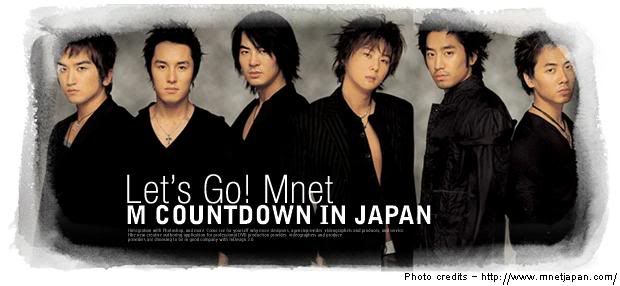 The host was cute boy, Kim Jeong Hoon 김정훈 & sexy lady, Chae Yeon 채연. At first when I watched the program, I was like "Oh shit! No subtitles & Jeong-hoon oppa is speakin in Korean. *totally no idea what is being said*"... then when Chae Yeon started speaking, I immediately changed. I was like "Oh yeah~ baby! I understand some of what she is saying!!!

"
Haha~ 2 mixed thinkings at the start of the program.

Well~ for that night's show, Jeong-hoon oppa hosts in Korean while Chae Yeon hosts in Japanese. And subtitles for song titles & artist names were being shown in both korean & japanese too. Because of this point, it was easier for me to understand too! *phewwww~

*

The performing artistes include SHINHWA, DBSK, SS501, SG Wannabe, Shin Seung Hoon, Lee Hyo-ri, TSZX, Park Yong Ha, Epik High, Jaurim, Maybe, Position, K & etc...

But it was a pity that Young Woong(Hero) Jae Joong couldn't be there to perform together with the rest of DBSK member. A 'masked man' was his replacement throughout the performance...

I think his absence was due to his drink-driving incident. News reported that he was being locked up for couple of hours before he was finally released on bail.

Let's Go! Mnet M Countdown in Japan - Shinhwa performance segment




Previous Entry - 20th Apr
Create Date : 22 เมษายน 2549

9 comments

Last Update : 15 สิงหาคม 2549 1:55:22 น.
Counter : 658 Pageviews.