1
2
3
4
5
6
7
8
9
10
11
12
13
14
15
16
17
18
19
20
21
22
23
24
25
26
27
28
29
30
Cape No. 7(海角七號)
Yesterday after a birthday luncheon for my drummer fren, together w/his galfren & our frenz from bands, we went to catch a Taiwanese local movie called "Cape No. 7(海角七號)" starrin Van Fan(范逸臣), Tanaka Chie(田中千繪), Kousuke Atari(中孝介), Johnny Lin C.J.(林宗仁), Ming Hsiung(民雄), Ying Wei-Min(應蔚民—夾子電動大樂團), Ma Nien-Hsien(馬念先—糯米糰), Joanne Yang(楊蕎安), Bjanav Zenror(丹耐夫正若), Ma Ju-Lung(馬如龍), Pei Hsiao-Lan(沛小嵐), Chang Kuei(張魁), Shino Lin(林曉培), Lee Pei-Chen(李佩甄), Chang Chin-Yen(張沁妍) & Rachel Liang(梁文音).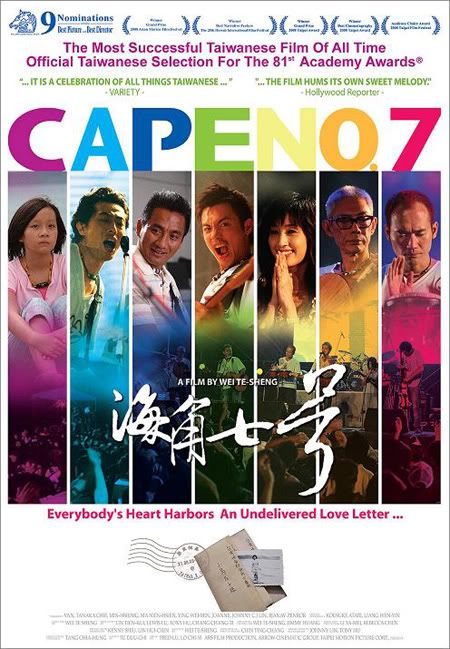 Actually, I had been offered the gala premiere invites for this movie about 2 weeks' ago from my senior colleague. But I rejected it coz (1) I am not a Van Fan (范逸臣) fan & I dunn really think he can act. (2) Although this movie has been hugely publicised, nominated for many awards & almost a box-office record-breakin movie wherever it was screened, it juz dinn really catch my attention & appeal to me in any way(s). (3) For my very very close frenz who've known me for long, will know about my fave nos – 7 & 12… especially "7". As much as it's history by now, I'm tryin to not pick this number that frequently… so yes, thatz also a bit of why I dinn really wanted to catch this movie. *Hahaha~ is that a weird reason?* Juz last week, I got offered by my senior colleague again to watch this movie. But still, I rejected her based on my first 2 reasons. But anyhow I juz contradicted my words w/my actions in the end & went to watch it today!


To my amazement, it turned out to be a really very nice movie w/great script & tight pace that keeps me 'glued on' w/o a hint of boredom! Cape No. 7(海角七號) is a love comedy about 7 people from different walks of life comin together to form a rock band w/in 3 days & that they were to perform 2 openin songs for a Japanese singer's performance. The band's lead vocalist whom works as a postman durin daytime, discovers a mail package containin 7 love letters from more than 60 years ago. Now besides fulfillin his lifetime's dream, it's also his duty to deliver this mail package to its rightful recipient.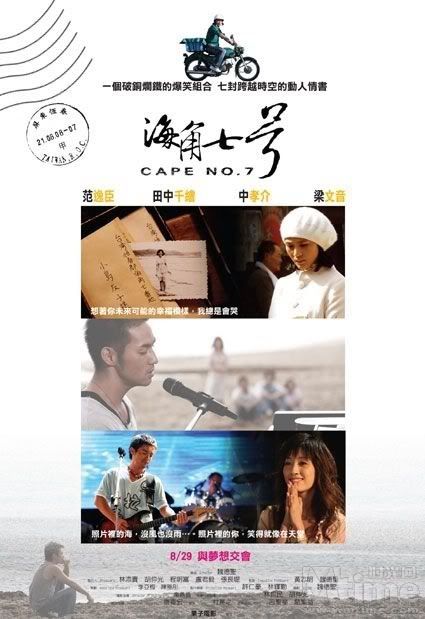 This movie is written & directed by Wei Te-Sheng(魏德聖), this is his debut full-length motion picture; previously he worked on movies such as Double Vision(雙瞳) & Mahjong(麻將). The 3 main languages used in this movie are Hokkien, Chinese & Japanese, w/the 2 leading actor/actress havin minimal actin experience & some supportin casts are actually non-actors as they are musicians. The initial reception of this movie when it debut was juz moderate only, it was only after strong help from word-of-mouth thru blogs & forums that eventually brought record breakin results to this movie. *Muahahaha~ see the power of bloggin!? Kekeke~~~*


For more info & detailed synopsis, you can check it out @ their official blog site or @ Wikipedia.

Cape No. 7(海角七號) 5-mins Preview



范逸臣—國境之南
*In this movie, I luv this song the most! The lyrics is really nice~~~*

如果海會說話 如果風愛上砂
如果有些想念 遺忘在漫長的長假

我會聆聽浪花 讓風吹過頭髮
任記憶裡的愛情 在時間潮汐裡喧嘩

非得等春天遠了夏天才近了
我是在回首時終於懂得(也許天氣永遠會那麼熱)

當陽光再次回到那 飄著雨的國境之南
我會試著把那一年的故事 再接下去說完
當陽光再次離開那 太晴朗的國境之南
妳會不會把妳曾帶走的愛 在告別前用微笑全歸還

海很藍 星光燦爛 我仍空著我的臂彎
天很寬 在我獨自唱歌的夜晚
請原諒我的愛 訴說的太緩慢


范逸臣—無樂不作

想蒐集夏天的熱 穿越叫 幸福的河
想做吞大象的蛇 不自量力 說真的
又有何不可 我想寫歌

當天是空的 地是乾的
我要為妳 倒進狂熱
讓妳瘋狂 讓妳渴
讓全世界知道 妳是我的

天氣瘋了 海水滾了
所以我要 無樂不作
不要浪費 每一刻 快樂
當夢的天行者

像妳這樣的天使 該有翅膀和名字
該美麗中帶著刺 該很認真的屬於 我一次

當天是空的 地是乾的
我要為妳 倒進狂熱
讓妳瘋狂 讓妳渴
讓全世界 知道 妳是我的

世界末日 就儘管來吧
我會繼續 無樂不作
不會浪費 愛妳的 快樂
當夢的天行者

要快樂OH~




Previous Entry - 16th November





Create Date : 30 พฤศจิกายน 2551
Last Update : 30 พฤศจิกายน 2551 13:46:22 น.
3 comments
Counter : 2001 Pageviews.
| | |
| --- | --- |
| โดย: chiao IP: 122.117.165.229 วันที่: 30 พฤศจิกายน 2551 เวลา:15:33:29 น. | |
| | |
| --- | --- |
| โดย: Lazy Lamb IP: 125.27.47.68 วันที่: 3 ธันวาคม 2551 เวลา:14:24:53 น. | |
| | |
| --- | --- |
| โดย: diblo2011 วันที่: 25 กันยายน 2554 เวลา:23:51:55 น. | |
Location :
Taipei Taiwan

[ดู Profile ทั้งหมด]

ฝากข้อความหลังไมค์
Rss Feed


Smember


ผู้ติดตามบล็อก : 1 คน [?]