1
2
3
4
5
6
7
8
9
10
11
12
13
14
15
16
17
18
19
20
21
22
23
24
25
26
27
28
29
30
31
Show On Stage Singapore 2007 concert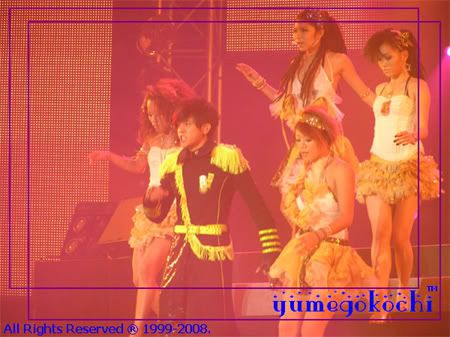 Last nite, I attended Show Luo Zhi Xiang's first concert in Singapore "一支獨SHOW - 羅志祥新加坡演唱會2007 (Show On Stage Singapore 2007)" w/my senior @ work & another dept's colleague w/her bf. We all got the tix free from internal office ballot. *lucky!!* The price for our seats in the concert sale belongs to Category 1 sellin @ S$168. The seats that I got are really damn good seats, man! I can say it's the best seat in the house, after his fan club's seats.


Show did many fan service for his fans whom attended the concert last nite. He kept comin to our area, since his fans are all allocated next to my block & perform for quite a while, before headin off to the other parts of the stage to perform.


He performed fast songs for the first part of his concert w/only 1-2 short intervals to chat w/audience & change costumes on stage. It's not bad as we can hear that he is really rap-singin live while dancin @ the same time & @ 1 point of time he even sang till the mic spoilt! Wahaha~~~


Quite a few times I managed to snap a few pix of him when he was lookin @ my camera. *giggles* He saw audiences & fans takin photos of him, so for quite a number of times, he did the "V" handsign & pose for them to take his photo. *Hahaha~ how sweet of him.*


He mentioned that for each of his concert, he will pick a lucky person to perform a song w/him on stage & last nite, he did the same also. A system was triggered w/all taken up seats' numbers jumpin, it will be stopped @ the moment the audience shout 'Stop!'. When the lucky seat number was shown & everyone was still wonderin who is the lucky person, he joked on stage sayin "Ok~ we have a lucky person here. Found her yet? Oh~ what if it's a male? Hmmn... how will the result be like?".

True enough, the lucky person was REALLY A MALE! Quite hunky one somemore... Muahahahahahaha~ Show almost fainted when he saw the guy! He spoke in broken english askin how old is the guy(answer : 18yrs old.) & joked that he, himself is only 20yrs old. He also asked if he have a gf(answer : no.) & that he, himself is also single. So he explained further in his broken english that he will be performin a love song w/him(the guy) & that they have to hold hands while seated in a "LOVE CHAIR" together. He felt kindda embarrassed during that performance & all audience were laughin away during the song, Show changed partial of his lyrics to suit the scenario.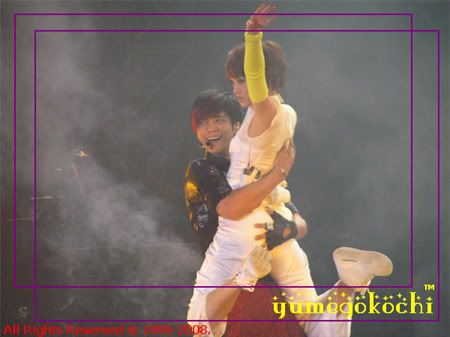 The special guest for last nite's concert was Rainie Yang(楊丞琳); although I was hopin for Jolin Tsai(蔡依林) to be the special guest instead, coz I like her. Show introduced her on stage when performin his song halfway & ended it w/a dance together w/her. Rainie(楊丞琳) performed 2 songs, a slow one followed by a quick one.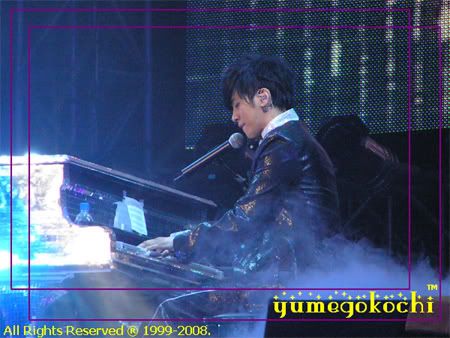 He performed a mixture of songs from his very first solo debut album until the current album. All the songs which I wanted to hear was being performed during the concert, some of which I don't even need to wait till ENCORE part as I thought I might have to. *lucky* He played on a silver shimmerin piano during the concert when he sang one of the slow song.


The song I wanted to hear is called "我不會唱歌 (I don't know how to sing)". The MV was just released recently only, so maybe the 'heat' is not up yet. But well~ I still luv that song! Kindda sad lyrics w/a slow melody... the MV's female actress is Karena Lam Ka Yan(林嘉欣), whom co-acted in "Inner Sense(異度空間)" a suspense thriller movie alongside Leslie Cheung(張國榮).


After the slow songs were done, he went off-stage to changed into his 5th set of costume & performed a brief dance w/his sword. Afterwhich, he continued w/some fast songs.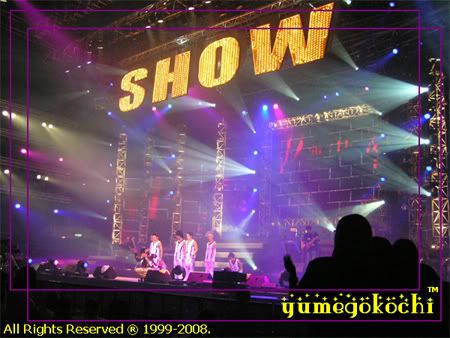 His stage wasn't really as fanciful as other singers might have set up to be, but overall it was nice & good. All the while, I didn't notice this setup until this part of the concert... that he had a special 'signboard' displayin his name @ the top of his stage! Woah~ it was nice.


As my seat was located right next to his fan club's seats, so quite a number of times he'll do some fans service & look @ his fans, while interactin w/the rest of the audience.


I really loved my camera a whole lot. It sometimes really surprised me w/the shots it captured for me. Geeezzz~ this picture can almost be turned into a banner or bgr pic whatsoever, man!


Although my camera does not have the Optical Image Stabiliser(a.k.a SuperSteady Shot or Anti-Shake-Reduction) function; Yes~ it's an old camera compared w/nowadays high technologies. But still, it's ability to be capable to zoom up to 10x Optical & 40x Seamless Digital.. it's really good enough for me now. *But I am contemplated yet again, to get my hands on Olympus SP-550 UZ .


During his ENCORE, Show came on stage in a pink suit & performed about 2 songs. Dinn really count as I just listened on & @ the same time, busy snapping pix coz he kept on comin over to our side of the stage.


A gigantic balloon of Show wearing a white tee w/words "I LOVE STAGE" was brought on stage too, during the ENCORE session. A dancer had to stand behind the balloon, grab it's legs & shake it to make it look like as though it is dancin.


Show ended his concert w/the song he did with Koda Kumi(倖田來未), "TWINKLE TWINKLE". He got all his fans & audience to stand up & danced to his finale tune, although there are still some of them sittin down... The concert lasted a total of 2 hours approximately, which is actually... considered short for concerts here in Singapore. The fact that he had released 5 albums already, it should be enough for a 3 hours concert. But well~ maybe the guy is tired out from all those dancin, or maybe he had to catch the midnight flight back to Taiwan; since he has work this afternoon in Taiwan.




Previous Entry - 25th November


→ yumegokochi store sale ←







Create Date : 02 ธันวาคม 2550
Last Update : 2 ธันวาคม 2550 23:07:22 น.
4 comments
Counter : 778 Pageviews.
| | |
| --- | --- |
| โดย: meg IP: 58.69.64.64 วันที่: 2 ธันวาคม 2550 เวลา:23:15:14 น. | |
| | |
| --- | --- |
| โดย: Faith IP: 218.186.9.4 วันที่: 2 ธันวาคม 2550 เวลา:23:15:42 น. | |
| | |
| --- | --- |
| โดย: sus IP: 38.96.137.4 วันที่: 2 ธันวาคม 2550 เวลา:23:21:41 น. | |
| | |
| --- | --- |
| โดย: Rhanie Dongsaeng IP: 203.192.151.146 วันที่: 5 ธันวาคม 2550 เวลา:21:31:04 น. | |
Location :
Taipei Taiwan

[ดู Profile ทั้งหมด]

ฝากข้อความหลังไมค์
Rss Feed


Smember


ผู้ติดตามบล็อก : 1 คน [?]