Sky of Love (~ 恋 空 ~ | Koizora)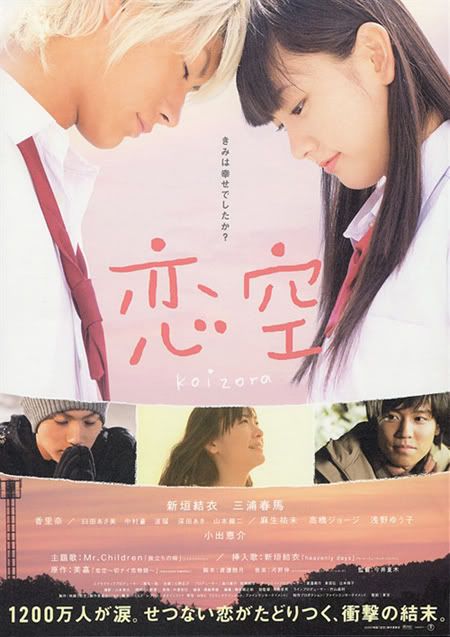 ~ 恋 空 ~ (Koizora) is a love story adapted from true life account of Mika, a new writer whom first published this story 《恋空》 on a popular cell-phone site - 魔法のiらんど (Maho no iRando). It was later released as a novel book 《恋空 ~切ナイ恋物語~》 last October with sales over million copies in the first month.

Mika (新垣结衣 Yui Aragaki) a normal high school student loses her cell-phone just before summer break & went in search for it at the library. There she retreieves her cell-phone, but also starts to receive calls from a mysterious guy. "Hello... who's this?" 、 "It's a secret...". This chain of conversations & phone calls led to the fateful meeting of Mika & her classmate, Hiroki (三浦春马 Haruma Miura)...


As the couple fell in love, they realised they have to face many problems. But these did not stop them, until one fateful day when Hiroki suddenly initiated a breakup. Ignorant to the reason behind the breakup, Mika swore never to fall in love again. But at this point of time, a sweet & gentle Yul (小出惠介 Keisuke Koide) appears before Mika. He slowly helps Mika walk out of her sorrow & Mika slowly starts to accept him. Christmas is just around the corner, as Mika is about to completely accept this relationship between her & Yul, she learns about the real reason as to why Hiroki broke up with her...

Mika encountered many trials in life from friendship to falling in love... outcast... rape... pregnancy... miscarriage... separation...

恋空 8minutes preview





Previous Entry - 14th Febuary


→ yumegokochi store sale ←







Create Date : 20 กุมภาพันธ์ 2551
Last Update : 23 กุมภาพันธ์ 2551 0:13:41 น.
2 comments
Counter : 1421 Pageviews.
| | |
| --- | --- |
| โดย: joblovenuk วันที่: 20 กุมภาพันธ์ 2551 เวลา:1:50:59 น. | |
| | |
| --- | --- |
| โดย: ino (yumegokochi ) วันที่: 23 กุมภาพันธ์ 2551 เวลา:0:16:55 น. | |
Location :
Taipei Taiwan

[ดู Profile ทั้งหมด]

ฝากข้อความหลังไมค์
Rss Feed


Smember


ผู้ติดตามบล็อก : 1 คน [?]