1
2
3
4
5
6
7
8
9
10
11
12
13
14
15
16
17
18
19
20
21
22
23
24
25
26
27
28
29
30
The day I re-live my life as a fan girl

My cousin called me the other nite while I was workin overtime, askin me if I was free over the weekend. Well~ coz my cousin is a big fan of Wu Chun(吳尊) from Taiwanese boy group Fahrenheit(飛輪海) & they were actually comin to town to promote for their upcomin concert & autograph purchased concert tix. So my cousin~ who has got 4 concert tix on hand, immediately called me & my aunt to go down to the event venue w/her to help snap photos & get the tix autographed. Well~ we gladly agreed since we had nothing on our schedule.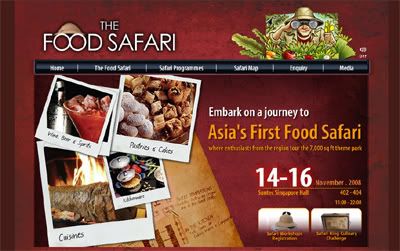 Came the big day~ which is today. Early noon, my cousin came to pick me up @ my house & we had lunch together w/her hubby; before sendin him off to his event function place where he had some work to do. After that, we went to tour an event held @ Suntec City called THE FOOD SAFARI. This event is kindda like food fair thingy whereby they sell varieties of cuisines from all over the world. *Sorry~ was too busy eatin, dinn had chance to snap any pix*

After eatin, since it was still kindda early at 1:30pm & the pre-concert thingy is like estimated to start only @ 5pm... so we decided to back to my house for a short rest & play with my nephew first. We lazed @ my house till around 3:30pm before we went out to fetch my aunt @ the nearby train station & finally, hit the event venue @ 4pm. Damn~ the directions for carpark is really a flop @ the venue as we got directed into a wrong carpark. In the end, we had to make a turn out to queue to enter carpark from another area. Searchin for a carpark lot was ok though, as we parked straight on 5th level after a short commotion/discussion between the 3 of us in the car.


Finally, we reached the venue @ around 4:30pm & went around to recky the area. After recky, lucky for us~ we managed to get a good standin spot, right next to the elevator they will 'descend' from. Time passed, our hands & legs start to get tired from holdin camera & standin still for almost 1 hr! Geezzz~ the boys were supposed to arrive at 5pm, but in the end they were late, they arrived only around 5:30 - 5:40pm... *Ack~ then we realised 1 member, Jiro Wang(汪東城) was missing due to injury on legs & it was my fave member of the group.* The next moment, you see a stampede of fans rushin & dashin into the event's open area stage. *Man~ you need not walk, you'll just get pushed to the stage automatically! Hahaha!!*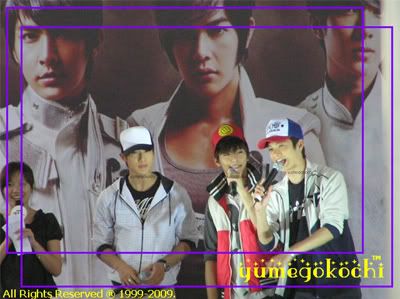 Okie~ in the end, I got separated from my aunt & cousin so I just went my way to find a good spot to take photos of the whole thing. Found an area whereby all fans were standin on raised plant pots~ lucky! *Actually, it's prohibited. But heck care! I just want photos for my cousin, who cares about your plant anyway! Everyone's standin there already* I actually got quite a good standin spot & angle to snap photos, but the price I had to pay was soakin my pair of Converse sneakers & edge of my jeans in a cup of Coke that was hidden in the grasses! *Damn~ now my feet is super sweet & sticky!*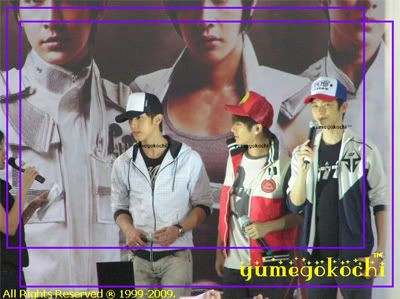 After finished photo-takin, we decided to head on for dinner in the building & not queue for the concert tix to be autograph on. This is becoz we saw the endless queue of fans waitin for their tix to be autographed on, so we head on to Coffee Club for dinner & later went to do some groceries shoppin @ the hypermart. After dinnin & shoppin, we decided to check the queue to see if it's still that long. Surprised @ the queuein area, NOT A SINGLE SOUL IN SIGHT! Oh~ that's fast, I thought. So I signalled my cousin & aunt to walk faster & that we head over to the venue to check out how's everythin. Well~ only left a few fans at the stage queuein area, so we decided to give it a try & check w/the crew to see if they can let us in to get our tix autographed or not. Hahaha~ we gave a damn lame reason... I said "Let you let us in to get our tix autograph? We totally couldn't find the queue at all!" Kekeke~ lucky us, "OK~ YES!" was the answer after the lady crew checked w/the ppl on stage.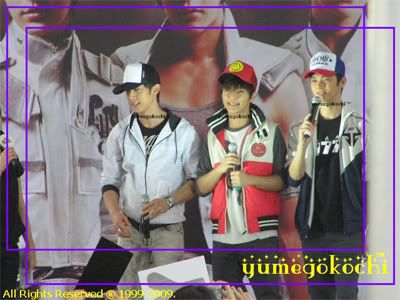 So we got in the queue & my cousin by this time, was already fanatically wild in happiness! She was so happy & beamin w/smiles & snappin pix on her camera madly! Since I "bought" some snacks @ the hypermart earlier(my cousin paid for it though), so I took 2 packs out after openin it & handed it over to my cousin. Told her "Later you go on stage that time, when you reached your Chun, give him this 2 packs of snacks. Then you tell him that he must be feelin hungry & tired from the long event, so you treat him eat the snacks. He'll definitely have a good impression of you & remember you for sure!" She got impressed by the suggestion & decided to give it a try. Well~ it was a big success. Not only she spoke longer to him, he also shook & held her hands twice! *Waaah~ 1 more time than us! Hahaha~ happy for her!*


Side-note on my personal experience: I think Calvin Chen(辰亦儒) is tryin hard to 'electrocute' everyone w/his eyes + smile sweetly into your face + held your hands gently after autographin the tix. As for Aaron Yan(炎亞綸), he's really a cute boyish guy. Gave out super cute & shy smile on those dimpled face when he shook your hands after autographin the tix. Wu Chun(吳尊) was just too engrossed in autographin & also, I think still not-quite-yet-over w/the chat he had w/my cousin... he just thanked me twice only while shakin hands.

So after everythin ended, we hit our cars & return home. Throughout the journey to my house, she was really super duper happy! *Hahaha~ she will get a good happy dream tonite!*




Previous Entry - 26th July





Create Date : 16 พฤศจิกายน 2551
Last Update : 16 พฤศจิกายน 2551 22:00:17 น.
20 comments
Counter : 1642 Pageviews.
| | |
| --- | --- |
| โดย: ratko วันที่: 28 กันยายน 2554 เวลา:14:18:38 น. | |
| | |
| --- | --- |
| โดย: papum905 วันที่: 5 ตุลาคม 2554 เวลา:20:28:06 น. | |
| | |
| --- | --- |
| โดย: papum905 วันที่: 8 ตุลาคม 2554 เวลา:20:30:11 น. | |
| | |
| --- | --- |
| โดย: takakung วันที่: 9 ตุลาคม 2554 เวลา:12:15:49 น. | |
| | |
| --- | --- |
| โดย: healtyboy01 วันที่: 10 ตุลาคม 2554 เวลา:18:11:31 น. | |
| | |
| --- | --- |
| โดย: akeros วันที่: 15 ตุลาคม 2554 เวลา:17:17:06 น. | |
| | |
| --- | --- |
| โดย: thip056 วันที่: 18 ตุลาคม 2554 เวลา:15:43:34 น. | |
| | |
| --- | --- |
| โดย: thip056 วันที่: 19 ตุลาคม 2554 เวลา:11:30:17 น. | |
| | |
| --- | --- |
| โดย: bigindyza วันที่: 19 ตุลาคม 2554 เวลา:15:21:44 น. | |
| | |
| --- | --- |
| โดย: bigindyza วันที่: 19 ตุลาคม 2554 เวลา:22:08:06 น. | |
| | |
| --- | --- |
| โดย: couples (AIRRO01 ) วันที่: 6 พฤศจิกายน 2554 เวลา:11:13:52 น. | |
| | |
| --- | --- |
| โดย: pn51d550 (AIRRO01 ) วันที่: 6 พฤศจิกายน 2554 เวลา:21:22:59 น. | |
| | |
| --- | --- |
| โดย: dannyloa วันที่: 12 พฤศจิกายน 2554 เวลา:15:34:25 น. | |
| | |
| --- | --- |
| โดย: thip056 วันที่: 13 พฤศจิกายน 2554 เวลา:22:12:35 น. | |
| | |
| --- | --- |
| โดย: ขอบคุณนะจ๊ะ (solodano ) วันที่: 17 พฤศจิกายน 2554 เวลา:16:35:35 น. | |
| | |
| --- | --- |
| โดย: SaZmi (solodano ) วันที่: 19 พฤศจิกายน 2554 เวลา:20:26:49 น. | |
Location :
Taipei Taiwan

[ดู Profile ทั้งหมด]

ฝากข้อความหลังไมค์
Rss Feed


Smember


ผู้ติดตามบล็อก : 1 คน [?]