L : change the WorLd [エル チェンジ ザ ワールド]
Just back home from attending the gala premiere of Death Note 3 - L : change the WorLd, together with my aunt & my 2 little cousins. This parter is actually a spin-off from the actual show (「DEATH NOTE 証言 ~Beginning of the Movie~」 & 『デスノート the Last name』), coz it's just narrating the final 23 days of L's life.


In this show, there is completely no appearance of Kira(just flashback scenes in the starting part only) & just a less than 30 seconds appearance of my fave character, Ryuk only. *sigh*

Special Japanese site promoting 『L change the WorLd』 : 『L change the WorLd』特集 ドガッチ[DOGATCH]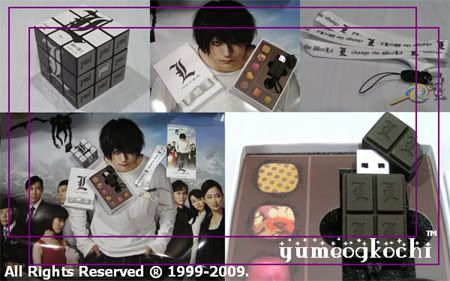 I received a set of premieres when I arrived at the theatre. Take a look... ... ... I've got a "L" magic cube, "L" lanyard(Candy version); with the decor being able to be attached & changed into a mobile strap, "L" chocolate USB thumbdrive & "L : change the WorLd" movie poster. Initially, I thougt the contents inside the white box would be a piece of made-to-order "L" chocolate. In the end, I got it half right only. Coz the content was a made-to-order "L" USB thumbdrive. Wow~!!


The movie is quite enjoyable with a few hilarious moments when L does some funny actions. Since there is funny moments, then of coz there'll be a few disturbing scenes. *Though I don't feel disturbed at all, maybe I should say~ I ENJOYED IT, might be a better term I guess.*




Previous Entry - 5th Febuary


→ yumegokochi store sale ←







Create Date : 14 กุมภาพันธ์ 2551
Last Update : 18 กุมภาพันธ์ 2551 19:58:50 น.
10 comments
Counter : 4430 Pageviews.
| | |
| --- | --- |
| โดย: my_oom วันที่: 14 กุมภาพันธ์ 2551 เวลา:11:01:45 น. | |
| | |
| --- | --- |
| โดย: Rhanie Dongsaeng IP: 58.69.84.237 วันที่: 18 กุมภาพันธ์ 2551 เวลา:20:02:14 น. | |
| | |
| --- | --- |
| โดย: ino (yumegokochi ) วันที่: 18 กุมภาพันธ์ 2551 เวลา:20:08:16 น. | |
| | |
| --- | --- |
| โดย: reader IP: 165.21.154.90 วันที่: 20 กุมภาพันธ์ 2551 เวลา:22:37:01 น. | |
| | |
| --- | --- |
| โดย: ino IP: 202.172.242.86 วันที่: 6 มีนาคม 2551 เวลา:16:52:45 น. | |
| | |
| --- | --- |
| โดย: jordan shoes eleven IP: 59.60.120.104 วันที่: 27 กรกฎาคม 2553 เวลา:18:46:13 น. | |
| | |
| --- | --- |
| โดย: Christian Louboutin sale IP: 66.79.163.156 วันที่: 15 เมษายน 2554 เวลา:8:59:08 น. | |
| | |
| --- | --- |
| โดย: vienna IP: 59.55.51.42 วันที่: 21 เมษายน 2554 เวลา:8:56:05 น. | |
| | |
| --- | --- |
| โดย: chicago blackhawks jerseys IP: 75.150.163.195 วันที่: 6 พฤษภาคม 2554 เวลา:12:00:17 น. | |
| | |
| --- | --- |
| โดย: jordan shoes sell IP: 204.152.211.5 วันที่: 25 กรกฎาคม 2554 เวลา:13:57:07 น. | |
Location :
Taipei Taiwan

[ดู Profile ทั้งหมด]

ฝากข้อความหลังไมค์
Rss Feed


Smember


ผู้ติดตามบล็อก : 1 คน [?]