1
2
3
4
5
6
7
8
9
10
11
12
13
14
15
16
17
18
19
20
21
22
23
24
25
26
27
28
29
30
31
The 1st Shop of Coffee Prince 커피프린스 1호점

Today I'm gonna recommend a Korean drama that is started airing every Monday & Tuesday on MBC in Korea from 2nd July, 2007 onwards. The drama is called The 1st Shop of Coffee Prince (커피프린스 1호점) a.k.a Coffee Prince, starring 윤은혜 (Yoon Eun Hye - Goong), 공유 (Gong Yoo - One Fine Day), 이선균 (Lee Seon Gyoon - White Tower) & 채정안 (Chae Jeong An - Run 2 U).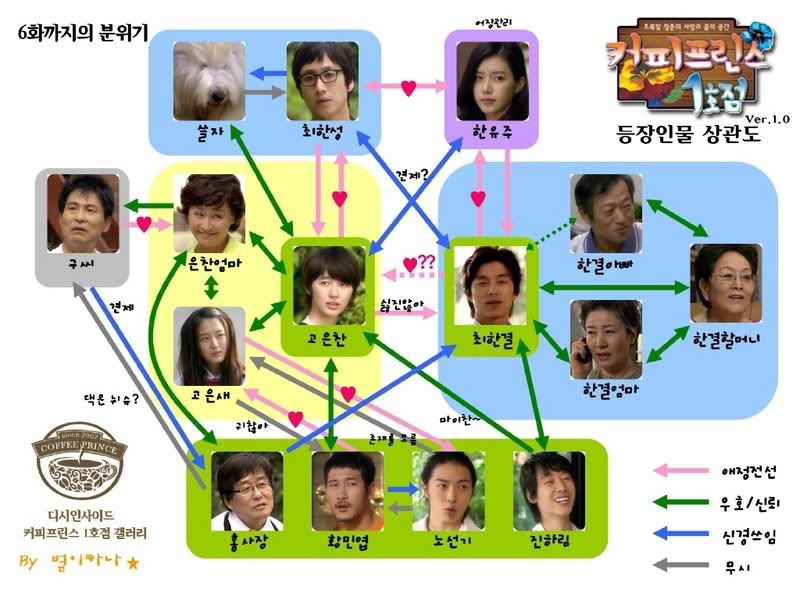 Relation chart of characters in this drama. [Note : There are 2 male & 2 female leads actually.]


This romantic comedy is about the life of Go Eun Chan (윤은혜 Yoon Eun Hye) & her love story with Choi Han Kyul (공유 Gong Yoo). Eun Chan is a hard working girl whom has to give up her femininity image to get a job at Han Kyul's cafe, which only hires good looking male employees; in order to look after her mom & her younger sister.


Han Kyul being the heir of a big food company & that his grandmother wants him to settle down, so she arranged many matchmaking sessions for him. But after bumping into Eun Chan & mistakening her for a boy, Han Kyul decides to hire Eun Chan to be his gay lover in order to avoid the blind dates. Being desperately in need of money, Eun Chan accepts the offer.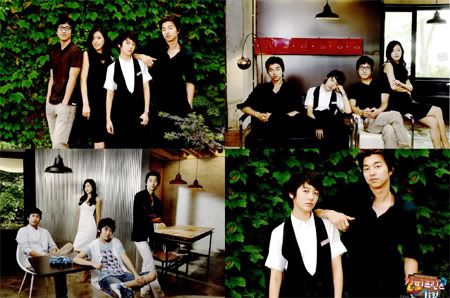 At the same time, Han Kyul's grandmother also made Han Kyul to take charge of a cafe which was in danger of closing down. As soon as Eun Chan learns of the cafe's danger of closing down, she begged Han Kyul to take up the cafe & also, let her work at cafe. Not long after, feelings start to spark between the duo & Han Kyul starts to question his sexuality & tries hard to accept his "homosexuality"...


Later on in the drama, everyone starts to learn of Eun Chan's true gender. By then, Eun Chan starts to question herself as to whether should she tell Han Kyul of her true identity, get fired from work & suffer the possibility of losing Han Kyul forever or should she just keep her secret from Han Kyul & continue to be by his side forever?


Due to high popularity among viewers, MBC recently announced that they will extend the show by one more episode. MBC will be airing this special special on 28th August 2007 & 공유 (Gong Yoo) will be watching this special episode with 1000 fans from all over Asia.
[credits : MBC 커피프린스 1호점, Coffee Prince, Wikipedia, Drama Wiki]


Take a look at the cute cartoons that Korean fans drawn out based on the drama itself. And look at those lovely figurines of 윤은혜 Yoon Eun Hye) & 공유 Gong Yoo based on the drama characters. Wow~~~

Coffee Prince 커피프린스 Trailer 1


Coffee Prince 커피프린스 Trailer 2


side note from yumegokochi 夢心地...

After watching a few episodes of this drama, I think 공유 (Gong Yoo) really kindda resembles Japanese actor - 大沢たかお (Osawa Takao); whom acted in good dramas/movies like 星の金貨, 世界の中心で、愛をさけぶ & etc...




Previous Entry - 20th August







Create Date : 21 สิงหาคม 2550
Last Update : 20 ธันวาคม 2550 19:46:02 น.
22 comments
Counter : 1811 Pageviews.
| | |
| --- | --- |
| โดย: Tan IP: 125.25.76.194 วันที่: 21 สิงหาคม 2550 เวลา:12:40:01 น. | |
| | |
| --- | --- |
| โดย: ต.เต่าหลังตุง (pintakai ) วันที่: 21 สิงหาคม 2550 เวลา:14:08:51 น. | |
| | |
| --- | --- |
| โดย: annie (annie_martian ) วันที่: 21 สิงหาคม 2550 เวลา:18:39:05 น. | |
| | |
| --- | --- |
| โดย: uter วันที่: 21 สิงหาคม 2550 เวลา:18:43:06 น. | |
| | |
| --- | --- |
| โดย: น้ำเงี้ยว วันที่: 21 สิงหาคม 2550 เวลา:22:48:45 น. | |
| | |
| --- | --- |
| โดย: โจเซฟิน วันที่: 22 สิงหาคม 2550 เวลา:0:15:01 น. | |
| | |
| --- | --- |
| โดย: ino (yumegokochi ) วันที่: 25 สิงหาคม 2550 เวลา:0:26:00 น. | |
| | |
| --- | --- |
| โดย: joblovenuk วันที่: 29 สิงหาคม 2550 เวลา:0:39:06 น. | |
| | |
| --- | --- |
| โดย: veerar วันที่: 29 สิงหาคม 2550 เวลา:0:42:01 น. | |
| | |
| --- | --- |
| โดย: granun วันที่: 29 สิงหาคม 2550 เวลา:1:34:07 น. | |
| | |
| --- | --- |
| โดย: มิสเตอร์ฮอง วันที่: 29 สิงหาคม 2550 เวลา:8:41:42 น. | |
| | |
| --- | --- |
| โดย: โสมรัศมี วันที่: 29 สิงหาคม 2550 เวลา:9:36:12 น. | |
| | |
| --- | --- |
| โดย: Lamb chan IP: 125.25.91.238 วันที่: 29 สิงหาคม 2550 เวลา:12:18:25 น. | |
| | |
| --- | --- |
| โดย: mintny_n วันที่: 29 สิงหาคม 2550 เวลา:13:17:54 น. | |
| | |
| --- | --- |
| โดย: สาวอิตาลี วันที่: 29 สิงหาคม 2550 เวลา:14:29:01 น. | |
| | |
| --- | --- |
| โดย: ป้าหู้เองค่ะ (fifty-four ) วันที่: 29 สิงหาคม 2550 เวลา:17:40:23 น. | |
| | |
| --- | --- |
| โดย: F_lifetruth วันที่: 29 สิงหาคม 2550 เวลา:18:22:04 น. | |
| | |
| --- | --- |
| โดย: Goret วันที่: 29 สิงหาคม 2550 เวลา:21:07:19 น. | |
Location :
Taipei Taiwan

[ดู Profile ทั้งหมด]

ฝากข้อความหลังไมค์
Rss Feed


Smember


ผู้ติดตามบล็อก : 1 คน [?]