Dennis Oh - Only Wind Only Wind (바람만 바람만)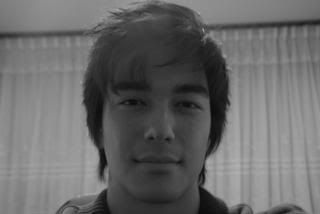 A guy caught my attention last night when I was previewing SG Wannabe & Kim Jong Kook's collaboration "Only Wind Only Wind" MV. His name is Dennis Oh. He looks cute & I think my friends... especially Tan, MOMO, Carmen & my senior in office might fall for him. True enough, my senior fell for him. Then minutes ago, I showed his picture to Carmen... 2nd one to fall. Hahaha~ so letz see who is next.


Well~ he does look cute & in certain way, he resembles Daniel Henney. Man~ Korea TV station(s) should get both of them to pose as brothers for some dramas, it'll work! Anyway~ what came as a shock to me was... FARCK! He shares same birth date & month as me; except the fact that he is younger than me! Oh man~ ever since Nic Tse, he is the 2nd guy I found to share same birthday as me! (Okay~ minus Michael Jackson... I dunno is he even considered human now... he's just too.... *mouth-zipped*)


Seriously... is there something wrong with me? Everyone that shares same birthday with me enjoy great success... what about me? God... have you forgotten me? I'm here... 여기(Korean)... こちら(Japanese)... 這裡(Chinese)... 呢喥(Cantonese)... hier(German/Dutch)... ici(French)... qui(Italian)... aquí(Spanish/Portuguese)... come bless me~~~ p( >.< )q

SG Wannabe & 김종국(Kim Jong Kook) - 바람만 바람만(Only Wind Only Wind


PROFILE
Name: Dennis Oh
Korean Name: 데니스 오
Real Name: Dennis Joseph O'Neil
Birthday: August 29, 1981
Blood type: A
Height: 188 cm
Weight: 83 kg
Family: Korean mom, American GI dad, elder brother
Hobbies: Photography, Drawing, Travelling
Education : Savannah College Of Art And Design
Awards: 22th Korean model BEST DRESS in 2005
His drama: MBC
Label : The Contents Entertainment

[credits : For Only Dennis, Dennisfans Myspace, Dennis Daum]




Previous Entry - 27th Jan







Create Date : 05 กุมภาพันธ์ 2550
Last Update : 13 มีนาคม 2550 21:53:30 น.
15 comments
Counter : 2890 Pageviews.
| | |
| --- | --- |
| โดย: susilo IP: 66.171.73.239 วันที่: 6 กุมภาพันธ์ 2550 เวลา:6:13:27 น. | |
| | |
| --- | --- |
| โดย: โจเซฟิน วันที่: 6 กุมภาพันธ์ 2550 เวลา:15:27:59 น. | |
| | |
| --- | --- |
| โดย: MOMO วันที่: 6 กุมภาพันธ์ 2550 เวลา:16:05:06 น. | |
| | |
| --- | --- |
| โดย: Rhanie Dongsaeng IP: 125.60.241.169 วันที่: 12 กุมภาพันธ์ 2550 เวลา:21:58:07 น. | |
| | |
| --- | --- |
| โดย: ino (yumegokochi ) วันที่: 13 กุมภาพันธ์ 2550 เวลา:0:15:55 น. | |
| | |
| --- | --- |
| โดย: enpien IP: 46.161.11.50 วันที่: 5 ตุลาคม 2564 เวลา:11:27:17 น. | |
| | |
| --- | --- |
| โดย: enpien IP: 46.161.11.50 วันที่: 8 ตุลาคม 2564 เวลา:12:58:47 น. | |
| | |
| --- | --- |
| โดย: enpien IP: 46.161.11.50 วันที่: 9 ตุลาคม 2564 เวลา:0:14:14 น. | |
| | |
| --- | --- |
| โดย: enpien IP: 46.161.11.50 วันที่: 12 ตุลาคม 2564 เวลา:12:52:48 น. | |
| | |
| --- | --- |
| โดย: enpien IP: 46.161.11.50 วันที่: 14 ตุลาคม 2564 เวลา:13:08:44 น. | |
| | |
| --- | --- |
| โดย: enpikiz IP: 46.161.11.50 วันที่: 15 ตุลาคม 2564 เวลา:22:22:37 น. | |
| | |
| --- | --- |
| โดย: enpikiz IP: 46.161.11.50 วันที่: 17 ตุลาคม 2564 เวลา:10:08:15 น. | |
| | |
| --- | --- |
| โดย: enpikiz IP: 46.161.11.50 วันที่: 19 ตุลาคม 2564 เวลา:13:07:30 น. | |
| | |
| --- | --- |
| โดย: enpien IP: 46.161.11.50 วันที่: 22 ตุลาคม 2564 เวลา:20:02:26 น. | |
| | |
| --- | --- |
| โดย: enpien IP: 46.161.11.50 วันที่: 24 ตุลาคม 2564 เวลา:16:49:49 น. | |
Location :
Taipei Taiwan

[ดู Profile ทั้งหมด]

ฝากข้อความหลังไมค์
Rss Feed


Smember


ผู้ติดตามบล็อก : 1 คน [?]