1
2
3
4
5
6
7
8
9
10
11
12
13
14
15
16
17
18
19
20
21
22
23
24
25
26
27
28
29
30
Super Junior T 슈퍼주니어 T - 나같은건없는건가요 (No One Else Like Me)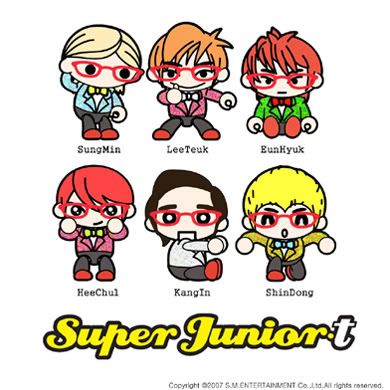 Today I wanna recommend a song that I personally liked a lot... to the extent that it became my mobile ringtone & sms ringtone too! This song is performed by Super Junior T(슈퍼주니어 T) called "나같은건없는건가요"(No One Else Like Me) from their 1st debut album - Backwards!!!(로꾸거!!!).


The song is actually adapted from an oldies(추가열 - 나같은건없는건가요), with some changes done to the melody itself. Frankly speaking, I really prefer & liked Super Junior T's version more. It's much more lively & catchy. Reading from the lyrics, it's not too hard to notice that this song is actually a ballad. But when you listen to Super Junior T's version, you won't really get that 'ballad' feel much. *keke*




추가열 - 나같은건없는건가요




Super Junior T is a 6 members group consisting of Lee Teuk(이특 - 박정수), Kim Hee Chul(희철 - 김희철), Kang In( - 김영운), Eun Hyuk(은혁 - 이혁재), Shin Dong(신동 - 신동희) & Sung Min(성민 - 이성민) from Super Junior originally.
More details on Super Junior can be found at Wikipedia, the free encyclopedia.


Yeah, This is the Super stage, Super size. Uh, Let's go.
내게 다시 돌아오란 말은 하지 않아
하지만 나 너 아니면 안된다는거 알잖아
그때 그래 니가 그렇게 말했잖아 영원하기로 Uh, 사랑한다고

그대여 떠나가나요 다시 또 볼 수 없나요
부디 나에게 사랑한다고 한 번만 말해주세요

제발 부탁이 있어요 이렇게 떠날거라면
가슴속에 둔 내 맘 마저도 그대가 가져가세요

혼자 너없이 살 수 없을거라 그대도 잘 알잖아요
비틀거리는 내 모습을 보면 그대 맘도 아프잖아요

그대만 행복하면 그만인가요 더 이상 나 같은건 없는건가요
한 번만 나를,
한 번만 나를 생각 해 주면 안되나요

Haha (What's Up) Are you ready for this.
Super Trot (Ho) Verse Two. Yeah (Uh) Yeah (Uh) Yeah (Uh)

지칠대로 지쳐버린 마음속 깊이 패인 상처
스쳐 지나가는 추억에 또 쓰러져 죄인처럼 고개숙여 지나쳐
미안하단 말도 행복하란 말도 나에게는 별로 힘이 될 수 없죠
그렇게 쉽게 떠나가는 그대 그대 맘에 나 같은건 없는 건가요

혼자 너없이 살 수 없을거라 그대도 잘 알잖아요
비틀거리는 내 모습을 보면 그대 맘도 아프잖아요

그대만 행복하면 그만인가요 더 이상 나같은건 없는건가요
한번만 나를,
한번만 나를 생각 해 주면 안되나요

그래도 떠나가네요 붙잡을수는 없겠죠
부디 나에게 사랑했다고 한 번만 말해주세요

다시 다시 너를 두 번 다시 사랑하지 않겠다고
다짐하고 다짐해도 잊지 못해 돌아 와
애원하고 널 생각하고 저 하늘에 간절히 기도하면 이루어질까
나에게 와 줘 날 바라봐 줘
날 사랑해 줘 날 안아줘 널 느끼게 해줘
나에게 와 줘 날 바라봐 줘
비틀거리지 않게 우리 영원할 수 있게

- - - - - - - - - - - - - - - - - - - - - - - - - - - - - - - - - - -

Rap:
Yeah, this is the super stage
Super size. Uh, let's go!
I won't ever ask you to come back to me
However, you know that you're the only one for me
That day you told me
That forever, Uh, you'll love me

Are you leaving? Will I not be able to see you again?
Just tell me once that you love me

If you're going to leave like this, I want to ask of one favour
The feelings I've kept for you inside my heart, I want you to take with you

*You know very well that I won't be able to live without you
Seeing me falling apart causes pain in your heart too
As long as you're happy is that all that matters? Does that mean I know longer exist to you?
Just once, just once can't you think of me?

Rap:
Haha (What's up)
Are you ready for this?
Super trot (Ho) Verse two
Yeah (Uh)
Yeah (Uh)
Yeah (Uh)
My heart is worn out as worn can be
The deep scars inside, the memories passing by briskly
I fall again and walk with my head down as if I've done something wrong
Saying that you're sorry, telling me to be happy, those words aren't consoling me at all
You're leaving me so easily, Is there no room in your heart for someone like me?

* Repeat

You're still leaving, I probably can't hold onto you can I?
Just tell me once that you loved me

Rap:
Again, again, twice again
I pledge not to love again
I come back cause I can't forget, I beg and think of you
If I keep praying to the heavens will my prayers come true?
Come to me, look at me, love me, hold me, let me feel you
Come to me, look at me so that I won't fall and so that we can be together forever

translation credits : little_omlette



Previous Entry - 11th June





Create Date : 20 มิถุนายน 2550

24 comments

Last Update : 20 มิถุนายน 2550 23:25:24 น.
Counter : 1550 Pageviews.



| | |
| --- | --- |
| โดย: sus IP: 198.105.45.129 20 มิถุนายน 2550 23:07:14 น. | |



| | |
| --- | --- |
| โดย: Orniez 21 มิถุนายน 2550 18:26:19 น. | |



| | |
| --- | --- |
| โดย: Aon IP: 124.121.217.84 11 มีนาคม 2552 10:52:52 น. | |



| | |
| --- | --- |
| โดย: มุก IP: 125.26.182.193 22 เมษายน 2552 12:18:21 น. | |



| | |
| --- | --- |
| โดย: mook IP: 118.173.244.153 24 เมษายน 2552 7:43:50 น. | |



| | |
| --- | --- |
| โดย: ชาลิสา IP: 125.26.31.230 14 พฤษภาคม 2552 21:05:36 น. | |



| | |
| --- | --- |
| โดย: ไม่บอก IP: 125.26.31.230 14 พฤษภาคม 2552 21:08:24 น. | |



| | |
| --- | --- |
| โดย: chwisa IP: 125.26.31.230 14 พฤษภาคม 2552 21:11:36 น. | |



| | |
| --- | --- |
| โดย: BlacK_VioLet IP: 124.121.168.55 21 พฤษภาคม 2552 18:32:39 น. | |



| | |
| --- | --- |
| โดย: กรูร๊ากกกกเมิง IP: 119.42.93.234 28 พฤษภาคม 2552 20:08:18 น. | |



| | |
| --- | --- |
| โดย: beemie IP: 117.47.92.248 30 พฤษภาคม 2552 15:56:41 น. | |



| | |
| --- | --- |
| โดย: หญิงจัง IP: 222.123.59.59 4 มิถุนายน 2552 9:48:53 น. | |



| | |
| --- | --- |
| โดย: ... IP: 118.172.175.110 16 มิถุนายน 2552 17:08:03 น. | |



| | |
| --- | --- |
| โดย: Super Junior เจริญ ๆ IP: 210.1.30.252 18 มิถุนายน 2552 10:04:41 น. | |



| | |
| --- | --- |
| โดย: bim IP: 125.26.224.103 24 กันยายน 2552 19:07:05 น. | |



| | |
| --- | --- |
| โดย: love... IP: 113.53.34.146 2 ตุลาคม 2552 15:35:41 น. | |



| | |
| --- | --- |
| โดย: คนชอบ super junior IP: 125.26.177.179 26 พฤศจิกายน 2552 8:36:23 น. | |



| | |
| --- | --- |
| โดย: pop IP: 125.26.177.179 26 พฤศจิกายน 2552 8:42:32 น. | |



| | |
| --- | --- |
| โดย: เเฟนคลับตัวเล็กเล็ก IP: 124.120.51.16 2 ธันวาคม 2552 14:27:00 น. | |



| | |
| --- | --- |
| โดย: pop IP: 58.9.80.113 30 ธันวาคม 2552 15:34:56 น. | |



| | |
| --- | --- |
| โดย: Ize IP: 10.0.0.1, 61.19.50.131 19 มกราคม 2553 9:32:09 น. | |



| | |
| --- | --- |
| โดย: tananwan IP: 119.42.68.163 22 สิงหาคม 2555 13:09:09 น. | |
Location :
Taipei Taiwan

[ดู Profile ทั้งหมด]

ฝากข้อความหลังไมค์
Rss Feed


Smember


ผู้ติดตามบล็อก : 1 คน [?]