กุ้งอบวุ้นเส้น ( Baked Prawn with Mung Bean Noodle )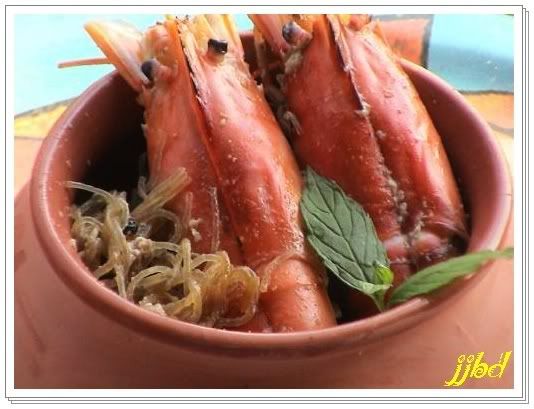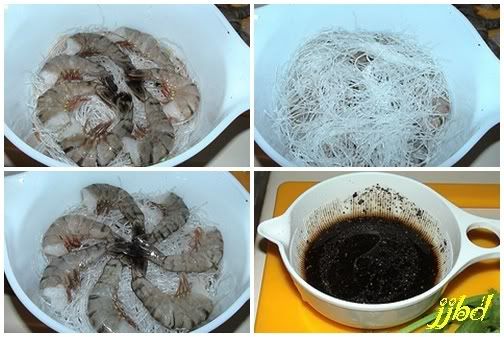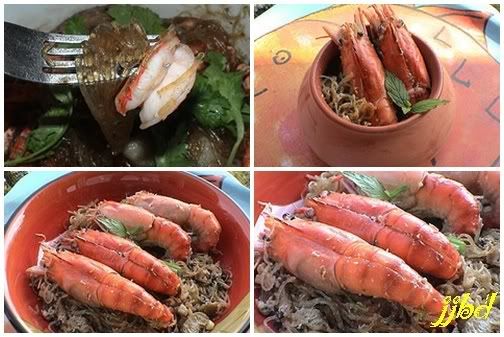 เครื่องปรุง
กุ้งใหญ่ หรือ กุ้งชีแฮ้ 300 กรัม
วุ้นเส้น 1 กำเล็ก
กระเทียมปอกเปลือก 6 กลีบ
รากผักชีแก่ ๆ 5 - 6 ราก
ผักชีเด็ดเป็นช่อ ๆ พอประมาณ
ต้นหอมหั่นเป็นท่อนสั้น ๆ 1 ต้น
ขิงแก่ 1 แง่งหั่นเป็นแว่นบาง ๆ
มันหมูหั่นเป็นชิ้นสี่เหลี่ยม 1 /4 ถ้วย (ใช้เบคอนแทน)
พริกหอม (ซวงเจี่ย) 1 ช้อนชา
พริกไทยเม็ด 1 ช้อนโต๊ะ
น้ำตาลทราย 1 ช้อนชา
น้ำมันหอย 1 ช้อนโต๊ะ
ซีอิ้วขาว 1 ช้อนโต๊ะ
น้ำซุป 1/ 4 ถ้วย

วิธีทำ
1. ทำความสะอาดกุ้ง โดยปอกเปลือกกุ้งพร้อมใช้มีดผ่ากลางตัวเอาไส้ดำออก นำหม้อดินหรือหม้อที่จะใช้อบมาล้างนำให้สะอาด
2. เรียงก้นหม้อด้วยมันหมูแข็ง รากผักชี กระเทียม พริกไทย ขิงแก่ ตามด้วยวุ้นเส้น โรยพริกหอม
3. ผสมน้ำปรุงรสสำหรับใช้ราดบนกุ้ง โดยผสมน้ำตาลทราย น้ำมันหอย ซีอิ้วขาว และ น้ำซุปเข้าด้วยกัน จากนั้น
4. ใส่น้ำปรุงรสลงไปครึ่งหนึ่ง จากนั้นวางกุ้งทับบนวุ้นเส้น แล้วเทน้ำปรุงรสที่เหลือลงไป ปิดฝาแล้วนำหม้อไปตั้งไฟแรง ๆ สัก 5 - 8 นาที ก็สุก
5. ยกลงมาโรยด้วยต้นหอมผักชี เสิร์ฟร้อน ๆ

Baked Prawn with Mung Bean Noodle (Kung Op Wun Sen)

Ingredients
8-10 prawns
2 strips becon
2 small packs mung bean noodles
4-5 cloves fresh garlic
4-5 sliced ginger
1 tsp whole peppercorns
2 Tbsp thin soy sauce
1 tsp dark soy sauce
2 Tbsp oyster sauce
2 tsp sugar
1 Chinese celery
1 cup chicken broth

Preparation
1. Preheat oven to 400° F. Soak mung bean noodles about 10 minutes or until soft and drain. Clean prawns (peel shell and devein is optional)
2. Peel garlic, cut Chinese celery stem, wash dirt, then crush garlic, pound whole peppercorns and chop Chinese celery. Mix thin soy sauce, dark soy sauce, oyster sauce, sugar, chicken broth, slided ginger, pounded garlic and peppercorns in mixing bowl. Add drainned mung bean noodles, let noodles absorb sauces about 5 minutes.
3. Cut becon about 3" long and place in baking dish. Divide half of mung bean noodles and place on becon. Layer 4-5 prawns, remaining mung bean noodle, 4-5 prawns, and all sauce mixture in dish.
4. Cover dish and bake 25-30 minutes or until prawns cook. Top with chopped Chinese celery, cover, and bake an additional 2 minutes.
5. Let stand 5 minutes before serving.


Create Date : 12 ตุลาคม 2550

5 comments

Last Update : 5 สิงหาคม 2551 7:51:01 น.
Counter : 1347 Pageviews.