"......: Nneka :: Stand Strong :......"
In the darkness I listen to the melody that life plays
It goes to my ears and my bones
It's a funny feeling that comes over me and stays, you know
In such moments I'm reminded that the gift of life is life itself
If you can ask god to help you you still got to help yourself
Cuz life ain't a bed of roses, be real
Just like the taken man minds of Moses

[Refrain]
Hold on
Be strong
Go on
See we won't divide see we multiply!
Hold on
Be strong
Just go on

See we multiply see we won't divide!
There are complications that may occur
You may reach the highest level of confusion
Your life ain't exclused in them different stations
And before you may rise you may live you may cry sometimes you may even think you will die but
There's a perseverances character
And the character you get from endurance it gives you
A perseverances character
And the character you get from endurance it gives you

[Refrain]

Sometimes you feel
You're not at ease
So confused
You don't know
At times it's so, so much alone
But put your achievements together
And you should know

[Refrain]
---
---
Thank you to these clips for explaining and let me understand what's going on now. The more I'm watching more clips that explain about these people...this kind of activities, the more I understand the situation that my family is facing now. I was wondering for so long about what's going on with the white pickup truck and blue pickup truck, blue SUV(Actually there more than just the cars I mention, but the most aggressive are three of them that they even came to stalked in front of our house, watching us everywhere we go, not coincident. Before that, we just could not understand what's going on...we really have no idea why these people doing this.) Oh man. How can they do this to people? Unbelievable. We're good citizens, we're just civilians, we just living our life, why they want to hurt us. What about the real bad ones, do they go after the real bad ones.
Also, one of many ways to deal with this kind of people is that just ignore them, don't give them any prices, any power. Let them have fun with their own game, then just living peace in our life, focus on family and what we want to do in our life. If they're really happy with hurting and harassing people, then just let them. Since we're living with the truth and they're living the game, they create situations up and playing game themselves to fulfill their ego. So just let them then, let they have fun with their own way, don't waste our times. Since I understand their concept and their goal, then I just feel like that I'm watching their show. They're giving us some entertaining, so just try to enjoy watching their acting...their show. Also, you have to be careful too, don't let your mind falls into their trap because their goal seems like they want to messed up your mind, to drive you crazy and scare you...that's why they threaten you with many forms of their acts and their concept in their team though. If your mind is weak, then they will get the power. But if your mind is strong enough, then they will be like just a joker for you and its giving us the entertaining.
SINCE WE ARE INNOCENT PEOPLE THAT JUST LIVING OUR LIVES. SO...ONE OF MANY WAYS TO DEFEAT WITH THIS KIND OF PEOPLE IN THIS ACTIVITY(GANG STALKING) IS THAT YOU HAVE TO WORK WITH YOUR OWN MIND, FOCUS ON GOOD PEOPLE IN THE SOCIETY. DON'T LET THESE PEOPLE IN THIS GANG INPUT THE NEGATIVE ATTITUDE INTO YOUR MIND, WHICH IT SEEMS THEIR GOAL IS THAT TRYING TO MESSED UP YOUR MIND AND RUIN YOUR HAPPINESS. YOU HAVE TO STAY FIRM WITH THE POSITIVE ATTITUDE, DON'T LET THEM RUIN YOUR POSITIVE ATTITUDE. THERE'RE FULL WITH GOOD PEOPLE OUT THERE IN THIS SOCIETY THAT JUST TRY TO LIVE THEIR LIFE PEACEFUL AS REGULAR, SO FOCUS ON GOOD PEOPLE IN THIS SOCIETY. DON'T LET JUST SMALL GROUP OF THESE PEOPLE, GANG STALKER(S) HAVE THE NEGATIVE INFLUENCE ON YOUR MIND AND YOUR LIFE. BE STRONG AND STAND STRONG FOR YOURSELVES AND YOUR FAMILY. THEN JUST ENJOY THE SHOW THEY HAVE FOR YOU, HAVE FUN WITH THEIR PERFORMANCE. WATCHING THEM JUST LIKE THAT YOU'RE WATCHING MOVIES AND LET THEM ENJOY THE POWER THEY FEEL THEMSELVES WHILE THEY'RE PLAYING THE SHOW...PLAYING GAME ON YOU, STALKING AND HARASSING YOU. ONE THING I HOPE IS THAT "THEY WON'T USING KIDS, PLEASE DON'T USING KIDS IN THIS GAME."
---
These pictures are some part information of this activity that I was scanning from the book "HOW TO DEAL WITH AND DEFEAT GANG STALKERS" that I'm reading. I try to understand the purpose of this activity, why they're doing this to innocent people and the author is "Chomi Prag". Since we are just regular people that just living our lives, I want to understand why we become a target of this game...this activity. So I bought this book and other books to read and get some advice from their books, especially about working with our own mind. We can't control people in this activity anyway, but we can control ourselves, our mind. I'm thankful to all of books and the authors that they're sharing their own experiences as TARGETED INDIVIDUALS. They help me understand, calm myself and be able to deal with people in this activity(GANG STALKER, or another word that I personally call them as GANG OF MIND GAME).
"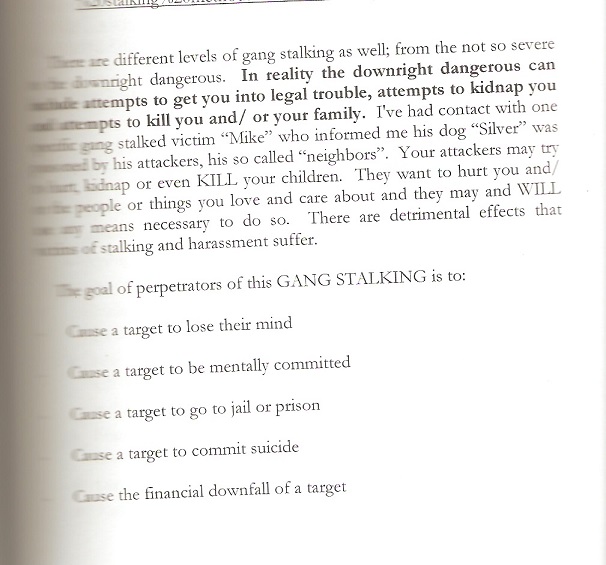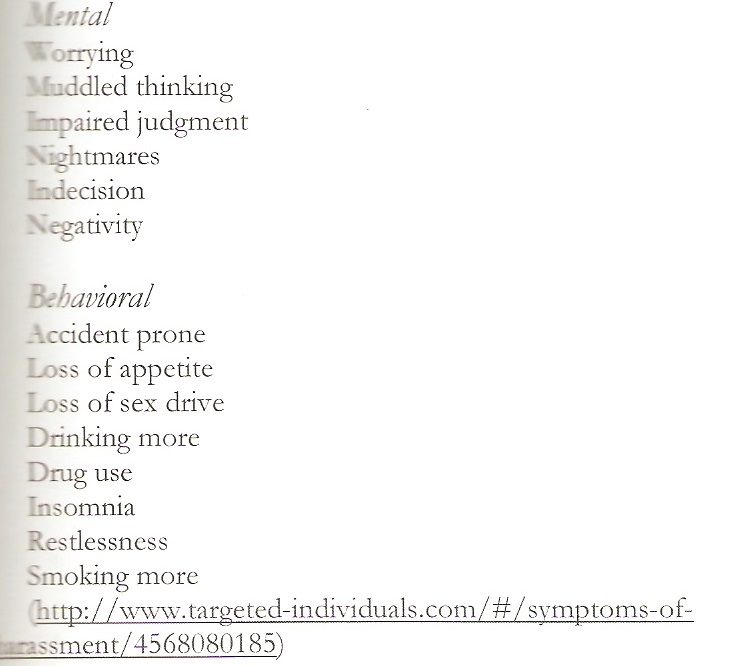 "
---
The thing is, the most sad is that when one of the members of family is joining game with these people, teamed up with them and try to help setting situation up for them. But luckily that she left some note to let me have some guide, some clue that she's working with these people(but at the time, I did not know how big this group is, how big this game is. Somehow, since she knew that I knew she was trying to set situation up on me, then she seem doesn't want to visit us again...years already that she does not visit us. Usually she will come to visit us 2 times per year, I guess she might feel ashamed about what she was doing to me or maybe she does not find the new way to play game on me yet). When I look back step by step, then I just started to understand and try to speak up for some part about the situation on my blog(Dealing With Game Player, even though I knew that she was playing game on me at that time, but I did not know it would be too big game like this). For other details, my husband and I try to do something, we try to record and try to document the situation how these people harassment us(and other people) by stalking method...crazy though, I never thought we would have to deal with this kind of people.
However, I feel better after I'm watching many clips on Youtube(try to search about white pickup truck stalking, gang stalking) and reading some books that the authors are sharing their experiences, understand about these people in this activity. Myself, I was confusing for so long about why this white pickup truck always follow me every time I drive my daughter to school. Why the white pickup truck park in front of our house and he was watching me when he drive passed me, he stare at me not just peeking at me (Which there is no family in our neighbor has white pickup truck and blue pickup truck). One time, when my husband and I drove to get the gas at gas station, the blue SUV drove to the opposite of our car and a man in the front seat turn window down and stare at me, I stare back at him back and wonder why he's stare at me back(he look like someone in uniform though, personality look like that to me), then I turn my Car Dash Cam on then he stopped stare at me and then they left.
Actually, I have more details but I just document the incidents and keep them with me and with my husband. Also, here some part I'm writing in my blog. (If something happen with me, at least people will know what is happening with me, not just vanishing though.), now I know there is not just my family that is facing with this thing. Now I feel better after understand what is going on now.
Before that, it was pressuring me and frustrate me because it was confusing me about what these people are doing and why they're doing this, why they want to hurt us. What we're doing wrong? We're just regular people that try to live our life. Now, after we get it, understand it. Well, nothing to worry but we need to careful that we don't let them upset us and lose our mind though, careful and keep our mind calm because it seems their goal is that try to teasing you so that you upset and lose control yourself and fight back with them...crazy world though.
So the best way to deal with this situation is that just try to live our peace life, then just watch they have fun with their game though...they're setting situations up for their game and playing game themselves...unbelievable. So, just let them stalk you as much as they could, let them watch you as much as they could...sounds fun for them though.
But the good part of this situation is, there's the positive side too. Since we do nothing wrong, we respect the laws, we're good citizens(civilians). Then just try to think that they're protecting us because we're always in their eyes. Just hope they don't play the dirty game by using the bad people to harm us or setting situation up to make us look bad.
Hope they're honest though, but since they're joining this group, this activity...stalking people. So how can we say they will be honest to people...they're not sincerely, not honest at all. I hope they know this activity, this job is the job that will ruin the trust between people in the society. They're dividing people in the society, how could they feel proud of themselves for being the member of this gang...just hope they will realize this.
I don't know how many innocent people being victims from this stalking activity of this gang. As I see their game from my own experience, they will set situation up for their game. Even though you are innocent, you do nothing wrong, you just go to store as regular, you live your life as regular, you drive your kid to school as regular. But since you're the target of this gang, then they will set situation up to make you look like you're the suspect of some bad criminal.
To me, I feel this activity is ruined innocent people life, they use the mind game, mind control to harassment you. When they work, they will come together as the group and try to blend with the regular people, but if you notice you will see the different. Something weird that you will see from them.
For example, here what I was document one incident. Which at that time, I was not understand about what I was facing yet. I did not know what these people are doing, why they're doing this to me.
P.S. :: People may not notice that they're stalking by these groups. Me too, I did not notice before, until things go on more and more and I feel it's not coincident. It must be something going on with the organized activity here, until I started to search some information on google. I try to search about why this kind of car's parking in that area every time I'm driving at the spot, why the white pickup truck, blue pickup truck always parking in our neighbor lately(in front of my house).
The more I search on google and found the information about this gang, the more I realize that what I have gone through, the experience I have gone through is exactly the same with what people are talking on the internet about their experience as the victims of this gang and the pattern of the activities of this gang to harassment people(their target). Oh now we know that what these people are doing and they're part of "GANG STALKER" THAT USING METHOD CALLED "GANG STALKING" to stalk people and our family...OH THANKS...THANKS FOR MIND GAME.
*** IF SOMEONE'S BEING THE VICTIM OF THIS GANG...THIS ACTIVITY..."THE EVILNESS ORGANIZED GANG STALKING". SINCE YOU'RE INNOCENT PEOPLE THAT JUST LIVING YOUR LIFE. SO PLEASE SPEAK UP, DOCUMENT THE INCIDENTS AND LET PEOPLE KNOW WHAT'S GOING ON. DON'T BE AFRAID, BE STRONG & STAND STRONG. DON'T LET THEM DO THIS TO OTHER INNOCENT PEOPLE. ***
---