Midnight in Paris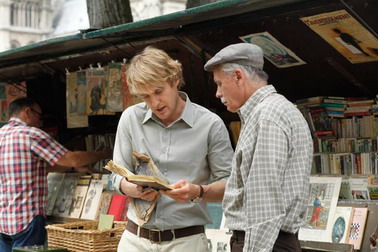 ผมได้ไปชม Midnight in Paris รอบสองที่โรงหนัง หลังจากที่หลายเดือนก่อนได้ดูและเขียนถึงไว้ในบล็อก

พูดตามตรง แค่ 3 นาทีแรกของหนัง ผมรู้สึกว่าคุ้มค่าตั๋วเข้าชมที่ลิโด้แล้ว

ดูอีกรอบทำให้นึกถึงประเด็นว่า หนังนอกจากกล่าวถึงปารีสในทศวรรษ 1920 ยังกล่าวถึงยุค Belle Epoque คือช่วงปลายศตวรรษที่ 19 ถึงต้นศตวรรษที่ 20 อีกด้วย

สเตฟาน ซไวก์เคยเขียนถึงยุค Belle Epoque ในปารีสไว้อย่างงดงามจับใจในหนังสืออัตชีวประวัติเล่มโปรดของผม "The World of Yesterday"

"...Oh, how easily, how well, one lived in Paris, particularly if one was young! Merely walking about was a pleasure and a lesson at the same time, for everything was within reach. You could walk into a secondhand bookshop and spend a quarter hour turning pages without the dealer's grumbling or complaining. You could go into the small galleries and the art shops and browse around as you wished…It was not easy to stop once you had started strolling, for the street drew you on magnetically ; it was a kaleidoscope, constantly disclosing something new. If you were tired you could sit on the terrace of one of the ten thousand cafes and write letters on stationery which was supplied free of charge…The only difficult thing was to stay home or to go home, especially when it was spring and the lights shone soft and silvery over the Seine, and the trees on the boulevards were beginning to bud, and the girls were wearing bunches of violets which they had bought for a penny. But it as not necessarily spring that put you in a good mood in Paris."

เดินออกจากโรงหนัง ผมรู้สึกเหมือนกับว่าตัวเองได้กลับไปยืนบนสะพาน Alexandre III อีกครั้ง..
Create Date : 30 ธันวาคม 2554
Last Update : 30 ธันวาคม 2554 14:35:17 น.
Counter : 664 Pageviews.
In Memory Of George Whitman and Shakespeare and Company


George Whitman เจ้าของร้านหนังสือชื่อดัง Shakespeare and Company ในปารีส เสียชีวิตแล้วในวัย 98 ปี ตามรายงานข่าวในนิวยอร์กไทม์สครับ


Create Date : 17 ธันวาคม 2554
Last Update : 17 ธันวาคม 2554 20:27:41 น.
Counter : 536 Pageviews.
Say You, Say Me
Create Date : 06 ธันวาคม 2554
Last Update : 6 ธันวาคม 2554 20:21:41 น.
Counter : 373 Pageviews.
แบ่งสายบอลชิงแชมป์แห่งชาติยุโรป ปี 2012
จับสลากแบ่งสายกันไปแล้ว สำหรับฟุตบอลชิงแชมป์แห่งชาติยุโรปที่จะมีขึ้นกลางปีหน้า

Group A: Poland, Greece, Russia, Czech Republic
Group B: Holland, Denmark, Germany, Portugal
Group C: Spain, Ireland, Italy, Croatia
Group D: Ukraine, France, Sweden, England

กลุ่ม B เราจะได้ชมการปะทะแข้งระหว่างด๊อยทช์กับดัตช์ตั้งแต่รอบแรกเลย น่าชมจริงๆครับ

สำหรับแชมป์ในอดีตที่ผ่านมามีดังนี้ (ผลในนัดชิง)

Year (นัดชิง)
2008 Spain 1-0 Germany
2004 Greece 1-0 Portugal
2000 France 2-1 Italy
1996 Germany 2-1 Czech Republic
1992 Denmark 2-0 Germany
1988 Netherlands 2-0 USSR
1984 France 2-0 Spain
1980 Germany 2-1 Belgium
1976 Czechoslovakia 2-2 Germany (6-5 Pens)
1972 Germany 3-0 USSR
1968 Italy 2-0 Yugoslavia
1964 Spain 2-1 USSR
1960 USSR 2-1 Yugoslavia

เยอรมันเคยเป็นแชมป์มา 3 ครั้ง ฝรั่งเศส 2 ครั้ง สเปน 2 ครั้ง รัสเซีย, อิตาลี, เชค, ฮอลแลนด์, เดนมาร์ก และกรีซ ชาติละ 1 ครั้ง

ครั้งนี้ชาติไหนจะเป็นแชมป์ กลางปีหน้าจะได้ทราบกันครับ
Create Date : 04 ธันวาคม 2554
Last Update : 4 ธันวาคม 2554 15:14:30 น.
Counter : 422 Pageviews.
Peter Nadas: Parallel Stories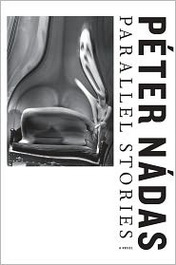 ผลงานเล่มใหม่ของนาดาส Parallel Stories หนังสือที่ผู้เขียนใช้เวลาเขียน 15 ปี หนากว่า 1,100 หน้า อ่านความเห็นใน The National น่าอ่านทีเดียวครับ

With the publication of Parallel Stories, Peter Nádas, the Hungarian novelist, playwright and essayist, has unleashed yet another such 1,000-plus pages into the world. But don't let that scare you. Parallel Stories is, quite simply, the finest literary monster that our young century has produced; it's both a bloated high-modernist anachronism and one of the most fully formed arguments for what the novel is still capable of. Here, finally, is a new way forward.

Loosely, baggily, the novel concerns dozens of intertwined characters and nearly 75 years of European history. Hungarians and Germans and Jews and Gypsies; Nazis, communists and secret associations of nationalists and spies, among many others. To attempt an untangling of the threads and stories here would be both impossible and a great disservice to the novel. The very structure of Parallel Stories is in itself a refutation of the linear mode of storytelling and, at times, the novel feels like a film hijacked by its extras.

Scott Esposito วิจารณ์เล่มนี้ไว้ใน Barnes & Noble ด้วย
Create Date : 27 พฤศจิกายน 2554
Last Update : 27 พฤศจิกายน 2554 16:08:14 น.
Counter : 370 Pageviews.
Location :
กรุงเทพ Thailand

[Profile ทั้งหมด]

ฝากข้อความหลังไมค์
Rss Feed


Smember


ผู้ติดตามบล็อก : 5 คน [?]