1
2
3
4
5
6
7
8
9
10
11
12
13
14
15
16
17
18
19
20
21
22
23
24
25
26
27
28
29
30
31
Rafa Nadal will be Armani's new image for Jeans and underwears OMG !
Now 2010 season is end but Rafa still does many activities outside tennis court.



For example...

After Beckman and Ronaldo, Rafa will be Armani's new image for Jeans and underwears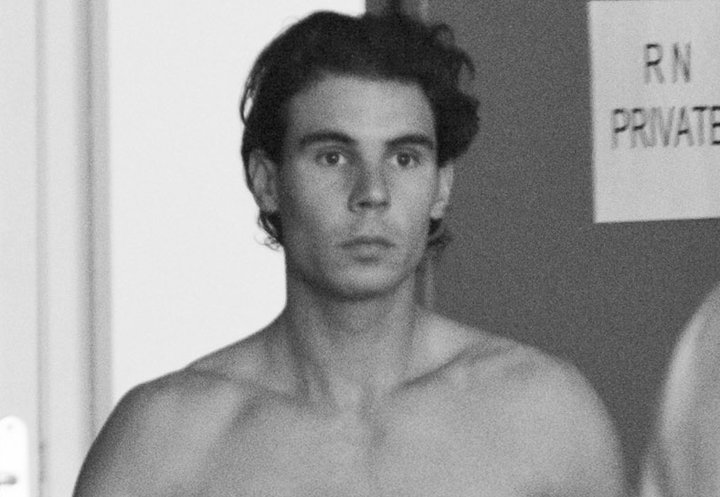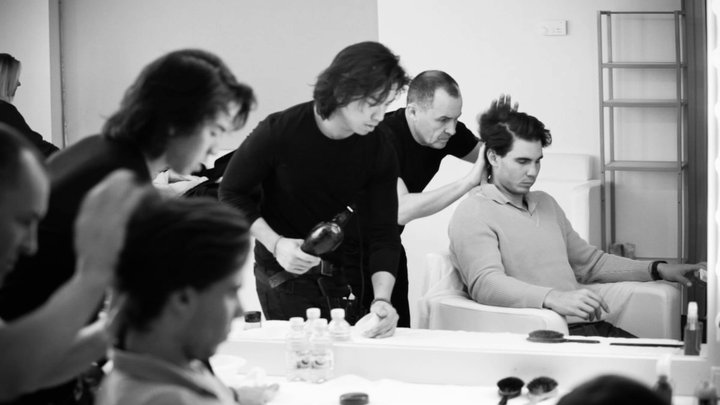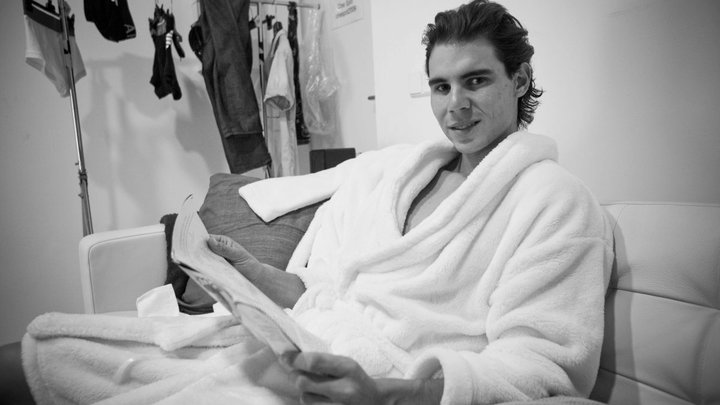 He also received many awards from his performance in this year. He really deserves them



He received Stefan Edberg Sportsmanship Award (voted by ATP players).



"It is a big satisfaction to received the Sportsmanship Award, voted for by my fellow players; it's very important for me," said Nadal.

He received As del Deporte Awards



He received ITF awards.



"It is an honour to be named ITF World Champion for the second time. After a difficult year in 2009, it was an amazing feeling to regain the No. 1 ranking and finally win the US Open," the Spaniard told the ITF's website

"My goal all the time is to keep improving and be a better player each year than I was the previous year."

P.S. Now I am in abroad na ka so I don't have much time for updating my blog. Also, I don't have Thai keyboard so it is even harder for me to make a new blog. So, any Thai Rafa fans which have Rafa news updated are welcomed to share the news na ka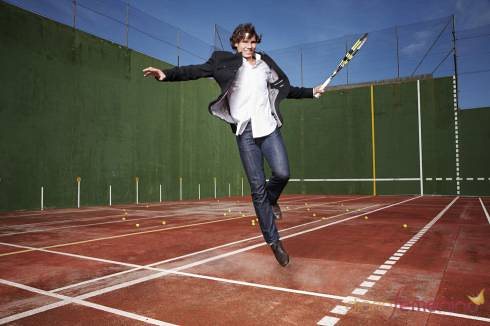 Create Date : 15 ธันวาคม 2553

111 comments

Last Update : 15 ธันวาคม 2553 12:44:14 น.
Counter : 2320 Pageviews.



| | |
| --- | --- |
| โดย: หมูทอง IP: 125.25.18.80 15 ธันวาคม 2553 22:39:32 น. | |



| | |
| --- | --- |
| โดย: หมูทอง IP: 125.25.18.80 15 ธันวาคม 2553 22:57:55 น. | |



| | |
| --- | --- |
| โดย: ราเฟ IP: 58.8.229.83 16 ธันวาคม 2553 8:37:40 น. | |



| | |
| --- | --- |
| โดย: ราเฟ (ราเฟล ) 17 ธันวาคม 2553 13:56:41 น. | |



| | |
| --- | --- |
| โดย: ราเฟล 17 ธันวาคม 2553 14:15:10 น. | |



| | |
| --- | --- |
| โดย: ราเฟล 17 ธันวาคม 2553 14:44:16 น. | |



| | |
| --- | --- |
| โดย: ราเฟ (ราเฟล ) 17 ธันวาคม 2553 19:54:50 น. | |



| | |
| --- | --- |
| โดย: น้อง IP: 192.168.100.11, 110.164.136.14 19 ธันวาคม 2553 22:35:30 น. | |



| | |
| --- | --- |
| โดย: som IP: 96.50.201.233 20 ธันวาคม 2553 13:29:01 น. | |



| | |
| --- | --- |
| โดย: ราเฟ (ราเฟล ) 20 ธันวาคม 2553 19:53:18 น. | |



| | |
| --- | --- |
| โดย: ราเฟ (ราเฟล ) 20 ธันวาคม 2553 19:55:35 น. | |



| | |
| --- | --- |
| โดย: หมูทอง IP: 125.25.32.53 21 ธันวาคม 2553 0:14:47 น. | |



| | |
| --- | --- |
| โดย: หมูทอง IP: 125.25.32.53 21 ธันวาคม 2553 8:07:15 น. | |



| | |
| --- | --- |
| โดย: หมูทอง IP: 125.25.32.53 21 ธันวาคม 2553 8:09:23 น. | |



| | |
| --- | --- |
| โดย: หมูทอง IP: 125.25.32.53 21 ธันวาคม 2553 8:12:36 น. | |



| | |
| --- | --- |
| โดย: ราเฟ IP: 115.87.231.102 21 ธันวาคม 2553 9:41:10 น. | |



| | |
| --- | --- |
| โดย: ราเฟ IP: 58.8.185.226 21 ธันวาคม 2553 19:01:03 น. | |



| | |
| --- | --- |
| โดย: ราเฟ (ราเฟล ) 21 ธันวาคม 2553 20:58:18 น. | |



| | |
| --- | --- |
| โดย: ราเฟล 21 ธันวาคม 2553 23:30:06 น. | |



| | |
| --- | --- |
| โดย: ราเฟ (ราเฟล ) 22 ธันวาคม 2553 3:11:58 น. | |



| | |
| --- | --- |
| โดย: ราเฟล 22 ธันวาคม 2553 3:21:47 น. | |



| | |
| --- | --- |
| โดย: ราเฟล 22 ธันวาคม 2553 3:35:13 น. | |



| | |
| --- | --- |
| โดย: หมูทอง IP: 125.25.24.111 22 ธันวาคม 2553 3:38:09 น. | |



| | |
| --- | --- |
| โดย: หมูทอง IP: 125.25.24.111 22 ธันวาคม 2553 3:46:32 น. | |



| | |
| --- | --- |
| โดย: ราเฟล 22 ธันวาคม 2553 3:58:02 น. | |



| | |
| --- | --- |
| โดย: หมูทอง IP: 125.25.24.111 22 ธันวาคม 2553 4:26:21 น. | |



| | |
| --- | --- |
| โดย: คนตะวันออก IP: 161.200.139.241, 161.200.139.237 22 ธันวาคม 2553 9:40:36 น. | |



| | |
| --- | --- |
| โดย: ราเฟ (ราเฟล ) 22 ธันวาคม 2553 14:05:08 น. | |



| | |
| --- | --- |
| โดย: ราเฟล 22 ธันวาคม 2553 17:10:57 น. | |



| | |
| --- | --- |
| โดย: หมูทอง IP: 125.25.24.111 22 ธันวาคม 2553 17:30:05 น. | |



| | |
| --- | --- |
| โดย: ราเฟล 22 ธันวาคม 2553 20:40:45 น. | |



| | |
| --- | --- |
| โดย: ราเฟล 22 ธันวาคม 2553 23:22:43 น. | |



| | |
| --- | --- |
| โดย: cao.s,j IP: 58.11.91.136 23 ธันวาคม 2553 2:54:09 น. | |



| | |
| --- | --- |
| โดย: cao.s,j IP: 58.11.91.136 23 ธันวาคม 2553 3:02:17 น. | |



| | |
| --- | --- |
| โดย: หมูทอง IP: 125.25.38.45 23 ธันวาคม 2553 5:01:27 น. | |



| | |
| --- | --- |
| โดย: ปลาดาว IP: 202.60.205.39 23 ธันวาคม 2553 13:17:29 น. | |



| | |
| --- | --- |
| โดย: อ่อน IP: 122.0.3.208 23 ธันวาคม 2553 15:54:08 น. | |



| | |
| --- | --- |
| โดย: ราเฟ (ราเฟล ) 23 ธันวาคม 2553 16:55:23 น. | |



| | |
| --- | --- |
| โดย: ราเฟล 23 ธันวาคม 2553 17:02:12 น. | |



| | |
| --- | --- |
| โดย: ราเฟล 23 ธันวาคม 2553 17:15:31 น. | |



| | |
| --- | --- |
| โดย: ราเฟล 23 ธันวาคม 2553 17:30:24 น. | |



| | |
| --- | --- |
| โดย: ราเฟล 23 ธันวาคม 2553 17:33:09 น. | |



| | |
| --- | --- |
| โดย: ราเฟล 23 ธันวาคม 2553 17:35:04 น. | |



| | |
| --- | --- |
| โดย: ราเฟล 23 ธันวาคม 2553 17:39:48 น. | |



| | |
| --- | --- |
| โดย: ราเฟล 23 ธันวาคม 2553 17:40:42 น. | |



| | |
| --- | --- |
| โดย: ราเฟล 24 ธันวาคม 2553 17:46:00 น. | |



| | |
| --- | --- |
| โดย: ราเฟ (ราเฟล ) 24 ธันวาคม 2553 17:50:01 น. | |



| | |
| --- | --- |
| โดย: som IP: 70.79.200.84 31 ธันวาคม 2553 13:28:31 น. | |



| | |
| --- | --- |
| โดย: ราเฟ IP: 115.87.201.10 1 มกราคม 2554 13:39:54 น. | |



| | |
| --- | --- |
| โดย: ราเฟ IP: 115.87.201.10 1 มกราคม 2554 13:42:58 น. | |



| | |
| --- | --- |
| โดย: ราเฟ (ราเฟล ) 1 มกราคม 2554 13:59:54 น. | |



| | |
| --- | --- |
| โดย: ราเฟล 1 มกราคม 2554 14:06:39 น. | |



| | |
| --- | --- |
| โดย: ราเฟล 1 มกราคม 2554 14:52:35 น. | |



| | |
| --- | --- |
| โดย: ราเฟ (ราเฟล ) 1 มกราคม 2554 14:59:05 น. | |



| | |
| --- | --- |
| โดย: ราเฟ IP: 115.87.246.0 1 มกราคม 2554 22:17:37 น. | |



| | |
| --- | --- |
| โดย: moothong IP: 49.229.240.203 2 มกราคม 2554 9:58:17 น. | |



| | |
| --- | --- |
| โดย: ราเฟ IP: 58.8.162.237 2 มกราคม 2554 21:41:11 น. | |



| | |
| --- | --- |
| โดย: ราเฟ IP: 58.8.162.237 2 มกราคม 2554 21:44:41 น. | |



| | |
| --- | --- |
| โดย: ราเฟ IP: 58.8.162.237 2 มกราคม 2554 21:50:58 น. | |



| | |
| --- | --- |
| โดย: ราเฟ (ราเฟล ) 2 มกราคม 2554 22:04:16 น. | |



| | |
| --- | --- |
| โดย: som IP: 24.82.162.21 3 มกราคม 2554 13:03:44 น. | |



| | |
| --- | --- |
| โดย: ราเฟ IP: 115.87.246.58 3 มกราคม 2554 15:15:45 น. | |



| | |
| --- | --- |
| โดย: หมูทอง IP: 125.25.44.190 4 มกราคม 2554 23:20:16 น. | |



| | |
| --- | --- |
| โดย: หมูทอง IP: 125.25.44.190 4 มกราคม 2554 23:26:10 น. | |



| | |
| --- | --- |
| โดย: หมูทอง IP: 125.25.44.190 5 มกราคม 2554 0:36:56 น. | |



| | |
| --- | --- |
| โดย: Iris IP: 223.205.142.96 5 มกราคม 2554 21:59:07 น. | |



| | |
| --- | --- |
| โดย: อ่อน IP: 58.64.101.172 6 มกราคม 2554 0:06:40 น. | |



| | |
| --- | --- |
| โดย: อ่อน IP: 58.64.101.172 6 มกราคม 2554 1:15:43 น. | |



| | |
| --- | --- |
| โดย: อ่อน IP: 58.64.101.172 6 มกราคม 2554 1:57:37 น. | |



| | |
| --- | --- |
| โดย: Iris IP: 182.52.202.176 6 มกราคม 2554 12:21:21 น. | |



| | |
| --- | --- |
| โดย: หมูทอง IP: 125.25.37.133 6 มกราคม 2554 20:16:15 น. | |



| | |
| --- | --- |
| โดย: หมูทอง IP: 125.25.37.133 6 มกราคม 2554 20:42:24 น. | |



| | |
| --- | --- |
| โดย: Title@MCOT IP: 61.19.226.253 7 มกราคม 2554 10:34:46 น. | |



| | |
| --- | --- |
| โดย: moothong IP: 49.230.150.197 7 มกราคม 2554 22:10:42 น. | |



| | |
| --- | --- |
| โดย: หมูทอง IP: 125.25.31.92 8 มกราคม 2554 17:38:21 น. | |



| | |
| --- | --- |
| โดย: หมูทอง IP: 125.25.31.92 8 มกราคม 2554 17:43:45 น. | |



| | |
| --- | --- |
| โดย: หมูทอง IP: 125.25.31.92 8 มกราคม 2554 17:45:30 น. | |



| | |
| --- | --- |
| โดย: Thai_Fan IP: 61.90.15.84 10 มกราคม 2554 2:12:47 น. | |



| | |
| --- | --- |
| โดย: Title@MCOT IP: 61.19.226.251 10 มกราคม 2554 9:53:24 น. | |



| | |
| --- | --- |
| โดย: หมูทอง IP: 125.25.63.172 13 มกราคม 2554 9:38:05 น. | |



| | |
| --- | --- |
| โดย: หมูทอง IP: 125.25.63.172 13 มกราคม 2554 9:56:46 น. | |



| | |
| --- | --- |
| โดย: หมูทอง IP: 125.25.63.172 13 มกราคม 2554 10:15:19 น. | |



| | |
| --- | --- |
| โดย: หมูทอง IP: 125.25.63.172 13 มกราคม 2554 10:43:34 น. | |



| | |
| --- | --- |
| โดย: หมูทอง IP: 125.25.63.172 13 มกราคม 2554 10:51:50 น. | |



| | |
| --- | --- |
| โดย: หมูทอง IP: 125.25.63.172 13 มกราคม 2554 10:59:20 น. | |



| | |
| --- | --- |
| โดย: หมูทอง IP: 125.25.63.172 13 มกราคม 2554 11:30:44 น. | |



| | |
| --- | --- |
| โดย: ราเฟ IP: 58.8.201.155 13 มกราคม 2554 21:09:30 น. | |



| | |
| --- | --- |
| โดย: ราเฟ IP: 58.8.201.155 13 มกราคม 2554 21:24:08 น. | |



| | |
| --- | --- |
| โดย: หมูทอง IP: 125.25.52.25 14 มกราคม 2554 7:18:59 น. | |



| | |
| --- | --- |
| โดย: น้อง IP: 58.64.74.218 14 มกราคม 2554 14:08:33 น. | |



| | |
| --- | --- |
| โดย: หมูทอง IP: 175.176.222.3 14 มกราคม 2554 17:58:51 น. | |



| | |
| --- | --- |
| โดย: หมูทอง IP: 125.25.42.7 15 มกราคม 2554 16:05:14 น. | |



| | |
| --- | --- |
| โดย: ราเฟ IP: 58.8.126.220 15 มกราคม 2554 17:41:54 น. | |



| | |
| --- | --- |
| โดย: น้อง IP: 58.64.75.223 17 มกราคม 2554 10:31:17 น. | |



| | |
| --- | --- |
| โดย: น้อง IP: 58.64.75.223 17 มกราคม 2554 15:51:35 น. | |



| | |
| --- | --- |
| โดย: Title@MCOT IP: 61.19.226.251 19 มกราคม 2554 10:20:31 น. | |



| | |
| --- | --- |
| โดย: Title@MCOT IP: 61.19.226.251 20 มกราคม 2554 10:38:54 น. | |



| | |
| --- | --- |
| โดย: นีท IP: 125.25.55.179 20 มกราคม 2554 10:51:03 น. | |



| | |
| --- | --- |
| โดย: Title@MCOT IP: 61.19.226.251 20 มกราคม 2554 11:31:59 น. | |



| | |
| --- | --- |
| โดย: ratko 4 ตุลาคม 2554 15:44:16 น. | |



| | |
| --- | --- |
| โดย: couples (AIRRO01 ) 6 พฤศจิกายน 2554 11:24:17 น. | |



| | |
| --- | --- |
| โดย: dannyloa 11 พฤศจิกายน 2554 0:33:50 น. | |



| | |
| --- | --- |
| โดย: ขอบคุณนะจ๊ะ (solodano ) 17 พฤศจิกายน 2554 17:10:59 น. | |



| | |
| --- | --- |
| โดย: SaZmi (solodano ) 19 พฤศจิกายน 2554 20:43:29 น. | |



| | |
| --- | --- |
| โดย: Payday Loans OnLine (AIRRO01 ) 20 พฤษภาคม 2555 22:54:10 น. | |
Location :
กรุงเทพฯ Thailand

[ดู Profile ทั้งหมด]

ฝากข้อความหลังไมค์
Rss Feed

ผู้ติดตามบล็อก : 1 คน [?]







สวัสดีค่ะ !!! มีหลายคนชอบถามว่าทำไมต้อง som_jerry ??? Jerry มาจากการ์ตูนเรื่อง Tom&Jerry ค่ะ ส้มชอบหนู Jerry มาตั้งแต่เด็กแล้ว ( จนบัดนี้ก็ยังดูอยู่ 55555 ) เลยเอามาตั้งชื่อค่ะ ^_^

I love Rafa, my blog and VB.

ข่าวและภาพทั้งหมดเครดิตจาก vamosbrigade และ RN ค่ะ :)