yo quiero Rafa : Rafa during a break ( continue 1 ) !!!
Update news [ 25/10/08 ]

เมื่อวาน Draw รายการมาสเตอร์ซีรีย์ที่ปารีสออกแล้วค่ะ สายพี่ล่ำค่อนข้างหนักเลย อยู่สายเดียวกับแอนดี้ด้วย เฮ้อ.......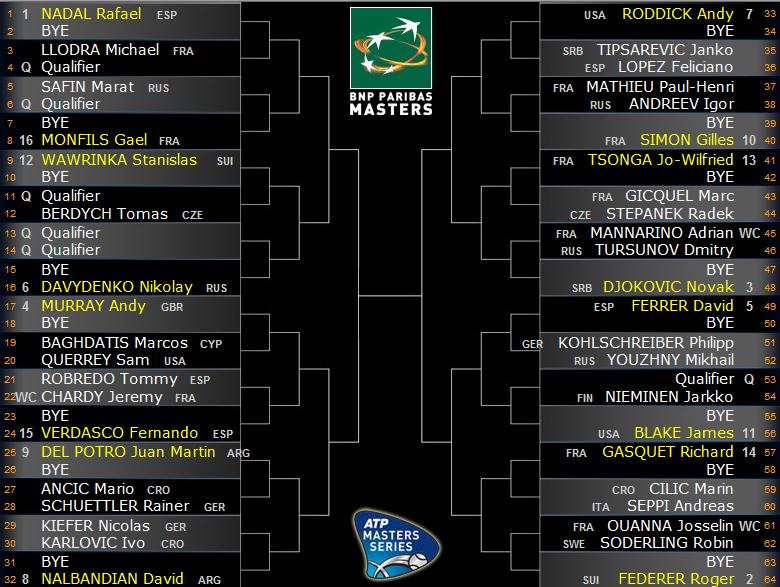 เมื่อวานพี่ล่ำได้ไปรับรางวัล Prince of Asturias prize สาขากีฬาค่ะ


คลิปพี่ล่ำรับรางวัลค่ะ ( ดูอลังการมากกกกก ) เห็นแล้วปลื้มใจแทนเลยค่ะ



- https://www.youtube.com/watch?v=jnI_d0y9RBY
- https://www.youtube.com/watch?v=4KKyq1gLsY4
- https://www.youtube.com/watch?v=1ojUdPbeIWs
- //www.20minutos.es/noticia/422908/
- //www.rtve.es/deportes/20081024/do ... 2930.shtml
- //uk.youtube.com/watch?v=nWvHa_BAZsw
- //s296.photobucket.com/albums/mm193/gandaines2/?action=view¤t=PAs5.flv

รูปพี่ล่ำรับรางวัลค่ะ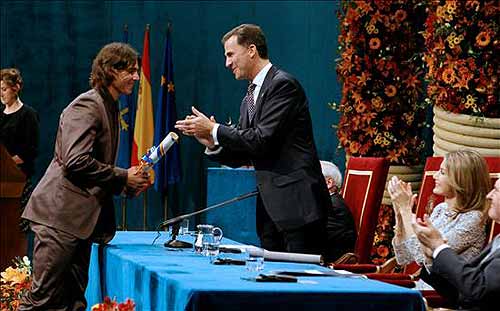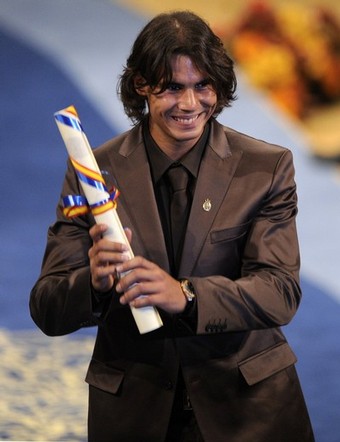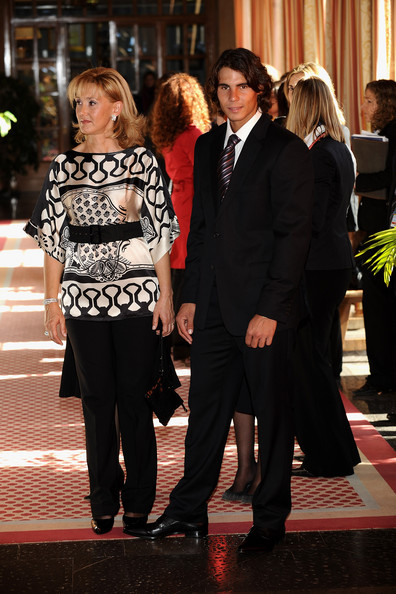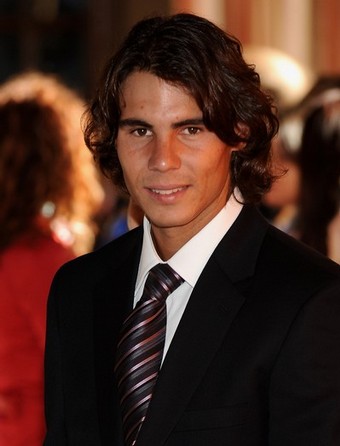 สัมภาษณ์พี่ล่ำกับยูโรนิวส์ จาก RN ค่ะ


PRINCE FELIPE OF SPAIN "RAFA IS A GREAT HUMAN BEING, AND A GRATEFUL YOUNG MAN"
24th of October
Interview with Euronews
Rafa Nadal has called the 2008 season in which he won his first Wimbledon title and captured Olympic gold and the No. 1 ranking the most special year of his sporting career to date.
The 22-year-old Spaniard, who was honoured with the prestigious Prince of Asturias prize called it "the most important they could give me", EFE reported on Friday.
Asturias is the first of the eight prizes Rafa has been given.
The awards, which honour outstanding individuals in the categories of the arts, social sciences, communication and humanities, international cooperation, sports, technical and scientific research and letters, have acquired a prestige comparable with the the Nobel Prize's.
INTERVIEW WITH EURONEWS
He won two Grand slams, knocked Roger Federer off the number one perch and was awarded with the prestigious Prince of Asturias prize in the sports category, tennis ace Rafael Nadal talks with euronews about the best season of his career. A season that will be capped off with a lucrative Shanghai Masters tournament and a Davis Cup final showdown in November against Argentina.

euronews: To start with euronews would like to congratulate you on winning the Prince of Asturias Award for sport.
Nadal: Thank you very much.

euronews: What does it mean for you to win such a prestigious award?
Nadal: To win such an award is, without doubt, the most important thing that has happened to me outside of a tennis court. To receive this accolade goes above and beyond tennis because you have that humane aspect about it which is fascinating and that is why I am so proud.

euronews: If we take a look at 2008 – you won your fourth Rolland Garros title, your first Wimbledon crown, gold at the Olympics this summer in Beijing and secured the world number one ranking. You also won the Prince of Asturias award… what more can you ask for?
Nadal: You can't ask for anything more… you can always do a little bit more, but I am extremely happy with what life has presented me. I am a very happy person and I am going to try and work hard to keep hold of the feeling I have at the moment.

euronews: Now that you top the world rankings, what is the hardest part of that achievement for you, getting there or maintaining that position?
Nadal: I have always said that both are very complicated, getting there and maintaining that position. I am very happy to have reached the number one spot and now I am going to put in the work to stay at the top as long as possible.

euronews: Given the enormous amount of points you will have to defend next season, do you think the 2009 calendar is a little too busy and needs to be scaled down?
Nadal: That's just the way the calendar is and talking about it is not going to help matters. When something is already put into place, complaining about the situation isn't helpful. But having said that it is true some changes could have been made at certain moments in time and if I don't get a chance to take advantage of possible future changes, maybe the players of tomorrow will benefit from a less strenuous calendar, so they can play tournaments without the pressure that playing each week brings.

euronews: Looking at the number of tournaments there are, will you give priority to quality or put everything into quantity?
Nadal: It's not a question of opting for quantity or quality. You go for what there is, you play what you can play. There is no alternative but to play. Nothing more nothing less. So I am not going to give priority to quantity. I have just gone about it like every other player in the world. I have not necessarily played more than others, just the same amount. What happened is that I played more matches because things were going well for me. I reached a lot of finals, semi-finals which means you are forced to play a huge amount of matches. Nine Masters series are on the calendar as well as four grand slams, five other tournaments, the Masters and the Davis Cup. In actual fact I play the required minimum, no more.

euronews: Your progression in just a few years has been staggering. You have gone from being a clay-court specialist to an all-surface player. How do you see your evolution?
Nadal: A few years ago I played on all the other surfaces, but I was quite young at the time. It's true that all the great players get to where they do because of their capacity to improve. Federer plays well on all surfaces as did Agassi. Sampras also, even though he never won the French Open he was great on all surfaces. Bjorg won on all surfaces, McEnroe was good everywhere, so if you want to be a great tennis player you need to improve continually in order to be better on all the surfaces we compete on.

euronews: Lets talk about you opponents, what qualities do they have that you would like for yourself, and what are your qualities they would like to have?
Nadal: Well… you will have to ask them that. Personally I would like to have a better service, a more powerful and better-placed service. After that I would like to position myself better on the court, a little further forward because that helps you see the spaces more clearly. But these are things that need to be worked on day in day out and I hope that I will continue to improve.

euronews: Concerning the Davis Cup, the Argentines are extremely provocative, masters of the mind game… can we expect a dirty war in the final in Mar del Plata?
Nadal: I have no idea what to expect. Whatever happens we will go there and do our best. Personally I have a good relation with all the players we will confront. I don't think anything underhand will happen. It is going to be very important for us to play in the final and we are going to give it our best shot for our country and hope we come away triumphant. We are aware that we are not favourites but I hope we can give them something to worry about.

euronews: What have you given tennis and what has tennis given you?
Nadal: I don't know what I have given to tennis… For me tennis is a very important part of my life. It is where I invest myself the most. It is a short sporting career, I have to make the most of it while it lasts, live it to the maximum…up to now it has gone really well for me.

euronews: Is tennis a clean sport?
Nadal: The majority of sport in general is clean. At least I would like to think it is and I believe it is. It is true there are a lot of sports where doping cases are in abundance and that casts a doubt over all sportsmen, but I do think that in reality most sports, football, tennis among others are clean.

euronews: Lastly, some believe you have one flaw, one single flaw, that you are a supporter of Real Madrid. Will you one day wake up a fan of Barcelona like your uncle Toni Nadal?
Nadal: In my opinion it is neither a flaw nor a quality… I am also a supporter of Mallorca, my regional team. I am a Real Madrid fan… but I have lived some really special moments at the Nou Camp, I've chanted the club anthem thousands of times and I do have a soft spot for Barca.

>>>//s296.photobucket.com/albums/mm193/gandaines2/?action=view¤t=PAs6.flv: คลิปสัมภาษณ์พี่ล่ำอันนี้ มีแฟนราฟาท่านหนึ่งใจดีค่ะ ช่วยแปลจากภาษาสเปนเป็นภาษาอังกฤษให้




Maria: What hours of emotions Rafael Nadal has lived today. He also got emotional. Well tennis is also a sport of emotions and sensations. What sensations did you have today, you being so accustomed to living emotions.

Rafa: Well it is different to anything else. The Principe of Asturias Award is a career award. When you win a big tournament it is the emotion of the moment of winning, here well it is the emotion of many years of work.Well, very grateful to everyone who has made it possible to give me the award. There are many who deserve it but they have given it to me this time and I am very grateful to the Prince and Princess, the Prince for what he said about me. He went too far!

Maria: It was beautiful

Lorenzo: How about the moment that Ingrid Betancourt spoke about you, about the many times she heard your matches over the radio in the jungle. What did you feel in that moment?

Rafa: Not just in that moment, Ingrid made a very emotional speech and I almost started crying. Truly it was impressive how she overcame what she went through in those 6 years, they must have been hell. I can only congratulate her and give her my support to be able to continue the important work that she is doing.

Maria: You could never have imagined of course Rafa a year like this. I think it is almost impossible to repeat. Everything that has happened to you this marvellous year and ending with a day like today... well it hasn't ended yet! What a year Rafa, what a year!

Rafa: Sincerely yes. Very happy for everything that has happened to me, thankful to life and honestly I am conscious that what has happened is difficult to repeat. I really value it and let's see if I can keep working hard and with humility and illusion to keep improving day by day, and only that way can I try to stay where I am.

Maria: Well this marvellous year like you said is not over yet. You have lived two very special moments, one still to come. You play an individual sport but you also live the team activity,, as the Prince said, you love to defend your country, you love to defend Spain, you feel proud. The experience of Beijing, the Davis Cup, how do you live them Rafa?

Rafa: Everything is special, no? Defending your country is special, but you are not just defending your country but playing for a team, for your other colleagues, they are different sensations and obviously when you are competing for your country, and apart from that for your colleagues, when you win, when you lose it is a team effort. In every way for me it is better. Ojalá we can do well in this Davis Cup final. Whatever happens we are going to go there and give the best of ourselves. We are conscious that the goal is tough and will try everything possible.

Maria: But you will bring it to us no, in November?

Rafa: We don't know. They are playing very well. Moreover del Potro is having a very impressive end to the year and the fact that they are playing at home, we know that is vital in the Davis Cup. We know we are not the favourites but now way are we going there as victims, but go there and give it our all and try to win.

Maria: Well, since the 18th August you have been No 1, however, you still keep saying that the best is Roger Federer. Do you think that he is still your biggest threat or no? Or do you see other threats?

Rafa: I think there many. Federer is the best because he is the one with most titles, who has played the best tennis and I really admire him for everything that he has done for this sport. Apart from that there are many young players putting on the pressure and of course they are candidates to get to the No 1 position. Probably... I don't know if I will last a long time or a short time, but I will do everything possible to try to maintain an adequate level to be amongst the best.

Maria: Well as the Prince and the statement of the jury said, you are an extraordinary sportsman, above all you are an exemplary sportsman, in that it is clear that your family plays an fundamental role, your parents, your group, especially as the Prince said, about your Uncle Tony who is much more than your trainer, no?

Rafa: Well it is obvious that my family play an imortant role in my career, above all in my life. In Mallora we are very close, not just in this family, the Mallorquin sentiment of family unity and it is clear that my uncle has been much more than a coach, no? Since I was small he has been by my side, he is the person I have spent most time with after my parents, and I am sure that everything that is happening to me, he has part of the blame!

Maria: Well Rafa, let's hope good things keep happening to you that we can keep winning with you. Thank you very much for being with us on the news. Stay just as you are...

วันนี้อ่านเจอข่าวของลุงแม๊คแอนโรค่ะ แล้วลุงเขาพูดถึงพี่ล่ำกับเฮียโรเจอร์น่าสนใจดีค่ะ จริง ๆ มันท้าทายพี่ล่ำและแฟนคลับอย่างเรา ๆ มากกว่า



"Nadal is a very strong player, I think, the strongest I had ever seen. He's very aggressive but it's not easy to keep it up life long. It will strain him and I have a reason to believe that he will not dominate the tour like Federer did," McEnroe added.

"Federer is a complete player and if he gets back to his peak, the Swiss will dominate again."

คือจริง ๆ มันก็มีคนพูดมานนนนแล้วว่า สไตล์การเล่นแบบพี่ล่ำจะอยู่ไม่ได้นาน เจ็บง่าย แต่พี่ล่ำก็พิสูจน์ตัวเองจนขึ้นมาเป็นมือหนึ่งของโลกได้สำเร็จ 



ลุงแม๊ค

นี่แค่จุดเริ่มต้นเอง ดูไปก่อนนะคร้าาาาาาาาาาาาาา อย่าเพิ่งด่วนสรุปปป

Free TextEditor
Update news [ 26/10/08 ] !!!

เมื่อวานพี่ล่ำเดินทางถึงปารีสแล้วค่ะ แล้วลงซ้อมแล้ว



รูปพี่ล่ำลงซ้อม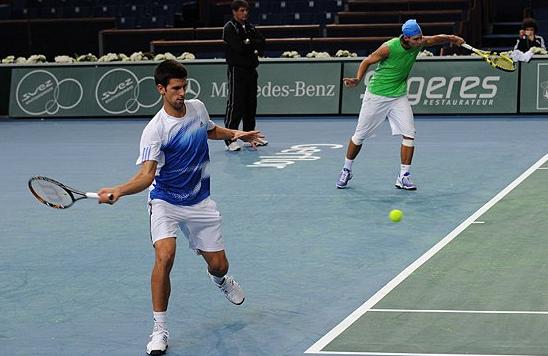 พี่ล่ำจะลงแข่งประเภทคู่ด้วยค่ะ จะเหนื่อยไปมั๊ยเนี่ยยย



 จับคู่กับ ฮวน โมนาโกค่ะ

Draw ประเภทคู่ค่ะ ( ส้มคิดว่าพี่ล่ำน่าจะแข่งคุ่วันจันทร์

) : //www.atptennis.com/en/common/TrackIt.asp?file=//www.atptennis.com/1/posting/2008/352/mdd.pdf

เก็บตกคลิปจากงานรับรางวัลค่ะ :

- คลิปนี้เป็นคลิป review ของวันเสาร์ค่ะว่าพี่ล่ำทำอะไรบ้าง : //s296.photobucket.com/albums/mm193/gandaines2/?action=view¤t=PAs9.flv

- https://www.youtube.com/watch?v=8UrMgVkpceE

- คลิปนี้ Ingrid Betancourt and the Prince Felipe พูดถึงพี่ล่ำค่ะ : //s296.photobucket.com/albums/mm193/gandaines2/?action=view¤t=PAs7.flv

มีแฟนราฟาท่านนึงใจดีค่ะแปลเป็นภาษาอังกฤษให้ ( อ่านแล้วปลื้มใจจริง ๆ ค่ะ มีแต่คนชื่นชมพี่ล่ำ )

The words of Ingrid ( เป็นคนหนึ่งที่ได้รับรางวัลนี้ในปีนี้ )

Being here in Asturias, wrapped in the affection of its people and in the splendour of its history, is for me, after so many difficult years, the expression of divine grace itself.

How could I explain another way, the extraordinary road that brings me here. Weeks ago, my companions and I were in the humid, suffocating world of the jungle, where nothing was ours, not even our own dreams. There were many dark nights when I tried to block everything out, imagining a better world, a world where people around me brought happiness to others, and where it would be again, good to live.

I never thought that God would hear my call to the point of bringing me here, together with people who cheered up many moments the long captivity I had to live.

To Rafael Nadal, for example, I followed him on the courts of Roland Garros for six years, I saw him grow through live transmissions that Radio France International gave each summer, and at the same time I shared the joy of his great successes, I lived the frustration of not being able to see his victories. Being here today, seeing him face to face, is like closing a circle, a wonderful way to complete an appointment with life.

The words of the Prince

Last 3rd September we received with great joy, the news that the jury had awarded Rafael Nadal the Prize for Sports.

On this platform in previous years we have presented the Award to other sportsmen with outstanding careers and accustomed to glory. And we praised them for their spirit of sacrifice, for their exceptional qualities, but also for their human values. Today we especially remember with love and worry, Severiano Ballesteros, who as he himself has said is playing the match for life itself.

Those qualities and values we see in Rafa Nadal, which we admire more with every victory, because moreover, in all of them he displays a humility, a simplicity, that only the greatest are capable of feeling this way. But we admire even more that he never forgets those who suffer, those who suffer against pain.

Because Nadal is, apart from being a great tennis player, a great human being, a grateful young man. He never ceases to refer, with the deepest affection, the fundamental influence in his life of his family, of his grandparents, of his parents, of his uncles, of his Uncle Toni, who is much more than his coach. They have known how to guide him along the difficult path of success, animating him to go on with authenticity, simplicity and greatness of spirit.

Rafa has proved that the importance is not being a good sportsman, that it is important to be a good person. And he has demonstrated being both things, well from the summit and with his laurels (trophies or achievements) is generous, and apart from that he always feels happy with the success of his colleagues in other disciplines as he recently expressed with jubilation in the Olympic Games of Beijing, and championships such as the European Cup in football, or basketball.

His behaviour and his sentiments are a great stimulus for children and young people, who apart from following his sports successes with enthusiasm, learn from him his generous and gentlemanly attitude. Perhaps one of his major achievements, well, from the top of the podium the most touching and theoretical lesson that stands out, is when, with genuine pride says that for him, being Spanish gives him extra motivation. Winning he said is much, much better when you are playing for your country

For his serene patriotism, his strength against difficulty, for his triumphs, for his humility and for his example, Rafa Nadal has earned forever the admiration of everyone, inside and outside of Spain.

วันนี้ต้องขอตัวไปเชียร์ทีมรัก ( ลิเวอร์พูล ) เด๋วพรุ่งนี้กลับมาโหมดเทนนิสเชียร์พี่ล่ำต่อค่ะ


Free TextEditor
Create Date : 25 ตุลาคม 2551

11 comments

Last Update : 6 สิงหาคม 2552 12:45:43 น.
Counter : 665 Pageviews.