Rafael Nada; Wimbledon's blog 24 June 2011

Rafa ขยันเขียนบล็อก มาทุกวันเรย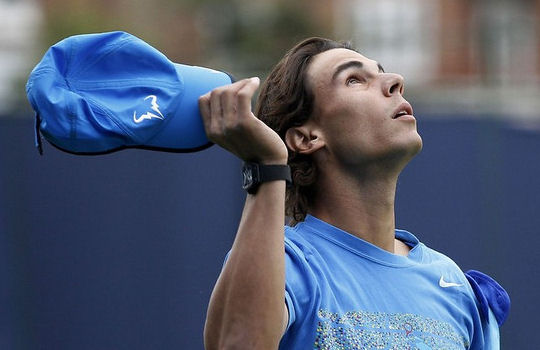 Hoping the rain stays away
Rafael Nadal
Hi everyone,

This is just a quick one since I am writing this after the dinner and I realised it is quite late. I had a quiet dinner at home with Carlos, Maymo and Albert Molina. The rest of the team and some others preferred to go out to the village and to London. So I stayed and cooked - the same pasta as the other day (Benito did the shopping) - and enjoyed some quiet time at home getting ready for the match. It will not be an easy one and on court No 1, too. That is always a bit different from Centre and with the risk of rain. Hopefully it won't be the case.




Ask Rafa: I never wear the same shirt twice

You always say that you like summer and sun, with tennis you chase summer 11 months of the year, don't you get ever tired of it? Stella
No, not really. I love the sun and enjoy playing with nice weather. But let me remind you that we also play in the fall in Europe and that's pretty dark! Not that I complain but just for the record.

Now that you've played under the roof, how do you think it changes the conditions apart from getting humid? Is the court any faster indoors? Jamie
Indoors is normally a bit faster since the humidity has some influence but also since there is no wind. Conditions change.

Are you fully satisfied with your volley skills now, or will you improve it more and more, and switch from a baseline game to serve-and-volley? Maria Rafael
There is always room for improvement on anything, and specially my volley! It would be nice to do just serve and volley but I think a lot of people would be doing passing shots like crazy.

Rather than answer a question, please, tell us a joke? Jeanna
Is that a joke?

For all the years that Nike has been sponsoring you, do you still have all the items they gave to you? How many sets of attire do they give to you per tournament? Jacklyn
Yes, I have one of each I have played with. I keep them as memory. And to answer the second part of your question, I normally get two to three shirts for each match calculating I could make it to the final.

Is there any chance that we will get to see you playing doubles at the Olympics with Marc Lopez? Sharon
That would be great but we both need to qualify!


Hola Rafa! Who is your pick for the women's title at Wimbledon this year? Kim Mackenzie
Tough one this is. I actually thought Na Li would have won.


Do you enjoy coaching and would you ever consider coaching professionally when you retire? Gigi
I don't think so but never say never!

If you were going to a desert island and could only take three things with you, what would they be? Karen
I prefer to go to an island but not a desert! This way I can avoid answering this question.


Do you ever lose track of what the game score is? Anthea
No, never, or almost never. If I do I ask the umpire but it is not the normal thing!





นอกจากเขียนบล็อกที่ Time Online ยังเขียนบล็อกที่ Elmundo

เพิ่งมี Q&A แรกมาค่ะ

"We are trying to shorten the schedule for the future generations "

1 - Rosi: Dear Rafa, in its own right, you had the honor of being the first to walk on the pristine grass of Centre Court of the All England Club, something that moved me deeply ... I would be thrilled for you to tell me what you felt. Good luck and a big hug from Madrid ..

Rafa: The truth is that it is something special. Upon entering the Centre Court at Wimbledon the feeling is something different, being the most important tournament in the world. But being the first step on the court and see the grass so perfectly intact, with the audience filling the stands, I have to say it was a very special feeling, unique, never felt before ...

2. Valerio Fernandez: Hola Rafa: As always you are worried about the length of the season and you've already won almost everything, could not you ask yourself after the U.S. Open to finish the season and not come back until Australia? I guess you have obligations, but there will be ways to circumvent them. I think Borg rested four months a year.

Rafa: This is the question we all ask. We are trying to shorten the calendar but it's not easy. There are many interests. I do not think it will happen in my career as a player but we hope to do something for the future generations

3. Sofia Antequera: I've been reading the article about your day at Wimbledon, which says you're more comfortable in a home with your team and I wonder if the other Grand Slam not let you choose where to stay and if you are 'assign' the hotel. A hug

Rafa: In the Grand Slams we choose our hotels. At Wimbledon, what happens is that we are far from the city and it rains a lot, making it more comfortable for us to stay here close to the tournament. If you could imagine a day like yesterday where it rained so much. You have to stay all day at the club and for a long time without doing anything. This way we go home, rest, eat and prepare better. Perhaps in other Grand Slam tournaments is not as convenient upon organized differently.

4. Eloy Salamanca: Hola great champion. I wanted to know if winning in Paris, allows you to play more relaxed because, as Toni Nadal said , with Paris you have saved the season. Oh, another thing, what I can fish in the area of Cala Pi?. I'll be there this summer. See you soon champ.

Rafa: Yes, , I think it is better and I come with confidence. For fishing, with cane or in the sea? At the end it's the same as you can fish in Porto Cristo. The same Mediterranean, clearly. For example, maidens.

5. Marga García Martínez: How do you feel when a child approaches you with his face lit up and asks for an autograph? Thank machine.

Rafa: The truth is that it's nice to see the faces of people and especially children. It's very nice, really.

6. Rym Fathallah. Souissi: Hola Rafa, can you imagine what Federer's career would have been without your appearance in his life and ours? Thanks for being you, Greetings from Tunisia.

Rafa: Tennis is like this and every era has its players. Federer is the best I've ever seen. I believe, and I've always said that Federer, being there has made me a better player because I was always forced to play better.

7. Martin Cascado: Hola Rafa. When you have time, will you travelto Anantapur to see how's your foundation? What is your latest project there? and what will you do when you retire and have more time? Please remember the less fortunate. Good luck in Wimbledon

Rafa: My Foundation did a punctual thing with the Foundation of Vicente Ferrer there in India but the main focus of activity is in Spain.

8. Cristina Fernandez de Castro Gonzalez: Rafa, I first I want to wish you the best in the GS. Today I found myself reviewing videos with an interview you did in 2002, where they were praising the promises of tennis in Manacor. What happened to them? Or rather, what might be circumstances that prevent these promises to make it?

Rafa: Yes, I remember that moment. One thing I always that my uncle said after juniors European Championship was to look at all names of the players who had won that at my age. The message is that further fighting and learning because they had not gotten anything yet. Tennis is a very competitive sport and you have to keep learning forever. It is constantly evolving. In the end, everything depends on many circumstances but of course in tennis all depends on you and that's nice to have this sport.

9. Belén Gómez Pérez: Hola Rafa, congratulations first of all for how you are playing, for what you are and what you have achieved. Do you think that being a left-hander has benefited you as a tennis player throughout your career?

Rafa: I do not know, maybe in few things... but well, Federer and Djokovic are right handers... and the majority.

10. David Cerviño López: Hola Rafa, you know you are the primary reason why my family and me, spend much of the year watching TV, we admire you and you're proud of you. What is the main thing that changes when a player moves from playing clay to play on grass? Luck and a by your third Wimbledon

Rafa: The first is that the ball is much faster and lower to what needs to change is the strokes. Also, the strategy is different because the points are much faster. In short, many things.



Create Date : 24 มิถุนายน 2554
Last Update : 24 มิถุนายน 2554 23:42:41 น.
24 comments
Counter : 451 Pageviews.
| | |
| --- | --- |
| โดย: หมูทอง IP: 125.25.11.163 วันที่: 25 มิถุนายน 2554 เวลา:7:03:01 น. | |
| | |
| --- | --- |
| โดย: หมูทอง IP: 125.25.11.163 วันที่: 25 มิถุนายน 2554 เวลา:11:17:53 น. | |
| | |
| --- | --- |
| โดย: ปลาดาว IP: 101.108.24.204 วันที่: 25 มิถุนายน 2554 เวลา:22:38:10 น. | |
| | |
| --- | --- |
| โดย: fernseher วันที่: 12 กันยายน 2554 เวลา:3:07:46 น. | |
| | |
| --- | --- |
| โดย: ratko วันที่: 9 ตุลาคม 2554 เวลา:0:11:52 น. | |
| | |
| --- | --- |
| โดย: couples (AIRRO01 ) วันที่: 31 ตุลาคม 2554 เวลา:17:39:41 น. | |
| | |
| --- | --- |
| โดย: ขอบคุณมากครับ (solodano ) วันที่: 16 พฤศจิกายน 2554 เวลา:17:59:52 น. | |
| | |
| --- | --- |
| โดย: SaZmi (solodano ) วันที่: 19 พฤศจิกายน 2554 เวลา:18:10:56 น. | |
| | |
| --- | --- |
| โดย: couples (AIRRO01 ) วันที่: 20 พฤศจิกายน 2554 เวลา:15:31:40 น. | |
| | |
| --- | --- |
| โดย: Mitsubishi Tv (AIRRO01 ) วันที่: 3 ธันวาคม 2554 เวลา:16:33:03 น. | |
| | |
| --- | --- |
| โดย: Scopes (AIRRO01 ) วันที่: 31 มกราคม 2555 เวลา:13:39:00 น. | |
| | |
| --- | --- |
| โดย: Payday Loans OnLine (AIRRO01 ) วันที่: 20 พฤษภาคม 2555 เวลา:21:50:15 น. | |
Location :


[ดู Profile ทั้งหมด]

ฝากข้อความหลังไมค์
Rss Feed


Smember


ผู้ติดตามบล็อก : 1 คน [?]







ใครเข้ามาเยี่ยมชมขอเชิญคอมเมนท์บ้างนะคะ (แอบอ่านก็ไม่ว่ากัน)

ยินดีต้อนรับทุกคนค่ะ

คุณหมูทองให้เกียรติอนุญาตให้นำข้อเขียนมาปะไว้ ขอบคุณมา ณ ที่นี้ค่ะ

บล็อกล่าสุดทำด้วยอารมณ์ล่อเป้า หลังจากห่างหายไปนาน เชิญติขม
12 พค 2555