Steps of Rome Café : North Beach, San Francisco


I would be ashamed if I had claimed that I like coffee but waited longer to explore North Beach.
This Italian neighborhood has much to attract a cofee and desserts person like myself.


North Beach is within a stone's throw from San Francisco's Chinatown. It is a contradiction you feel when you walk a couple of steps away from those bustling Oriental groceries in China Town.
I attempted to take the cafefront photo, somewhat hoping that it would resemble the one in Rome.




North Beach claims to be the original Italian coffee district. Sorry, no Starbucks here. Here is my Saturday morning wake-me-up.
I ordered a single-shot mocha. It was good. The taste was right, not overly sweet. You could taste the difference.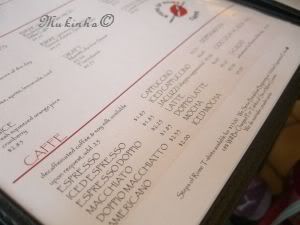 I had specified that we would like to have desserts. Here comes our desserts menu.
It is interesting that most moderately-priced restaurants ,I have been to in the US, do not have separate desserts menu. I thought this was a good sign when a desserts menu was brouhgt. The dessert seen here is profiteroles.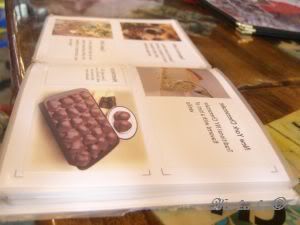 This is the interior of the Café. It has a lot of pale yellow and red which surprisingly looks better in the pictures. The café window is huge so that people can see how much you enjoy the food. Hmm, it is also a good display for their ZAGAT sticker.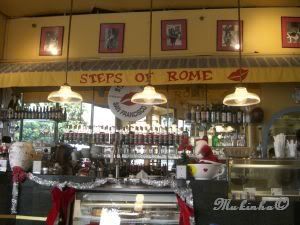 Here comes our coffee. My mocha is noticeably more mocha in color than my friend's latte.




The first bite of this tiramisu, I loved it.
But I had a doubt for my latter bites once it was half left. The mascopone taste is quite dominant and I couldn't help thinking that I was eating a nicely whipped mascarpone but not espresso-soaked sponge cake.
Do you notice those wooden chairs? Are we eating tiramisu in kindergarten?




Pizza with grilled veggies i.e. zucchini and eggplants. I love the crispiness and fresh taste of italian pizza.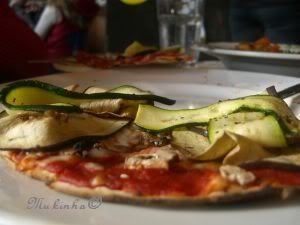 Vegetarian penne with marinara sauce. Personally, I think the pasta is too al-dente. I liked the non-starchy and fresh taste of the pasta though.




It was a great lunch. Would you come back with me next time? Maybe for a new dessert and a mocha?



Ciao!


Create Date : 16 ธันวาคม 2550
Last Update : 29 ธันวาคม 2550 12:48:00 น.
2 comments
Counter : 383 Pageviews.
| | |
| --- | --- |
| โดย: CandyBee วันที่: 22 ธันวาคม 2550 เวลา:21:58:51 น. | |
Location :
California United States

[ดู Profile ทั้งหมด]

ฝากข้อความหลังไมค์
Rss Feed


Smember


ผู้ติดตามบล็อก : 1 คน [?]








※ Mukinha ※ [Moo/kin/yah]
foodie apprentice