My free recipes
 Steamed Fish  curry in cake cup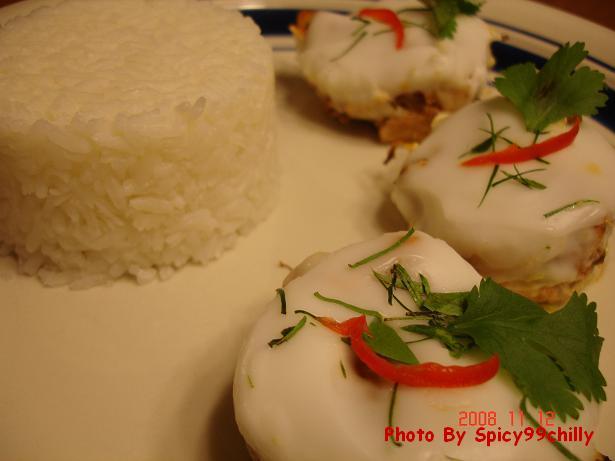 Story of my popular dish
Actually! This Thai dish is steamed fish with red curry paste in banana leaf cup.
When I came to United States I really missed my Thai cooking ! I really love this dish from my mother but she loves to make it from scratch …She get's the coconut from the tree to get coconut milk. Make's her own curry paste, catches and cleans then prepares the fish by her-self and cuts the banana leaves to make a banana cup!!! Finally put them in a huge , 15" Wide 12" Height steamer. Ooooh much of work!
That was long processed but they came up really good and really impressed people who have eaten her cooking! ( don't mind to do that in Thailand too)
How about me? , here I can't get the big steamer(expensive) and I don't want frozen banana leaves ( the shape can change when you bake in the oven) for my delicious dish.
Then I just adapted my way to cook .The way was changed and I incorporated the American muffin pan. " Ooops sorry mama" I told
her . My mother said " It doesn't matter how are they look as long as it test good I'm happy.
 So, I created these recipes for myself and my husband's family. It succeeded from the first time I tried. They really enjoyed the fish cakes . And later on I did it again for their friend's parties ( Thai dinner party)and they talk a lots about me and my fish cake.
                                                 OK now I'll let you guys go ahead and cook 'em



Baked Fish with Red Curry Paste( Hoh Mok Pla)




FOR 24 cups muffin pan




Ingredients 




Fish mix : 2 pounds Sliced fish , 5 Eggs, 5 Shredded Kaffir lime leaves , 1 Tb. Sugar, 1 pound Sliced Cabbage,10 Tbs.Fish sauce, 1 small bunch Basil leaves 10 Tbs. Red curry paste( Mea sri brand), 1 can Coconut milk




Coconut topping : ¼ cup Corn starch + ¼ cup water ½ can Coconut milk + 1 cup water+ 1 tsp salt,5 Shredded Kaffir lime leaves,  Shredded Red pepper, Cilantro or Basil leaves




Direction




preheat the oven 375 F




Put Eggs ,Red curry paste, Coconut milk,Fish sauce, Sugar, Shredded Kaffir lime leaves




In a bowl and mix well and put meat at last




Put Sliced Cabbage + Basil leaves in bottom of muffin pan




Drop the fish mix in, then cover with aluminum foil




Bake 375F for 15 -20 minutes




Make coconut topping




    Put coconut ,water, salt ,and corn starch, cook and keep simmering at low temperature




Drop coconut topping on baked fish cake and garnish the cake with shredded kaffir lime 




   leaves , red pepper and basil or cilantro leaves




Eat 'em up with jasmine rice




 DON'T FORGET TO COOK THE RICE BEFOR YOU COOK THE FISH .

-----------------------------------------------------------------------------


This is a one of my fusion dish.Italian egg noodle with Thai style grilled pork and spicy limy sauce
.
So quick and delicious



Ingredients




Pork + choped garlic, pepper ,cilantro and,dark soy suace




Pasta (any kind you like)




Topping Sauce= chopped garlic+Thai chillies+lime + fis sauce


Lets see how to cook 'em ?

Me & my husband
love to cook and joy together and this menu is ready in 15 mins.!!!! Let enjoy this love recipe
Let s enjoy !!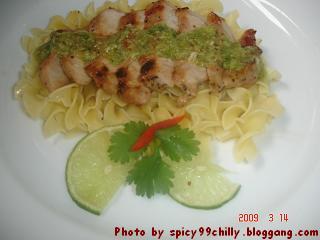 I hope you guys will enjoy with it !

----------------------------------------------------------------------------



Today I have a easy Asian menu for you guys. Talk about Asian then talk about rice.




Let go for that Rice menu




" Kao Pad Koong Pong Ka Ree" in Thai or "Shrimp fried rice with curry powder " in Eng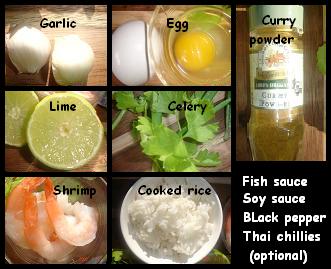 Look at That!!!!
This me u i cook for my sweet heart and he really enjojed with it .
you can see How he like this menu !
Befor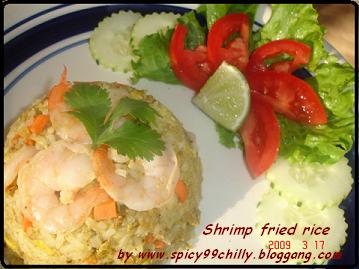 And After !!!!!!!!
My lovely husband he ate all most every thing except plate & folk+spoon .
.Seem he turn to be Asian, couse he loves rice.


Let's cook for the one who you love

---------------------------------------------------------------

Lanna saucesage & Stickyrice burger
How to cook sticky rice( Glutinous rice)
Soaked the rice in water atlease 5 Hrs.Can be overnight
1.Drain water off from soaked rice
2.Put water in steamer . Let it boiling
3. Put rice in steamer with good lid
4.Let the rice cook for 15-20 mins.
5. Keep tuning the cooked sticky rice be for you keep them in a contrainer ( reduce the steam )
Ingredient for Lanna saucesage
Recipes
Paste Making
- Grid dried red chilies and salt in mortar till turn to be powder
- Put Lemongrass, garlic, turmeric and pound them all
- Put shallot in and the mortar
- Mix the paste and sliced Kaffir lime leaves in minced meat and leave them for 1 Hrs.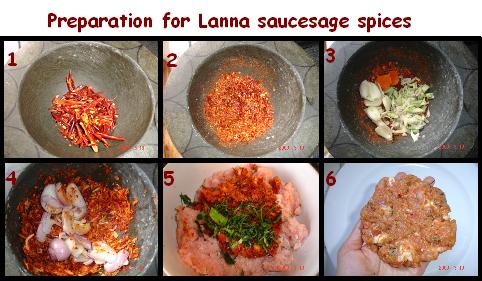 The way to cook the sauce I do many way .I fried them for the burger. I cooked them for pasta meat ball in the another night. That is so delicious! Many spices in one bite. It so flaverfull with the aromatic spices. Welcome to Northern Thailand with Lanna saucesage.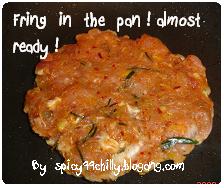 Create Date : 13 ÁÕ¹Ò¤Á 2552
Last Update : 13 àÁÉÒ¹ 2552 5:34:52 ¹.
Counter : 157 Pageviews.