Damo
This is one of the most heart-wrenching stories I have ever seen. It is so sad, yet so beautifully told.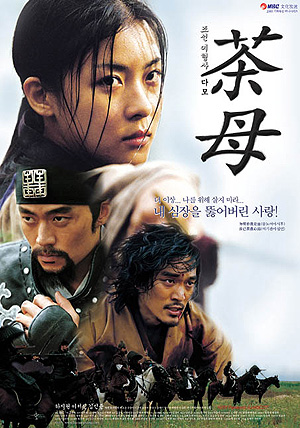 The Story
The setting is the feudal Chosun Dynasty when there was a profession for women called 'Damo'. Damo were regarded to be of the lowest class, lower than slaves. Their main responsibility was to serve tea to genteels. Some of them also worked as policewomen. They lived in a society which was full of prejudice towards their class and sex.
This is the story of a Damo named Chae Ohk. She was born Jang Jae Hui, the daughter of an aristocrat. Her father was charged with treason when he suggested radical government reforms. The family was downgraded to the lowest caste of the society. Her father committed suicide and Chae Ohk herself was separated from her mother and brother when they were trying to escape from the imperial guards. She was captured and assigned to serve the Hwangbo family as a servant. She was to look after an illegitimate son of the family while he was being trained by a great monk.
Chae Ohk's Young Master is Hwangbo Yoon who struggled with his illegitimate status (born of a noble father and his mistress). Yoon grew up with an anger at the society that does not allow him to be either an aristocrat or a commoner. While in despair, Yoon found a little girl who lost everything she had in a blink of an eye. Since the day he saw that little girl with blistered feet and carried her on his back, Yoon felt responsible for her. With his own complicated background he understands her pains and loneliness. 
Since then they become inseparable. They hold on to each other, fighting to find a foothold in a cruel society together. They become each other's source of strength and solace. Yoon takes on the role of Chae Ohk's father, mother, brother, best friend and master. He cherishes her above all else.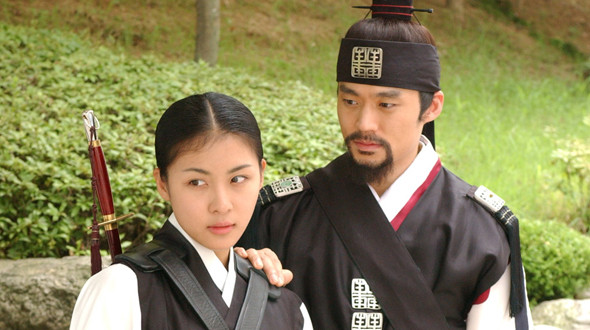 Yoon's proficiency in martial arts earns him entry into the Left Police Bureau as a Police Commander. He also receives permission to bring Chae Ohk along with him as a Damo. 
The relationship between Yoon and Chae Ohk is what adds beauty and sadness to this drama. Chae Ohk loves and is loved by a man who lives his life with conviction and honor. Trapped in a society governed by rigid class distinctions, she cannot even admit that she loves him. And for that love alone, she always takes on dangerous assignments in order to help him achieve respect and upward mobility. That is the only way she can express her love for him.
As for Yoon, he loves her more than anything else in his life. His love for her is deep and true. He never once hides how he feels about her. She is the one and only woman he has loved for the past fifteen years. Every time she volunteers for a dangerous job, it is always against his will. For all he ever wants to do is to protect her.
The story begins when an unknown entity has dumped counterfeit coins into the market. The intention is to undermine the economic stability of the current regime. The Left Police Bureau is assigned to investigate this crime. Officers in the bureau eventually discover that these criminals mean business. Their goal is to dethrone the King and overturn the society. The counterfeit coins are also used as funds for weapons for a rebel force and that has to be stopped. Chae Ohk volunteers to infiltrate the rebel stronghold to solve the case for her 'Young Master'. Yoon can only watch as the woman he loves takes on a dangerous mission.
Enter a blazing fireball by the name of Jang Sung Baek. He is the rebel leader, a decent man who has a passionate conviction for equality but harbors so much rage.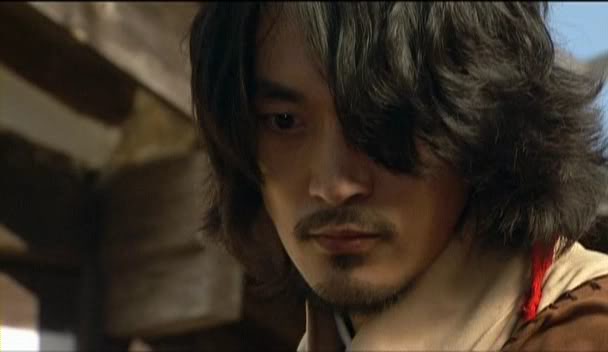 Chae Ohk is intrigued by Sung Baek from the very first time they met. Sung Baek feels a pull towards her as well. When they meet again, he lets her enter rebel's camp up on the mountain. There is a strong attraction between them, an attraction that Chae Ohk cannot resist. At the camp, she sees how he is motivated by decency and noble causes. She is attracted to his quest for equality, the goal that, for her, represents freedom from her hopeless situation. 
Sung Baek can see through her suffering as someone who is trapped in a social status. He tells her to leave everything behind and starts a new life there, a new life which is free from oppressive society. It is something that she has never thought of before. No one ever suggests that she can have hope and a better future.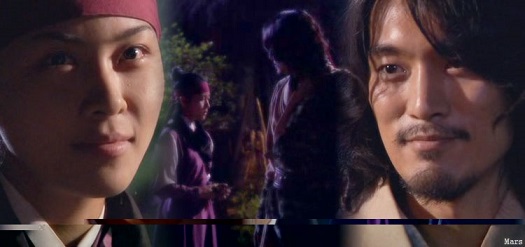 Nonetheless, Sung Baek represents a threat to both Chae Ohk and Yoon. They have to stop the counterfeit operation. But Chae Ohk cannot bring herself to harm him. She realizes that Sung Baek means more to her than she ever wants to admit. It is almost like the love she has for Yoon, which she can only keep deep inside, finds its way to unleash itself onto Sung Baek. It is not until the end that she finds out he is, in fact Jang Jae Mo, the brother she lost fifteen years ago. How cruel fate is! In life, Chae Ohk cannot be in love with either men. Yoon is beyond her reach due to his social status. Sung Baek is her threat, and most of all, her own brother. Choosing Yoon means dragging him down to her level and destroying him completely. Choosing Sung Baek means she has to become an outlaw. 
How should a complex love triangle like this end? Not a happy one indeed. Sad ending with at least one of the leading characters dies always leaves a lasting impression. Damo has gone beyond that. Damo's ending is way beyond tragic. When Yoon finds out that Sung Baek is Chae Ohk's brother, he knows how he himself would end. He cannot hurt the brother of the woman he is so much in love with. When he encounters Sung Baek, he half-heartedly fights him for fear of harming him. The result is heartbreaking. The only saving grace is for him to know at the last moment of his life that, for Chae Ohk, it is him and always him that is truly in her heart.
Yoon's death devastates Chae Ohk. Losing the man who means everything to her, she resolves to hunting down Sung Baek, only to find out at the last minute of his life that he is her brother. She literally kills her own brother. The moment Chae Ohk finds out that Sung Baek is her brother is equally heartbreaking. They are fighting and he turns his sword toward himself in order to avoid hurting her. When it comes to sword fighting, she is no match for him. His last words to her are; "I missed you...Jae Hui.".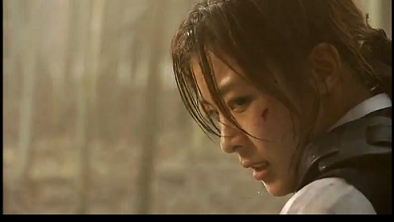 Damo is about love in its purest form. Love that transcends social status. To Chae Ohk, the love she had for Yoon was something she could not measure. The love she had for Sung Baek tore her heart apart. But what conquered their love for one another was their destiny. The only thing left for them was to tell the one he/she loved;"Do not live for me". The poem at the last scene sums it all up succinctly.
A far off mountain...
A mountain with a deep green forest...
A destiny...that could not foresee that divide
A love I could not measure...
A love that tore my heart apart...
Not again... never...again
Do not live for me....

What is so good about Damo is the story first and foremost. The story of a forbidden love triangle is finely interweaving with societal commentaries and political intrigue. The main storyline is the political conspiracy which, in a way, complicates and destroys lives of the three leading characters. And next from the story is the performance of three magnificent actors. 
Ha Ji Won did an outstanding job in portraying a conflicting character like Chae Ohk. When at work, she exhibits confidence and courage. She has courage to fight her way to see the King in order to save the love of her life, but cannot bring herself to reciprocate his love. She keeps her feelings in check to the point that, at times, it is too painful to watch. She lives a repressed, painful and hopeless existence because of her social status. The only power she has is to do anything and everything to help her Young Master succeed in his position, including risking her own life.
Lee Seo Jin has a commanding present as Hwangbo Yoon, an honorable man with strength and integrity. He loves Chae Ohk with everything he has. But at the same time, he also represents establishment. He operates and lives within the established norms. It is a conflict that he has to struggle very hard to overcome. When it comes the time he has to choose, he is willing to risk everything to be with the woman he loves. The only problem is that Chae Ohk will not risk his future to be with him.
Kim Min Joon as Jang Sung Baek, the rebel commander, is the force that disrupt the tenuous stability Joon and Chae Ohk has established. He is a man with only one purpose in life. And that is to destroy an establishment that abuses its people.
It is inevitable that Chae Ohk is caught between these two men.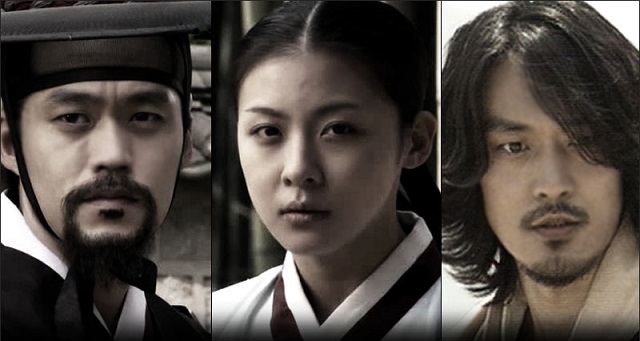 Damo is short. Only 14 episodes. Not a single scene is wasted. And despite its fast-paced presentation, you still feel for all the main characters, especially Chae Ohk, Yoon, and Sung Baek. That shows how tight and well-woven the story is.
The only problem I have with this drama is the fight scenes. They are a little too cartoonish for my taste. As a matter of fact, after Chuno, fight scenes in every other korean drama look either confusing or amateurish to me. I have yet to find anything that can be compared to Chuno, which is pure brawn with top-rate choreography and editing to boot.
Create Date : 06 มิถุนายน 2557

4 comments

Last Update : 22 มิถุนายน 2557 21:19:19 น.
Counter : 6094 Pageviews.