American Watercolors by Kate F. Jennings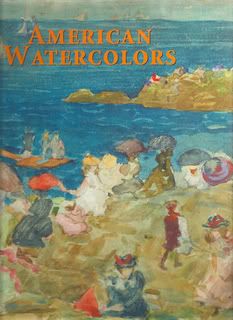 Finally I have a chance to review my first book here.

At first I wanted to make a review on the book called

"Tuesday with Morrie"

but I lent this book to one of my friends...
I forgot who did I lent the book to.



So...it means...it means...
I need to buy the new one.


How stupid I was...
I got a very very short-term memory.

What am I complaining about???

Me: Sorry ...
nothing relevant to the book
that I want to review at all...

Everyone: So why don't you be quiet
and make a review now
...no one wants to know about your stupidness...

Me: Sorry

...Let start then.

I bought this book because
there are a lot of painters
whom I really adored.

Every watercolor painters in US
have to(should know...I mean)
know him since he was one of
the most famous painters here.

I knew him because my professor
asked us to imitate one of his works
as our first project.

John Singer Sargent

Most of my works was influenced by him.
I think I know why most of my works look really Abstract...

...part of it because of him.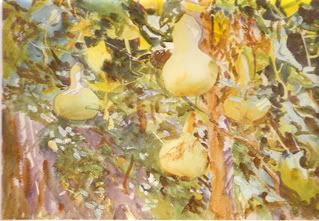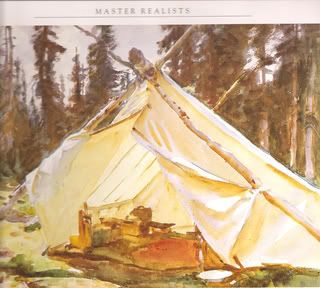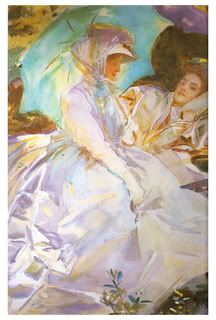 I really love the colors on this one...
and also love the feeling that
the artist expressed through this work.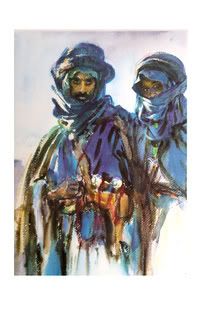 The second artist in this book named

Winslow Homer

I also knew him from the introduction of my professor too.

Homer's styles and Sargent's styles are so similar...

in my point of views.














Since there are some more painters
I want to introduce to everyone.
I'll put only the most interesting paintings
from the book.

The next painter is Thomas Eakins.
I first knew him from his oil color paintings.
I love his oil so much...
the most surprising thing is his style.

No matter it is watercolors or oil colors.
He had his signature there...
colors, styles, feeling, and etc.

Even though nobody tell me
who is the painter
I think I could tell right away
there are his works.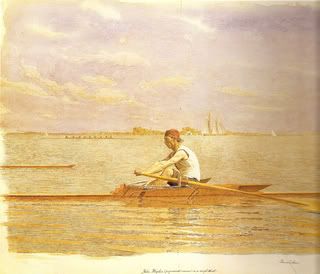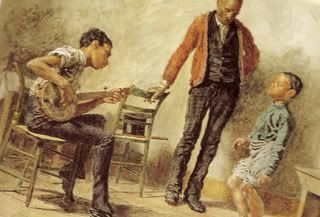 Unlike other artists, Eakins didn't use colors
to make the feeling of move in his painting.

Still I could feel the move in there...
I guess that is one of the reason why I like his works.


The next painter is Jame MacNeil Whistler

I also knew Whistler from his oil color paintings.
He was influenced by Japanese print making.
So most of his works were more flat and
had a very shallow space.

Same as Eakins, Whitler had his own signature.

In my opinion, his watercolors look almost
the same as his oil color paintings.














The next painter is one of my favorite forever.
I love her watercolors so much,
but there isn't any interesting one on this book.

Very very disappointed...and her name is

Georgia O'Keeffe

If anyone who know her would know that
O'Keeffe was influenced by
her photographers' friends.

She hung out with them a lot and learned
how to see things like photographer do.

As we could see on her Surrealism flower works
which was in my textbook,
but not in this book.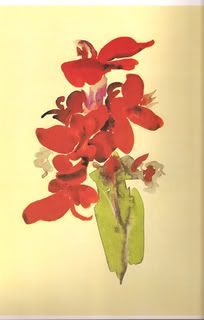 The rest of the painters were
from Modernism period
during 1940s until now.

To be honest I don't really know much about them,
but I love their works so much.

So I just want to share with everyone here.

I will do more research and
talk about them next times.

So we just enjoy the paintings for now then, hu hu.



The next artist is Charles Burchfield.

I don't know why the first time
I saw this painting I thought of
K'กาแฟดำไม่เผ็ด's work, hu hu.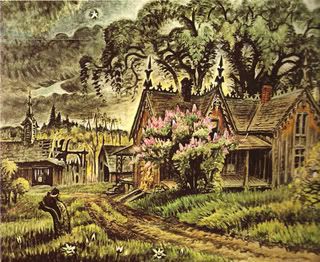 The next painter is Mark Rothko.

I love Abstract and Surreal works
and this is the reason why
I love the late works of Modernism so much.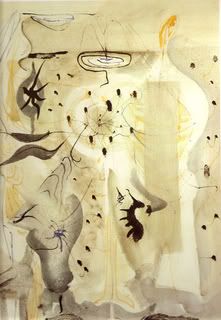 The next artist isJackson Pollock

I guess I love Abstract works because
everything depends on your imaginations.

People have their own imaginations
when they see the works.

This work from Pollock was
actually the mix media...

Watercolor, Pen and Ink, And Gouache.

This work is my one of my favorites.

Love it! Love it! Love it!!!













Last work also from Pollock...
love his work jung.



Mix media again.















Since I found three more pictures that I like.
So I will post them then.

John William Hill

The work called "Dead Blue Jay".














Andrew Newell Wyeth

The work called "Alvaro and Christina".














The work called "Up in the Studio"...
from the same artist.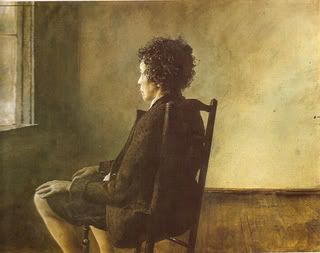 OMG!!!
I spend at least hour and a half on this review,
but love it.


For me...
Looking at artworks
are the most precious times
in my life.



P.S. Oop!!!forgot to talk about the book...
If you are the art historians or
you want to know more about
the history of Watercolors.

Don't buy this book.
I don't think it's worth
since there aren't a lot of
explanation on it......

Almost none actually...

but if you like to look at artworks
I'm encouraging you to buy it.

You would enjoy the work of arts
in this book like I did.

One more thing...there are a lot
a lot of pictures in the book.

These pictures are not even
15% of the pictures
in the whole book.

Thank you so much everyone for visiting :)




Create Date : 20 มิถุนายน 2550
Last Update : 19 กันยายน 2551 12:19:28 น.
Counter : 523 Pageviews.
Location :
Alibaba Aruba

[Profile ทั้งหมด]

ฝากข้อความหลังไมค์
Rss Feed


Smember


ผู้ติดตามบล็อก : 2 คน [?]








~ One Way Communication ~
บล็อกนี้อยู่ภายใต้ การคุ้มครองของ กฎหมายลิขสิทธิ์ ปี 2537ดังนั้น ทุกสิ่งที่ปรากฏในบล็อก ทั้งภาพ, เนื้อหา ห้ามทำการดัดแปลง ทำซ้ำ หรือกระทำการใดๆ ก็ตามโดยนำไปใช้ เพื่อวัตถุประสงค์ใด หรือผ่านสื่อใด หากยัง ไม่ได้รับอนุญาติ จากเจ้าของบล็อก อย่างเป็นทางการ ถือเป็นการละเมิด กฎหมายลิขสิทธิ์