My Commencement day!!!


I'm still pretty busy with moving out.
I just want to share my pictures
with everyone here :D
The ceremony took place yesterday...
May 30th, at my school...

California State University of Long Beach.

Thank you so much for everyone's encouragement :)

P.S. my friends took all of the pictures for me.

Thank you so much to all of my professors and friends
at CSULB, P'Penny, P'Peggy, Patty,P'Penny's dad and mom,
P'Aek, Jeab, Nang, P'Aof, P'Lek, P'Be, P'Yo,
N'Hannah, N'Jay, Cat, Mary, Jeff, Eng, Jim, Robert, Kyky,
P'Kit & P'Da & N'Kanoi, K'way, Dorikong, P'Baimai, K'Aum, K'MaeN'Runch,
P'Lek(mun ja dee), the rest of the AMHIRUN members, & etc...

and the most important people in my life...

My lovely daddy, my lovely mommy, and my lovely sister.

Thank you so much for your kindnesses, loving, and cares...

Special Thanks to my Daddy+Mommy...eieiei...
for your financial support.




Aor...Love & Miss u :D

Without you guys...I do not know if I can do it.

Thank you so much again from the bottom of my heart.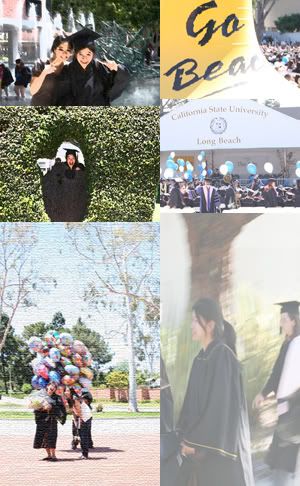 Thank you...Thank you...Thank you...Thank you...



P.S. I'm so sorry naa P'NI. I do not know why
I thought I already put your name on the lists.
By the way, Thank you to P'NI and P'Mix love too :D

I am still very very busy right now.
I'll be right back whenever I have times :D

Miss everyone here .








Create Date : 01 มิถุนายน 2551
Last Update : 19 กันยายน 2551 12:49:43 น.
Counter : 179 Pageviews.
Location :
Alibaba Aruba

[Profile ทั้งหมด]

ฝากข้อความหลังไมค์
Rss Feed


Smember


ผู้ติดตามบล็อก : 2 คน [?]








~ One Way Communication ~
บล็อกนี้อยู่ภายใต้ การคุ้มครองของ กฎหมายลิขสิทธิ์ ปี 2537ดังนั้น ทุกสิ่งที่ปรากฏในบล็อก ทั้งภาพ, เนื้อหา ห้ามทำการดัดแปลง ทำซ้ำ หรือกระทำการใดๆ ก็ตามโดยนำไปใช้ เพื่อวัตถุประสงค์ใด หรือผ่านสื่อใด หากยัง ไม่ได้รับอนุญาติ จากเจ้าของบล็อก อย่างเป็นทางการ ถือเป็นการละเมิด กฎหมายลิขสิทธิ์