My Ceramics frOm mY fiRsT Ceramic Class

I

promised

N'Fuke since half year ago

that I would post the ceramics' pictures

which I took when I was taking my

first ceramic class. Since I have

time today. I think I should

post it or else I will

get lazy

again.



Sorry naa kaa N'Fuke,

I never forget my promise naa kaa.

I just do not have time until now kha.





By the way, I really loved the class since I learned

so many new skill, which I believed will benefit

me through out my life & career.



I LoVe CeRaMics:D


PS,

For the glazing techniques,

my ceramics were glazed with two color .

I painted tahoma color (Dark Brown) on the first layer,

then I put wax resist where I wanted the color to show. You can

think of wax as a pencil that you use to draw your patterns .......... instead of

using pencils you just simply draw your patterns on the surface by using

wax because you do not want other color to get into your patterns

while your pot are fired kha. (Hope no one gets confused

..........( -_-'')) Then, I painted yellow for the last

coat ....... the last step, which is one of the

most important steps, we need to put

our ceramics on a (low fire)

klin.














Thank You so much for visiting my blog.

Create Date : 23 มิถุนายน 2551
Last Update : 19 กันยายน 2551 10:30:58 น.
Counter : 240 Pageviews.
Animation in ImageReady. Finally I did it :D



Just the first attempt .

Today I suddenly thought

that I have PhotoShop

and ImageReady software why don't I tried to do something different with it. So I

searched how to use ImageReady from WebSite and the software tutorial. It looks

kind of rough naa kaa because I didn't revise anything at all. I just wanna try how

to use ImageReady and how to upload it on the internet

first. Somebody may think it looks

really suck, but for someone

who is really low technology like

me. I was so excited. I actually

drew this animation drawings for my

anatomy class since about 2 years

ago and used to post it here too.





















Thank you for visiting.

Create Date : 24 มกราคม 2551
Last Update : 19 กันยายน 2551 10:34:10 น.
Counter : 171 Pageviews.
A Hybrid of a human and a horse ( Oil color )


This work was just for fun.

I took oil color painting about 2-3 years ago. After the class was over

I didn't have any chance to use oil color anymore. I didn't want to forget how to use

it. So I painted this painting. Everything in this painting was from

my imagination. As you guys can see the figure of

the hybrid's really out of proportion. (T-T)


The colors look kind of weird,

Nothing good in this painting,

.... I just wanna show.




P.S. Thank you so much for visiting:)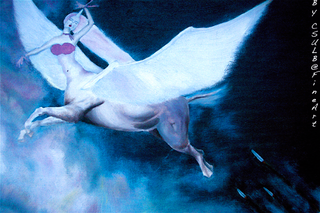 Create Date : 27 พฤษภาคม 2550
Last Update : 19 กันยายน 2551 10:45:08 น.
Counter : 169 Pageviews.
Typography Design (Restaurant Sign)


Talking about designs,

we need to talk about concepts. When my professor assigned

the restaurant sign design project. I thought of this restaurant since

I used to go there all the times. The concept of this work is FUN, COOL, and CHILL

according to the environments of the restaurant. I was using Banana Bay in

this design to indicate the restaurant's name. Thought of banana bay,

people will think of monkey and monkey

also have a fun and cool character.


This project needed to be

a 3D not 2D like before.

As you guys can see.

I was in rush.

So The letter

on the top

is a bit

tilted.

T-T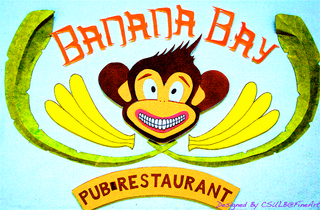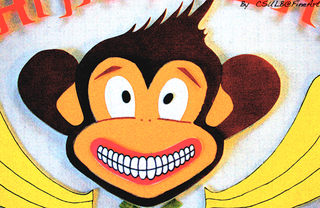 P.S. Thank you so much for visiting.

Create Date : 22 พฤษภาคม 2550
Last Update : 19 กันยายน 2551 10:53:30 น.
Counter : 244 Pageviews.
Beauty and the Beast III (Pencil on Illustration board)



This is the last picture of this Series.

Like what I used to mention the third

one is really easy to read....................



This part is the last part that Beauty

comes back to see the Beast and see

the Beast's dying...............................




P.S. looking at Beauty, can you guys

tell how bad am I at figure drawing. T-T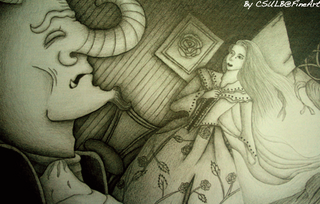 Close up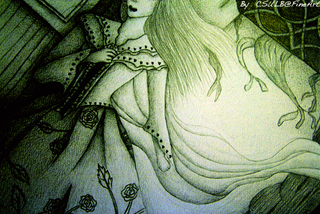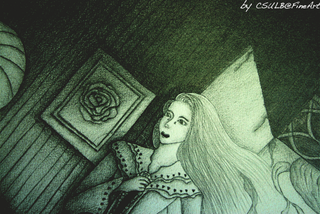 Create Date : 17 พฤษภาคม 2550
Last Update : 19 กันยายน 2551 11:00:16 น.
Counter : 187 Pageviews.
Location :
Alibaba Aruba

[Profile ทั้งหมด]

ฝากข้อความหลังไมค์
Rss Feed


Smember


ผู้ติดตามบล็อก : 2 คน [?]








~ One Way Communication ~
บล็อกนี้อยู่ภายใต้ การคุ้มครองของ กฎหมายลิขสิทธิ์ ปี 2537ดังนั้น ทุกสิ่งที่ปรากฏในบล็อก ทั้งภาพ, เนื้อหา ห้ามทำการดัดแปลง ทำซ้ำ หรือกระทำการใดๆ ก็ตามโดยนำไปใช้ เพื่อวัตถุประสงค์ใด หรือผ่านสื่อใด หากยัง ไม่ได้รับอนุญาติ จากเจ้าของบล็อก อย่างเป็นทางการ ถือเป็นการละเมิด กฎหมายลิขสิทธิ์