***Private Day (Visual) Make Up***

On Private days, I also do put on make ups na, but of course less than usual, but still want to keep my style of a little visual look in it.

วันนี้มาเมคในสไตล์ Private Days (Visual) Make Up.
คือการแต่งในวันธรรมดาแต่ยังคง concept (punk + visual อ่อนๆ)ไว้...






1. Use Black Eyeliner to draw a sharp outline of the eyes. (I use a lot, make it thick) Then use the white to highlight the head.
ใช้ Liquid Eyeliner สีดำ เขียนรอบตา (ทาหนาๆ), เขียนหางตาเพิ่มด้วย.
ทาไฮไลต์สีขาวที่หัวตา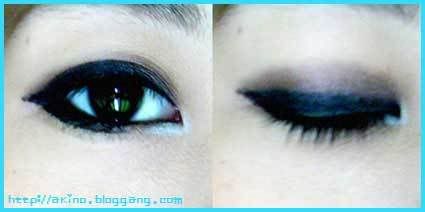 2.Use Brown Eye shadow to shade the eyelid. This will create gradation.
ทา้ Eye Shadow สน้ำตาลเพื่อแรไล่สี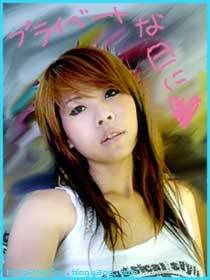 3. Done... isn't it so simple...
เสร็จและ...ง่ายไปปะ

Create Date : 05 กรกฎาคม 2550
Last Update : 5 กรกฎาคม 2550 23:38:41 น.
3 comments
Counter : 806 Pageviews.
| | |
| --- | --- |
| โดย: น้องนู๋_หมูหวาน(ไม่ได้ล็อคอิน) IP: 203.147.5.150 วันที่: 6 กรกฎาคม 2550 เวลา:7:45:13 น. | |
| | |
| --- | --- |
| โดย: bluemayza วันที่: 9 กรกฎาคม 2550 เวลา:0:44:56 น. | |
| | |
| --- | --- |
| โดย: LittleBaNaNa IP: 202.28.62.245 วันที่: 10 กรกฎาคม 2550 เวลา:20:44:25 น. | |
Location :
กรุงเทพ Thailand

[Profile ทั้งหมด]

ฝากข้อความหลังไมค์
Rss Feed


Smember


ผู้ติดตามบล็อก : 11 คน [?]







About Me:
My Name is Aki.
I'm half Japanese and Thai. Currently living in Thailand. I blog about fashion mostly, also beauty and anything fun. I love fashion, drawing, singing, swimming, eating, shopping, cycling, writing songs, blah blah blah...many more. I'm a God fearing person.

アキです。
日本人とタイ人のハーフです。今はタイでバンドやってます。最近はカナリマジメにブログ書いてます。書くことはファッションやオシャレのコト。あとはコスメやトレンディーな事も書きます。趣味は絵を描くこと、歌うこと、泳ぐこと、食べること、ショッピングすること、サイクリング、歌詞を書くこと、あといっぱいあるな。そして神を信じています。

อากิค่ะ
เป็นลูกครึ่งไทยญี่ปุ่น
เขียนบล็อกเกี่ยวกับแฟชั่น เครื่องสำอาง และสอื่นๆ เกี่ยวกับเทรนด์
ชอบวาดรูป ร้องเพลง ว่ายน้ำ กิน ช้อปปิ้ง การขี่จักรยาน เขียนเพลง และอิกมากมาย
เป็นคนเชื่อในพระเจ้า
(กำลังพยายามหัดเขียนภาษาไทยอยู่
ถ้าเขียนผิดก็บอกด้วยนะ)

Akino Nariko Yamaguchi

Create Your Badge