European Cups - Champions League / March 11
European Cups - Champions League

March 11
20:45 Manchester U. ? - ? Inter Milan..
คืน นี้ ครับ พี่ น้อง ช่อง 3 ถ่าย สด..(0245 น.)
ไม่ ถ่าย "สม รักษ์"..และ ไม่ ถ่าย "สม จิตร" ด้วย อิอิอิ..

Create Date : 11 มีนาคม 2552
Last Update : 11 มีนาคม 2552 9:59:53 น.
Counter : 186 Pageviews.
- Manchester United 3 - 1 West Brom 1
United Cruise To Victory On An Emotional Night

Carling Cup Fourth Round
Manchester United 3
West Bromwich Albion 1
Old Trafford, 30 November 2005

This wasn't so much a football contest as a celebration of George Best's life; and United did so with class on and off the pitch.

The Reds easily brushed aside West Brom with three goals inside an hour and then United's supporters took over, delivering an emotional farewell to a legend.

The kick off was delayed by six minutes due to an emotional pre-match tribute to the former Reds winger, who sadly died last week. Every one of the 48,924 crowd, including the West Brom supporters, held up posters bearing Best's picture during an impeccably observed minute's silence before kick off.

The club deserves much credit; it was a moving mark of respect, a tribute worthy of a United great.

It is ironic that Best's United career began against West Brom in 1963, and it was against the Midlands side that fans were able to bid their farewell.

In truth, West Brom were no match for a United side containing more experience than had been expected. Rio Ferdinand and Mikael Silvestre were surprise inclusions at the back alongside Gary Neville and Kieran Richardson. Ronaldo, O'Shea, Park and Fletcher were solid in midfield with Rossi and Saha a constant threat up front. Wayne Rooney was even named on the bench.


United: Howard, Neville (c), Ferdinand, Silvestre, O'Shea (Pique, 67), Fletcher (Jones, R. 57), Park (Bardsley, 65), Richardson, Ronaldo, Rossi, Saha.
Subs not used: Steele, Rooney.

West Brom: Hoult, Robinson, Moore, Clement (c), Wallwork, Inamoto, Carter, Albrechtsen, Kamara, Ellington, Horsfield (Chaplow, 66).
Subs not used: Gaardsoe, Greening, Kuszczak, Earnshaw.

Attendance: 48,924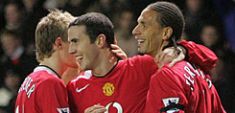 Create Date : 20 ธันวาคม 2548
Last Update : 20 ธันวาคม 2548 16:43:10 น.
Counter : 130 Pageviews.
- West Ham 1 - Manchester United 2
FA Barclays Premiership

West Ham 1
United 2
27/11/05

Reds End Emotional Week With A Win

Wayne Rooney and John O'Shea bagged a goal each as the Reds claimed another crucial three points at the end of what has been a difficult week for the club.

The Reds beat West Ham United 2-1 at Upton Park, but they had to come from behind after Marlon Harewood had given the Hammers the lead within 55 seconds.

United battled back well to score twice, Rooney, on 48 minutes, and O'Shea, eight minutes later, to overcome Alan Pardew's hard working West Ham United side.

It was as always a noisy and intimidating Upton Park for United's visit which invariably produces a thrilling match and contest to savour.

The players and supporters paid their respects to George Best before the kick-off with a minute's applause rather than the traditional silence. Several clubs opted for this continental way of showing their appreciation. It was moving tribute that was preceded by short speeches from Sir Bobby Charlton and Sir Trevor Brooking.

George Best appeared for Manchester United against West Ham United in London on six occasions scoring three times. He will probably be best remembered in this part of the World for his contribution to United's championship-winning performance at Boleyn Ground in May 1967. The Reds required a win to clinch the title and they demolished the Hammers 6-1 with the Belfast genius grabbing the fourth goal in the 25th minute of an incredible first half.

WEST HAM UNITED: Carroll; Repka, Ferdinand, Gabbidon, Konchesky; Benayoun, Mullins (Zamora, 71), Noble, Etherington (Newton, 89); Sheringham (Dailly, 71), Harewood.
Substitutes: Aliadiere, Hislop.

MANCHESTER UNITED: van der Sar; Brown, Ferdinand, Silvestre (Neville, 37), O'Shea; Fletcher, Smith, Scholes, Park; Rooney, van Nistelrooy (Richardson, 90).
Substitutes: Howard, Ronaldo, Saha.

Attendance: 34,755


Create Date : 20 ธันวาคม 2548
Last Update : 20 ธันวาคม 2548 16:43:52 น.
Counter : 100 Pageviews.
- Lille Metropole 1- 0 Manchester United
Champions League Group D

United 0
Villarreal 0
Old Trafford, 22/11/05
Old Trafford Goal Curse Hampers United

Villarreal once again proved a thorn in United's side, holding held them to a 0-0 draw at Old Trafford. The result leaves the Reds' Champions League hopes hinging on the outcome of the trip to Benfica next month.

United travel to Portugal on 7 December and only a win will guarantee their passage through to the knockout stages, although they will progress if they draw and Villarreal beat Lille.

Sir Alex's side controlled the first half of the game but were enable to get the goal they deserved. Villarreal's second-half spoiling tactics and United's inability to score goals at Old Trafford ensured another stalemate.

In the first home match since Roy Keane's departure last Friday, the home supporters sang his name throughout. But chants of 'United, United, United' were never far away. No one player is bigger than the club, but Keane's departure has accelerated the need to find his successor.

If the Irishman has been the team's talisman since taking the captaincy in 1997, a new one is beginning to emerge in the form of Wayne Rooney.

Rooney was United's creative force, seeking space anywhere and everywhere from which to reek havoc. He possesses the potential for the same talismanic influence on games as Keane, Cantona and Robson before him. It is his burgeoning ability to dictate games, direct attacking moves and lift the crowd.

United: Van der Sar, Brown (Neville, 77), Ferdinand, Silvestre, O'Shea, Fletcher (Park, 59), Smith (Saha, 82), Scholes, Ronaldo, Rooney, van Nistelrooy (c).
Subs not used: Howard, Richardson, Pique, Rossi.

Villarreal: Barbosa, Javi Venta, Gonzalo, Pena, Arruabarrena (c), Roger (Hecta Font, 65), Tacchinardi (Josico, 79), Senna, Sorin, Lucho (Xisco, 86), Jose Mari.
Subs not used: Viera, Cesar Arzo, Kromkamp, Cazorla.

Att: 67, 471


Create Date : 20 ธันวาคม 2548
Last Update : 20 ธันวาคม 2548 16:34:34 น.
Counter : 133 Pageviews.
- Charlton 1 - 3 Manchester United
FA Barclays Premiership

Charlton 1
Manchester United 3
19/11/05

Reds Begin Post-Keane Era With Victory

Manchester United embarked on the post-Roy Keane era with a comfortable 3-1 win over Charlton Athletic at The Valley on Saturday afternoon.

United supporters were still coming to terms with life without their talisman, but that didn't stop them from enjoying this hard-fought win.
United dominated the first half and went in at the break leading 1-0 through Alan Smith's 37th minute goal. Charlton fought back strongly after the break and Darren Ambrose scored to put them level, but two goals from Ruud van Nistelrooy steered United towards three valuable points.

United lined-up with precisely the same selection, starting line-up and substitutes, to that, which defeated Premiership leaders Chelsea 1-0 at Old Trafford two weeks ago.

Charlton Athletic were unable to call on the services of defender Jonathan Spector due to a clause in his season-long loan spell from United which stipulates that he can't appear in games against the Reds.

CHARLTON ATHLETIC: Andersen; Young, El Karkouri, Hreidarsson, Powell; Rommedahl (Thomas, 64), Smertin, Kishishev (Bothroyd, 77), Murphy, Ambrose; Bent.
Substitutes: Perry, Hughes, Myhre.

MANCHESTER UNITED: van der Sar; Brown, Ferdinand, Silvestre, O'Shea; Fletcher (Bardsley, 89), Smith, Scholes, Ronaldo (Park, 75); Rooney; van Nistelrooy (Richardson, 86).
Substitutes: Howard, Rossi.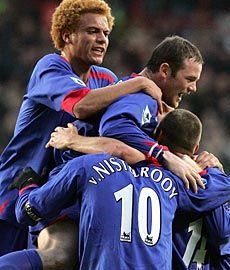 Create Date : 20 ธันวาคม 2548
Last Update : 20 ธันวาคม 2548 16:42:47 น.
Counter : 112 Pageviews.
Valentine's Month