1
2
3
4
5
6
7
8
9
10
11
12
13
14
15
16
17
18
19
20
21
22
23
24
25
26
27
28
29
30

| | |
| --- | --- |
| | 16 พฤศจิกายน 2550 |
Starting step

สวัสดีค่ะ

กลับมาได้พักใหญ่ ๆ แล้วค่ะ
แต่ว่าเปลี่ยนงาน โน่น นี่น นั่น สรุปง่าย ๆ ว่า อู้นั่นแหละค่ะ แฮะ ๆ เลยไม่ได้อัพบล็อกสักกะที

กลับมาทั้งที อัพบล็อกเป็นภาษาปะกิดเลย..ถ้าไม่อยากอ่านก็ปล่อยผ่านไปเลยก็ได้ค่ะ
เพราะ จขบ. เอง เวลาเจออะไรแบบนี้ ก็ดูรูปอย่างเดียวเหมือนกัน หุ หุ
แต่ที่ลงภาษาอังกฤษ เพราะ ท่านผู้ชมที่อยู่ทางโน้นเขา รีเควสมา
ไอ้เราก็ใจดี จัดให้

I love to travel ..some time I think I am the kind of person who has 'travel in their blood'.
The most favorite thing that I love to do is to plan trips and to travel with friends.
We have had many interesting trips ..and for most of the places we travel ..we have had a first experience together .
That was exciting and fun.
All of trips I have planned before were in Thailand.
The special thing about this trip is...that this is the biggest trip of my life.
This is the first time I have had a chance to travel to another country..on the other side of the world. (other countries close to Thailand don't count because I never stayed over night there..just one day trip)
Wow!!
This is was a very long trip to a place very far away.
"Are you ready to have fun with me and hear about my trip?"
"Let's go!"
This was the first time for me to take a plane.
I was very excited … and I read a lot of advice from people's experiences on this website.
Thank you "webblog" … .this blog helped me a lot and I learned many things about the first time to travel to the USA.
When I studied things ... I got to know more about how difficult it is to get a US Visa. I had a question in my head … "'When it is so difficult to to travel to the USA like this ... why do so many Thai people still want to go?".
I heard that some of them have to interview for a visa for the second or third time.
And I wonder… .when tourists want to come to travel here ..to Thailand ..Is it also this difficult?
What does the USA have? … .which things are good enough to make people want to go and can make them try and try again to go there?
I think it would be great if people from other countries … try again and again to come to travel in Thailand like I saw Thai people try to get Visa to travel to the USA.
The first part of our long trip started in early morning.
My friend Gigg and I stayed over night in Bangkok with our friend Ning.
We took a taxi to Suvarnabhumi airport early in the morning.
Even though we didn't really sleep very well because we were very excited, both of us were able to wake up in time.
That was a good day.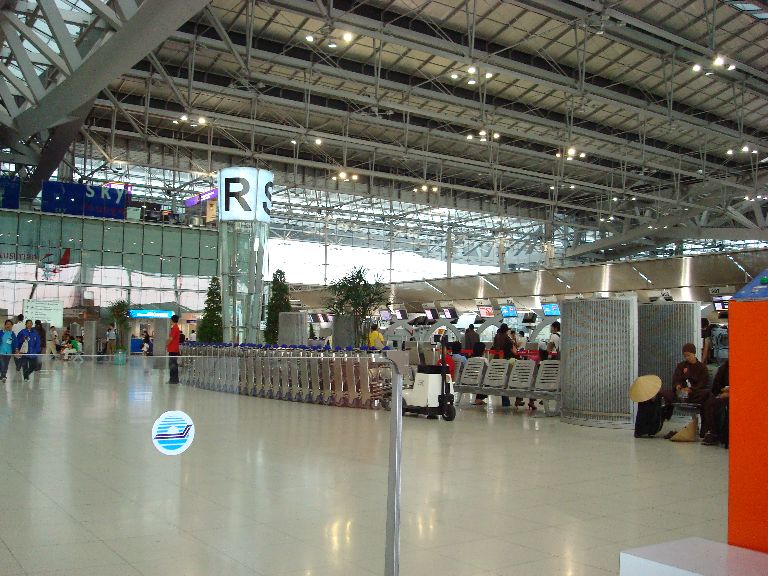 I called my family … I talked to my grandmom and that helped a lot.
My heart was warm when my grandmom said that I should have fun and have a safe trip.
Hearing her words made me feel that I could to any place I want to fly, no matter where it is in the world.
We took a plane from Suvarnabhumi airport to Narita airport in Tokyo then took another plane from that airport to Chicago, Illinois in the USA.

"Did any body do what I did?"
On the American Airline plane ..where we would cross the international date line … I was very excited and was always looking at the real time map, while other people were sleeping. I was "alone" and very excited … when I thought that soon … "my legs will be in tomorrow while my body will still be today".
That's funny ..I know, but … I was really excited when I thought that was very cool! Who even thought we can sit and still be alive while parts of our bodies are in different days.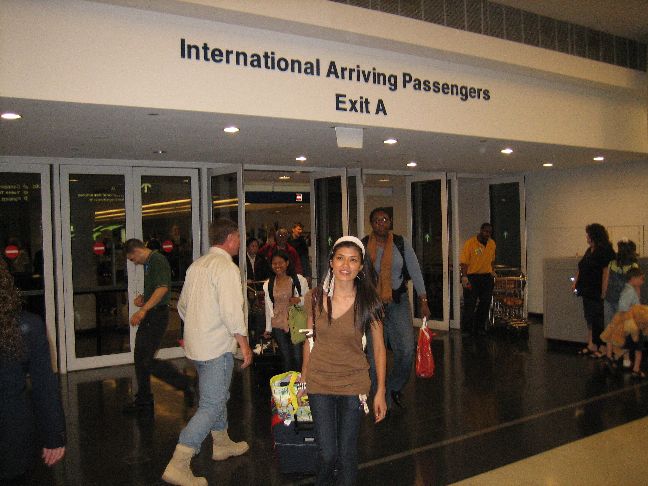 Finally ..I saw "the old dad" standing in his Thai yellow shirt when I walked out the door at the Chicago Airport.
I told myself that even though I know nothing about America… at least ...I know him .., and he is my closest friend in this wonderland.




The first surprise was … that it was about 8 pm. there but every where still like day time. Gigg and I thought it's about 5 pm.
Since I was born … I never saw it still like day time in Thailand , with the sun still up at 8 pm.
"Hi Chicago..Hi America..we are here."






Create Date : 16 พฤศจิกายน 2550
Last Update : 16 พฤศจิกายน 2550 4:58:12 น.
18 comments
Counter : 751 Pageviews.
| | |
| --- | --- |
| โดย: "Dad" IP: 69.205.182.5 วันที่: 16 พฤศจิกายน 2550 เวลา:5:03:06 น. | |
| | |
| --- | --- |
| โดย: Pa Pat IP: 70.121.253.23 วันที่: 16 พฤศจิกายน 2550 เวลา:10:22:14 น. | |
| | |
| --- | --- |
| โดย: Pa Pat IP: 70.121.253.23 วันที่: 16 พฤศจิกายน 2550 เวลา:10:22:31 น. | |
| | |
| --- | --- |
| โดย: Barbara Slavin IP: 71.233.220.25 วันที่: 16 พฤศจิกายน 2550 เวลา:10:29:38 น. | |
| | |
| --- | --- |
| โดย: Barbara Slavin IP: 71.233.220.25 วันที่: 16 พฤศจิกายน 2550 เวลา:10:32:03 น. | |
| | |
| --- | --- |
| โดย: pa ted IP: 64.12.117.66 วันที่: 18 พฤศจิกายน 2550 เวลา:6:49:02 น. | |
| | |
| --- | --- |
| โดย: pa ted IP: 64.12.117.66 วันที่: 18 พฤศจิกายน 2550 เวลา:6:52:38 น. | |
| | |
| --- | --- |
| โดย: bitter sugar วันที่: 23 พฤศจิกายน 2550 เวลา:16:46:40 น. | |
| | |
| --- | --- |
| โดย: bitter sugar วันที่: 23 พฤศจิกายน 2550 เวลา:16:47:30 น. | |
| | |
| --- | --- |
| โดย: grippini วันที่: 24 พฤศจิกายน 2550 เวลา:2:07:16 น. | |
| | |
| --- | --- |
| โดย: weraj วันที่: 28 พฤศจิกายน 2550 เวลา:11:21:32 น. | |
| | |
| --- | --- |
| โดย: แร้ไฟ วันที่: 28 พฤศจิกายน 2550 เวลา:21:47:53 น. | |
| | |
| --- | --- |
| โดย: Hi Su IP: 205.147.244.6 วันที่: 28 พฤศจิกายน 2550 เวลา:22:49:56 น. | |
| | |
| --- | --- |
| โดย: สักกะนิด วันที่: 29 พฤศจิกายน 2550 เวลา:21:49:35 น. | |
| | |
| --- | --- |
| โดย: wanwitcha วันที่: 4 ธันวาคม 2550 เวลา:11:39:10 น. | |
| | |
| --- | --- |
| | แร่ใยหิน |

Location :


[ดู Profile ทั้งหมด]

ฝากข้อความหลังไมค์
Rss Feed


Smember


ผู้ติดตามบล็อก : 1 คน [?]







สวัสดีก๊าบ..
ชื่อสุค่ะ ..นิยส่วนตัว บ้า ๆ บ๊อง ๆ ติงต๊องหน่อย ๆ
รักการอ่านและการท่องเที่ยวเป็นชีวิตจิตใจ
ก็เมืองไทยมีที่น่าสนใจตั้งเยอะตั้งแยะนี่นา