Zetsuai and Bronze
Create Date : 27 กรกฎาคม 2551
Last Update : 27 กรกฎาคม 2551 9:26:36 น.
Counter : 232 Pageviews.
Mirage of Blaze
Create Date : 27 กรกฎาคม 2551
Last Update : 27 กรกฎาคม 2551 9:23:10 น.
Counter : 181 Pageviews.
Junjou Romantica
Junjou Romantica or 純情ロマンチカ (Junjou Romanchika/ pure love) The boy-love anime series of the year by Shungiku Nakamura base on the same named manga.

The story focuses on 3 different couples, each with their own compelling stories, these other two couples are introduced in Egoist and Terrorist.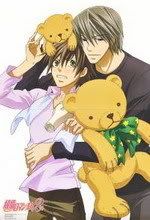 The first couple : Junjou Romantica
Takahashi Misaki, 18 yrs, 19 yrs in episode 8: The protagonist, younger brother of Takahiro, the long-friend with Usami Akihiko, Misaki's lover. A man-child, Akihiko is a famous novelist who also writes steamy boys' love novels on the side became Misaki's tutor to fullfill his going-to-M university-dream. By somehow,
it led him to being romanced by Akihiko. This isn't enough, because Misaki brother get married and end up with moving to Osaka, then Misaki move to Akihiko's apartment!!!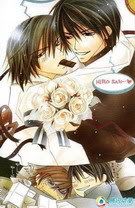 The second couple : Junjou Egoist
Kamijo Hiroki, A long-time friend of Akihiko's, who is an associate professor at the college Misaki studies at was heart broken by in love with Akihiko. He met his beloved Kusama Nowaki when when he is crying about his fruitless relationship with Akihiko, and is insisted by Hiroki to become his tutor.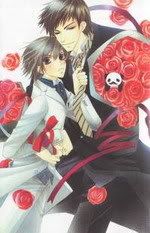 The third couple : Junjou Terrorist
Miyagi You,a Literature Professor at M University and a co-worker of Kamijo. He was once married, but is now divorced most likely due to his indifference to feelings and emotions. His love interest is surprisingly enough - Takatsuki Shinobu, 18 yrs student, his ex-wife's younger brother! Their love begin from Shinobu believes in fate and asks Miyagi to take responsibility for his falling in love on him.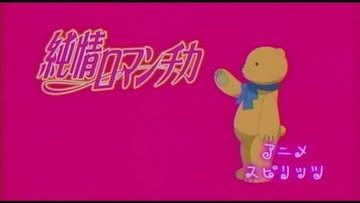 I've heard there are 24 episodes for this series. The first season end at 12 episodes, and... the next season might release on October 2008. I also collect its manga, in fact, I knew the manga years ago. You can't imaging how much I'm happy when I heard it became anime. Who's my favorite? It's Suzuki-san, Akihiko's teddy bear!!!

I like the guys too, don't worry.


Create Date : 27 กรกฎาคม 2551
Last Update : 18 สิงหาคม 2551 11:59:49 น.
Counter : 178 Pageviews.
Winter Cicada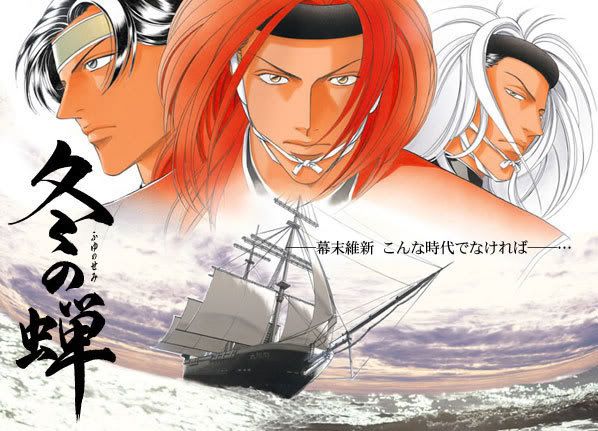 Winter Cicada or 冬の蝉(Fuyu no Semi)is 3 episodes-OVA base on Youka Nitta's manga series Embracing Love or 春を抱いていた(Haru wo Daiteita). The story spans the war torn era when the Japanese turned from a Shogunate to Imperial rule and entered trade with the rest of the world (1862-1869).

The story started during the late Tokugawa period, tensions between the bakufu and Choshu clan are rising due to arguments over how to deal with foreigners in Japan. However, unlike the rest of the Choshu clan members, Kusaka Touma wants Japan to develop good relations with foreign nations. To achieve this, he attempts to learn English behind his clan's back. A man named Akizuki Keiichirou decides to become Kusaka's teacher, but their relationship soon grows into something stronger. However, while Kusaka leave to England, Akizuki gains the leadership of his clan and it's immediate association with the Shogun and meet each other again in the greatest civil war, the Boshin War.

I've watched Haru wo Daiteita film but this story is totally different. It remind me Romeo and Juliet. Anyway, for me, while Romeo and Juliet shows me the fool love at fist sight, Winter Cicada is something deeper. It's Bushido, the tragic love, painful separation and wait but ending well with tear. Akizuki Keiichirou passionately said to his lover "Light a fire deep inside me" only 2 times, and they are definitely in different feeling. I couldn't hold me tear in the end. If it weren't Yaoi, I think everyone would love this story. But since It is Yaoi, so I can't help if you can't stand because you aren't Yaoi lover... sorry!

Create Date : 27 กรกฎาคม 2551
Last Update : 18 สิงหาคม 2551 11:55:32 น.
Counter : 133 Pageviews.
Okane ga Nai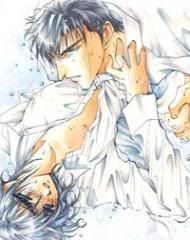 Okane ga Nai (お金がないっ), also know as No Money, is a shonen-ai manga, drama CDs and 4 OVA's, created by Hitoyo Shinozaki and drawn by Tohru Kousaka.

Ayase Yukiya is a gentle, kind hearted, and innocent university student. The only relative he has left, his cousin Tetsuo Ishii, betrays Ayase by selling him to the highest bidder in an auction with hopes of making an enormous profit to be able to pay off his debts. Kanou Somuku, a bad-tempered (though very rich) loan shark, comes to Ayase's rescue and buys Ayase for an impressive 1.2 billion. Kanou apparently knows Ayase from something that happened between them in the past, but Ayase cannot remember who Kanou is nor does he understand why he "saved" him. In a desperate effort to keep Ayase close to him, Kanou demands the debt be repaid in full and suggests the perfect way to do it: by selling his body to Kanou for 500,000 each time. Ayase is horrified in the beginning, but something soon begins to grow between them that can't be bought for any price

As I know, there are 5 vol. by manga but only 4 OVAs. I download fansub-OVAs from a bit website and found it's...so cool. The story's about "sex and money", recently simply facts you can see but Aya-chan, he's such a too-innocent bishonen you've never seen .

Create Date : 03 เมษายน 2551
Last Update : 3 เมษายน 2551 10:11:56 น.
Counter : 919 Pageviews.
Location :
NJ, United States

[Profile ทั้งหมด]

ฝากข้อความหลังไมค์
Rss Feed

ผู้ติดตามบล็อก : 1 คน [?]







Hi! All lovely stray sheeps who come into Momo's world. If you hope to get something good or so useful I can't guarantee since here's my own wonder world where I put all things I figure out and think they're good for myself...so SORRY but Enjoy with my non-sense stuffs, the poor sheeps(*v*)//