Herbert : Bodily Functions
Downtempo แปลว่าอะไรอ่านเอาเองนะครับ คือยังไม่สันทันนะ แต่รู้สึกสนใจวงนี้นะ Herbert ปกสวยดี
เพลง Leave Me Now ในอัลบั้มนี้ฟังแล้ว chill ๆ ดี

//www.epitonic.com/artists/herbert.html

Downtempo is the name used to describe chilled-out beats on a slower, groovier tip. Under this broad genre heading, chunky rhythms based on hip hop beats rule supreme. Downtempo is usually instrumental-based music in the hip hop vein, but can also draw from jazz, film scores, dub and reggae, and world music. Its overall form depends on bass and funk. Like house and drum and bass musicians, downtempo artists create morphed soundscapes that draw from a long history of musical genres. Downtempo is constantly reinventing itself, spawning new and unique variations like the "British sound," "French trip hop," and the hip hop-heavy U.S. approach.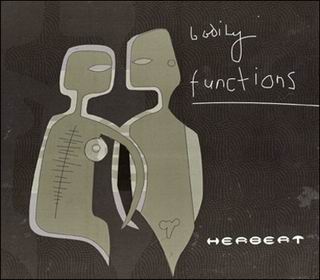 Create Date : 13 เมษายน 2548

0 comments

Last Update : 13 เมษายน 2548 14:22:56 น.
Counter : 398 Pageviews.