Draped in gowns


I'm not a bride-to-be nor a bridesmaid. Why the heck I'm writing about a wedding gown store, you wonder.

The simple answer is: My roommate is getting married in May.
To make my simple answer more logical: I was asked to help her with the wedding gown fitting.

It all started when this wedding gown outlet store had an annual sale for only one day!
We arrived there at 9:30am on Saturday to find a line stretching around the corner. Whenever we saw a gown brought out of the store, everyone cheered and clapped. We were happy their search was over!
This is the store where the sale took place.




Total wait time to enter the store: 1 hour 30 mintues.
Upon entering a store, the owner greeted and asked you to sign a guestbook which marks your wedding date. Can you imagine I saw some date in 2009?!!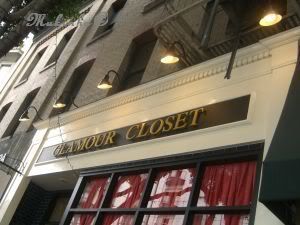 Some gowns look pretty in real life but not in picture.
So photographing yourself wearing the gown is very useful. Note that not all stores allow photography and wedding gowns are non-returnable.
I showed this lady the back details of her gown. We like how it looks on her.
I'm a humble photographer but hey I like my job!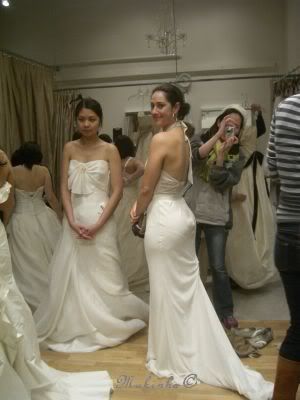 These designer gowns, although at outlet store, come with a heavy price tag. The lady I took a picture for above told us the gown she liked cost $4200.
Care to splurge or would you rather use the money toward something less vain and more practical?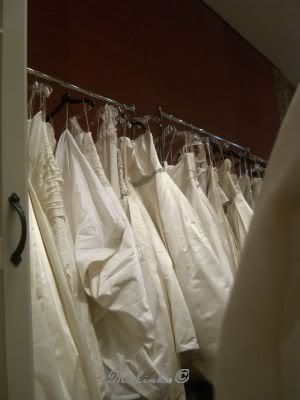 My roommate decided on having her gown tailor-made as previously planned.
For most of the ladies in the store we chatted with, the search continues.
Good luck to all brides-to-be. You can still give it a second thought?!




Told you I was too draped in gowns.

Create Date : 16 ธันวาคม 2550

2 comments

Last Update : 29 ธันวาคม 2550 13:02:22 น.
Counter : 335 Pageviews.



| | |
| --- | --- |
| โดย: Puey IP: 70.234.222.69 17 ธันวาคม 2550 2:46:01 น. | |
Location :
California United States

[ดู Profile ทั้งหมด]

ฝากข้อความหลังไมค์
Rss Feed


Smember


ผู้ติดตามบล็อก : 1 คน [?]








※ Mukinha ※ [Moo/kin/yah]
foodie apprentice