Had my first love been the architecture ink........


I was about to leave a cute gallery/shop,sharing its already small space with a camera shop when I decided to ask her questions.
Me : So,how long have you been drawing?
She replied: Since forever.
Me : What kind of color do you use? It is water color?
She replied: Umm,it's some kind of architecture ink.

Not so often would my ice-breaking questions have me think more about a life of an artist.

A bright and lively gallery attracted me from afar before I even stepped inside.
Although You don't need more than a couple of steps inside to appreciate artworks in the gallery,I ended up staying there forever. Luckily forever seemed like a moment when I was there. Surrounded by myriads of vintage oil paintings, architecture ink posters, cards with colored envelopes or even screened baby onesies, I was a kid in a candy store.

I might be honest with you. I like this style of illustrations.



Wouldn't this, framed in a wooden pastel pink, look great in the bathroom?



Curious to learn more about the artist and her artworks, I extensively explored her site: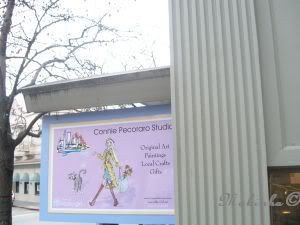 Connie's Gallery

Here are some excerpts from the website:

"Photography was Connie's first love. She began photographing black and white essays of her own family life to capture the concept of light in motion and..."

"With a monetary base of $5 and change, she worked as a street vendor, selling her illustrations as greeting cards with matching envelopes for $3. A year and a half of bliss flew by and so did her paper products in the Sausalito fog. A retail space was necessary."

Now I wonder how my life would be if the architecture ink had been my first love....

Pictures credits and excerpts are from //abby-girl.net.
Please visit the website and learn more about her work!


Create Date : 10 ธันวาคม 2550
Last Update : 29 ธันวาคม 2550 13:01:34 น.
1 comments
Counter : 249 Pageviews.
| | |
| --- | --- |
| โดย: นวลกนก วันที่: 15 ธันวาคม 2550 เวลา:15:49:36 น. | |
Location :
California United States

[ดู Profile ทั้งหมด]

ฝากข้อความหลังไมค์
Rss Feed


Smember


ผู้ติดตามบล็อก : 1 คน [?]








※ Mukinha ※ [Moo/kin/yah]
foodie apprentice