Chic!! Cool!! Cheap Shirt
Right after good dinner!! We went down to night market.. I would say.. this place.. make me feel pround to be "Thai" !! Want to know why?


LET'S GO SEE WHAT SALE THERE!!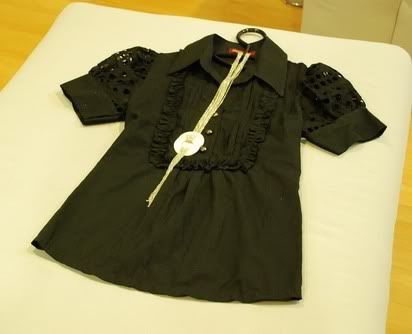 Can you believe? This black shirt is cost me only 230 baht.. and most important thing! it's look good on me!!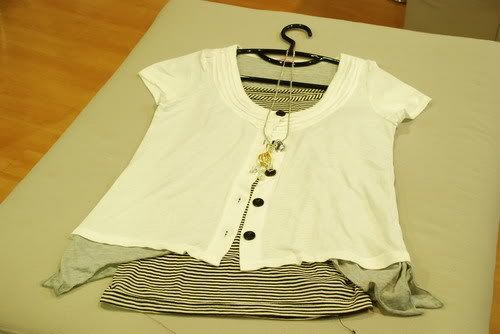 This shirt sales in a set.. come with one shirt, one tank top and necklace!! normally it cost 350 baht but if you buy up to 3 pieces it becomes 250 baht only!! COOL Right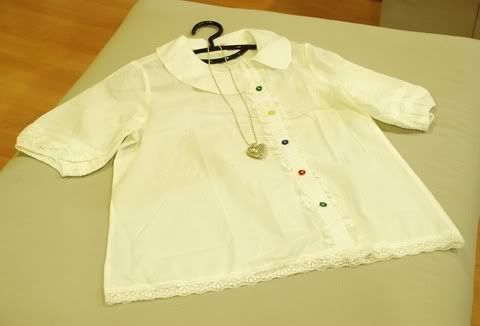 This simple shirt is one of my favorite as you can see it's just white and simple. However, personally I think the simple one can be use more often and you can simply mix and match it with other shirt or jeans.. How nice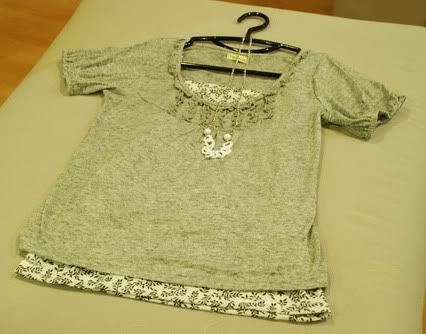 Actually,this shirt i pick it out of rack as my first item but unfortunately, the fabric is not comfortable to wear.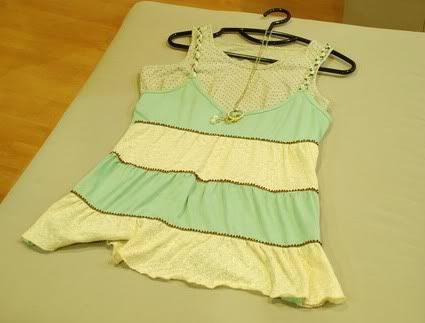 This one, I wear it right after I bought coz the guy who sale it to me said "it's newest collection, if you wear it today.. no way that you will find anybody wear the same" Hurr!! but it turn that I found a girl wear the same one in the different color..

Not only that!! it's look a bit too young for me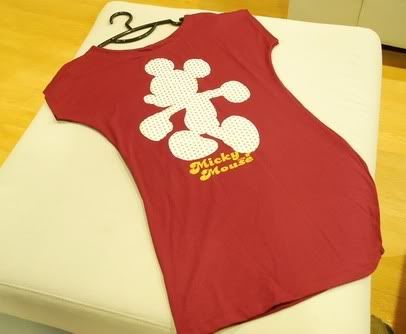 I also afraid that this one will look too young for me!! but who care as long as it look good on me!! Hey hey don't jealous yet

.. too early!!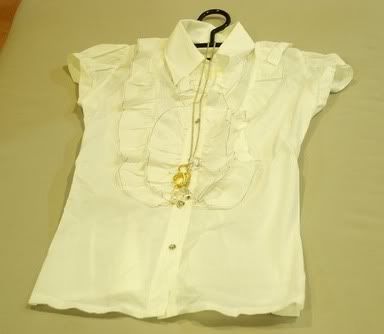 This shirt make me realize how fat am I.. it's not fit me.

Thus, I gotta exchange it with my girl friend who can wear it.



Do you need a break?





Ha Ha!

I don't think so!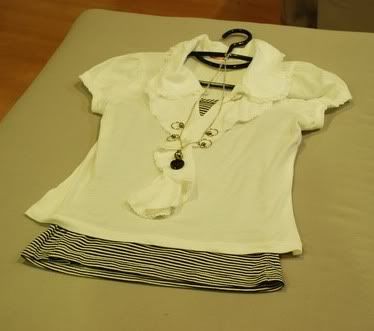 Above not belong to me!! My friend bought it. I think it's cute and want to have one but i can tell by look at it that it's too small for me.




At first, this one also not belong to me but since I exchange with my friend.... this one become mine!!




This got cowboy look.. it's spandex.. I really love it but because spandex

it will be too tight for me...




This is the last shirt we bought!!




This item (bag) I order it earlier!! The owner didn't make a lot to sale but he make to order so i would suggest this shop to anyone who love bag and want to create your own. It's not cheap due to quality of the real leather. However, I think it's worth to pay. it takes two week to make a bag!!




That should be all for now but please come back and check on my update. You will not miss any hot spot in bkk!! I promise





To be continues!!

Create Date : 21 กรกฎาคม 2550

3 comments

Last Update : 21 กรกฎาคม 2550 23:23:23 น.
Counter : 230 Pageviews.



| | |
| --- | --- |
| โดย: jum IP: 117.47.157.55 10 กันยายน 2550 11:49:33 น. | |
Location :


[ดู Profile ทั้งหมด]

ฝากข้อความหลังไมค์
Rss Feed

ผู้ติดตามบล็อก : 1 คน [?]







เพนนีเองคะ มือใหม่หัดทำเวปประสบการณ์ไม่ค่อยจะมี แต่ว่าใจรักการเม้าท์ เหตุผลหลักๆเลยที่มาเสนอตัวแบบนี้เพราะว่าเพนนีเป็นคนไม่ชอบอยู่เฉย และความสนใจเปลี่ยนไปเรื่อยๆ เพราะงั้นอยากเก็บมันไว้เผื่อวันนึงได้ย้อนกลับมาดู ย้อนกลับมาหาความทรงจำ และที่สำคัญที่สุดเพื่อนๆ พี่ๆ น้องๆ ที่อยู่ทั้งเมืองไทยและเมืองนอก ได้ update ไปกับเพนนี ก็ขอให้สนุก และยังไงช่วยติชมมาด้วยนะคะ ขอบคุณมั๊กๆ คะ