Valdez, Alaska

We went to Valdez on my Birthday, August 22. It is very beautiful day in Valdez. Normally it is rare that Valdez has a sunshine day. The weather is unpredictable, sometimes its raining many days in a row and sometimes it has no rain but very foggy.I have heard that sometimes tourists visited Valdez 1 week and the whole week it was raining.So nothing is better than staying at hotel. For us,We are very lucky that arrived on a beautiful day !!

We almost missed the airplane because we arrived at airport only 30 minutes before the flight departure and we didnt buy ticket in advance. Luckily that everything went smoothly and we got tickets .

It took 45 minutes from Anchorage to Valdez but 7 hours for driving. The captains hovered airplane very low and we could see the mountains and glaciers very close.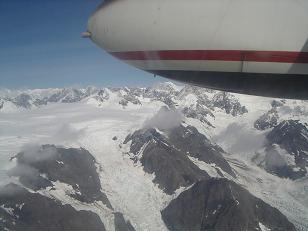 Valdez is famous city for tourism in Alaska, there are many activities that you can do both in Summer and Winter. The flight we took, most passenger are tourists.The popular activity that people like to do there is fishing. August is the season of Silver Salmon and Halibut.Also people who doesnt like fishing can rent Kayak to explore glacier or taking a cruise .The price for cruise is quite expensive so its not in our plan.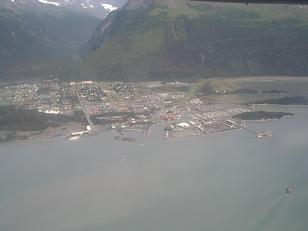 We arrived Airport 12.50 pm, the weather was so nice. Valdez is considered as a very small city , the whole city has only 4,ooo people. No bus, no traffic light, no mall.

We decided to walk to downtown because we understood that it would take only 20 minutes walking but actually it took 2 hours !!. For me it is good excercise because we had no rush.When we got the downtown in a late afternoon, we spent the rest of the day walking around the pier, seeing people cutting Salmon and Halibut.People who caught lot of fish can hang them and took photo.


The biggest Halibut that i saw in the record is around 350 lbs..and for Salmon is around 20 lbs. I wish i could get that size of Halibut and Salmon so i can cook for whole winter.

Like i said the downtown is very small so we just walked around the pier and smell fishy in the air then we called Taxi to pick us up to Airport .

Its very crowded that day , after checked in we waited for the seat confirmation..Its almost the time of flight departure, people at checkin counter told us that there's no seat for us..No choice we have to stay overnight in Valdez and take the next flight tomorrow afternoon.

There the adventure begined .....

















Create Date : 10 กันยายน 2548
Last Update : 21 พฤศจิกายน 2548 15:44:43 น.
3 comments
Counter : 363 Pageviews.
| | |
| --- | --- |
| โดย: Beebie วันที่: 15 กันยายน 2548 เวลา:6:01:42 น. | |
| | |
| --- | --- |
| โดย: นุทศรี!! วันที่: 4 ธันวาคม 2548 เวลา:11:06:44 น. | |
| | |
| --- | --- |
| โดย: แม่น้องกุ๊ก IP: 203.146.201.9 วันที่: 15 ตุลาคม 2549 เวลา:10:58:11 น. | |