HaPpY HaLlOwEeN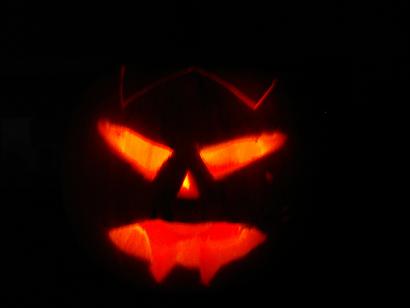 Halloween's a sudden BOO!!
And just as quick a scream:
Laughing in the scary dark,
Loving friendly fright.
On Halloween, witches come true;
Wild ghosts escape from dreams.
Each monster dances in the park,
Eating candy like a shark-
Now kiss and say goodnight!

Poem Ref : Halloween's A Sudden BOO ! , by Nicolas Gordon, //www.poemsforfree.com

เมื่อคืนมีโอกาสไปงาน Halloween party ที่บ้านเพื่อนแฟน บรรยากาศ
สนุกสนาน ทั้งเด็กและหมาเต็มไปหมด

ก่อนทานของหวานเด็กๆ รวมทั้งเรากับแฟนก็มาแกะสลักฟักทองกัน ตอนแรกนึกว่าจะยาก ฟักทองที่นี่เนื้อ่อนแกะง่าย ก่อนแกะก็วาดรูปตา จมูก ปาก ก่อน แล้วก็ใช้มีดแกะตามรอย หน้าตาก็ออกมาอย่างที่เห็น เด็กๆ บอกว่าน่ากลัว
เมื่อคืนจุดเทียนแล้วตั้งไว้หน้า ทีวี ไม่กล้าเข้าเหลือบไปมองเลย ตอนไปเข้าห้องน้ำ

Happy Haloween kaaaa :)




Create Date : 29 ตุลาคม 2548
Last Update : 31 ตุลาคม 2548 10:12:55 น.
Counter : 148 Pageviews.
FaLL
Summer is gone... Now all trees turn yellow everywhere. It looks beautiful but sad at the same time. I took some pictures of tree from Earth Quake Park in Anchorage , Alaska. Its one of my favourite place to visit.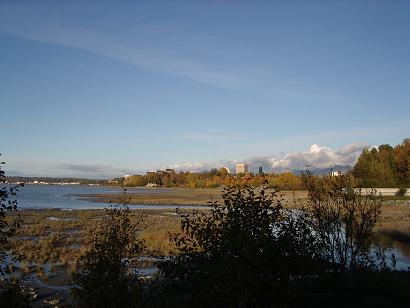 Above is the downtown ANC from Earth Quake Park trail you have to walk at least 2 hours to get there.

Below are the tree that no green leaves at all. I like this tree a lot and its just very outstanding on the way we pass.



Below is the trail that we take to downtown.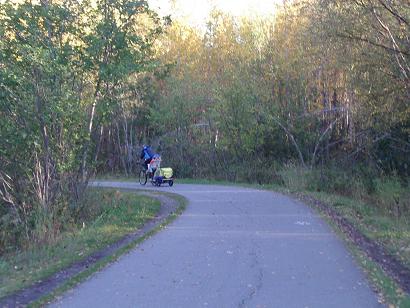 Beautiful lake with crystal clear water. Sometimes you can see a flow of bird and wild duck in this lake.




Around the lake has lot of nice houses and apartments.. now we are very close to downtown.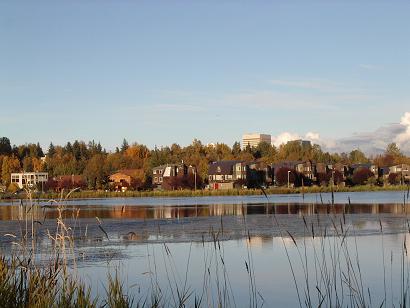 As now no sunshine at all so we just walk back to Earth Quake Park and get the car . On the way back we got another beautiful spot from the trail when sun set.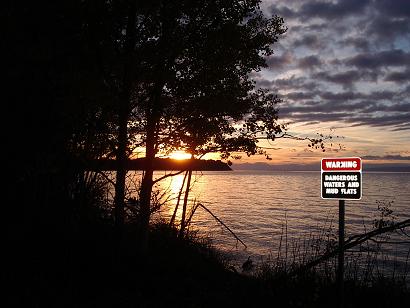 There's less than 2 months that snow will come then this park will become white and no clue of summer and fall at all.

Create Date : 25 กันยายน 2548
Last Update : 18 ตุลาคม 2548 23:08:48 น.
Counter : 162 Pageviews.
Sunny Day
This is my first time in Bloggang what i want to write here is just things that happened to me since i moved to live in Anchorage, Alaska. All I can say now is I love Alaska especially Summer time. Its like heaven on earth.





Today we woke up very late around 10 am. Checking the weather throught the window , we saw its very sunny outside. We changed clothes very quick for jogging. Where we live is just near airport,it is about 2 miles to airport but not noisy at all. My favourite place near the airport is Lake Hood , its the lake where people who owns small airplane park them there. We looked at the airplane that was taking off very romantic.

Every morning in a sunny day, my happiness are from jogging around where i live and see beautiful mountain and flowers ..only this it can make my day



Create Date : 09 กันยายน 2548
Last Update : 14 เมษายน 2549 8:49:13 น.
Counter : 214 Pageviews.