Cellular Skin Rx Firming Peptide Eye Creme (used)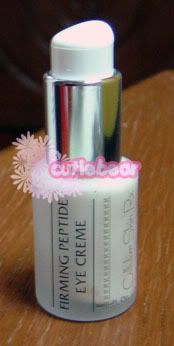 Cellular Skin Rx Firming Peptide Eye Creme ขนาด 15 ml. ใช้ไป 3 ที
ขาย 800 บาทรวมส่ง
สรรพคุณตามนี้เลยค่ะ
Finally, an eye cream that does it all...
Below and above your eyes!

Luscious hydrating formula firms, tones and smooths without causing milia.
Uplifts and renews eye area appearance.
No fragrance, colorants or parabens.

Firming Peptide Eye Creme creates the perfect moisture balance in the delicate eye area. The technologically-advanced lipo-peptides, Palmitoyl Oligopeptide and Palmitoyl Tetrapeptide-7 (Matrixyl 3000), renew skin's firming mechanism to visibly return eye contours to a more youthful-looking state. Anti-enzyme plant extracts (grapeleaf, black currant, passionflower, chlorella vulgaris) protect skin firmness and defend against future signs of aging by increasing cellular energy. Ultra-hydrating blend of algae and sea water (pheohydrane) smooths away fine lines and revitalizes skin's natural barrier function. Long-term effect keeps skin plump and moist for up to one week. Skin feels and looks soft and hydrated. This special formula does not contain any fragrance, colorants or parabens that can irritate the delicate eye area.
Cellular Skin Rx. We use Active Ingredients that Work™.
Directions: Apply a moderate amount to area above and below the eye. Store in a cool, dry place.
Active Ingredients that Work™: Chlorella vulgaris extract (hydrating/cellular function), Hydrolyzed Algin (hydrating/protective), Palmitoyl Oligopeptide (firming), Palmitoyl Tetrapeptide-7 (firming), passionflower, black currant, grapeleaf extract (protects firmness)
Other Ingredients: Water, cetearyl alcohol, cetyl octanoate, dioctyl succinate, cetyl alcohol, sodium polystyrene sulfonate, glycerin, cyclopentasiloxane, cetearyl glucoside, dimethicone, butylene glycol, tocopherol, potassium sorbate
Free TextEditor
Create Date : 19 เมษายน 2552
Last Update : 19 เมษายน 2552 15:51:54 น.
Counter : 208 Pageviews.